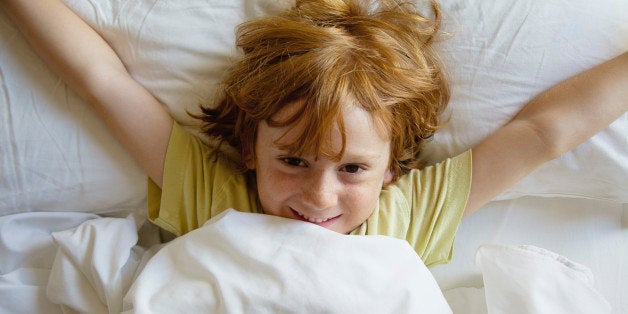 I have a confession to make. I'm a morning person and, with the exception of my late-night, sleep-in college years, I always have been. In high school, I would get up early enough to read the newspaper and drink my coffee before first period. When our children were babies -- I call them the messy years -- my night-owl husband would take the midnight feeding, and I would be fresh as a daisy at 4 a.m. Because I was accustomed to rising and shining, I was shocked (SHOCKED!) to find out mornings with school-aged children could be such a wild ride.
Every family looks different, but I'm guessing our seven truths about trying to make it out the door in the morning may look familiar.
1. There will be wardrobe changes
My first-grader has always had strong opinions about her clothing choices, and for the most part, I've delighted in her adorable mismatched outfits. Now that she's in school, though, it's important that she's dressed appropriately for gym day, or that she has on layers to accommodate the fluctuating temperatures in her classroom and on the playground. It's not uncommon for her to wander out of her bedroom in something that isn't a great choice; gentle reminders that tushies need to be covered by skirts or pants sends my girl back upstairs with a sheepish grin to get a skirt to cover the sheer, pink tights she wanted to wear as pants.
2. There will be abandoned breakfast
In many ways I love that my 6-year-old daughter and 8-year-old son linger over meals, enjoying their food and each other's company, but on mornings when they need to be out the door at 7:45 a.m., long, leisurely meals are impossible. I say let's stay on task in the morning, and chat at length about video games and cartoons over dinner so no one is choking on toast as they run to the bus.
3. There will be bargaining
In the same way I tell myself, "If I put my hair in a ponytail, I can lie here and play on my phone for a few minutes before getting up," I tell my kids, "If you're ready for school in time, you can play with your toys until the bus comes." For both the kids and myself, these few moments of fun are only possible if some grooming is neglected. Sure, we may not look tip top, but my social media accounts and their building block creations are pristine.
I make sure I have coffee in my hand and at least 8 ounces in my gullet before waking up the kids. But for something I hold so dear, I abandon my coffee cup on the regular. And the time between my waking and my leaving the house is my microwave's rush hour. The same cup of coffee gets reheated multiple times before I give up and finally pour it into my trusty travel mug. Every parent should have a lidded coffee mug that keeps that inky deliciousness hot.
5. There will be toothbrush wars
I knew that having one small bathroom would pose some challenges for a family of four, but I had no idea it would be because my kids would have too much fun brushing their teeth together. They laugh, they bump shoulders, they manage to smear toothpaste in the strangest places, and they have a recurring toothbrush sword fight, where everyone is a winner except the lady who cleans the bathroom. That lady is me.
6. There will be disappearances
We have a spot for shoes. We have a spot for hats and gloves. We have a spot for backpacks and coats. These things all can be found next to the door; yet, every morning, my son wanders around looking for his shoes (on the floor in front of the dishwasher) or a glove ("Did you check in your coat pocket?"). We make lists, and we make charts and we make promises, but my boy is saddled with my disorganized mind, and I suspect he'll be looking for his keys and his favorite lip balm as an adult while my grandchildren search for their left socks.
7. And there will be scrambling -- and not just by the kids
While my boy is looking for his other glove, I'm frantically scribbling on a check ("Where's the checkbook? What's today?") for the Someone Special dance, or filling out a permission slip. I vow to complete these things as soon as they come in the door next time, but, in these cases, history has proven I'm a liar.
But no matter how crazy the morning gets, my husband and I always get hugs and kisses before the kids jump on the bus. And as they rumble down the road, we high-five and take sips of our lukewarm coffee before heading to work ourselves. Success!
Experience the hearty goodness of Quaker® Select Starts Supergrains Instant Hot Cereal. Wake up to a delicious blend of oats, barley, rye, flax and quinoa that help deliver the powerful way you want to start your day. A fulfilling breakfast couldn't be more SUPER.