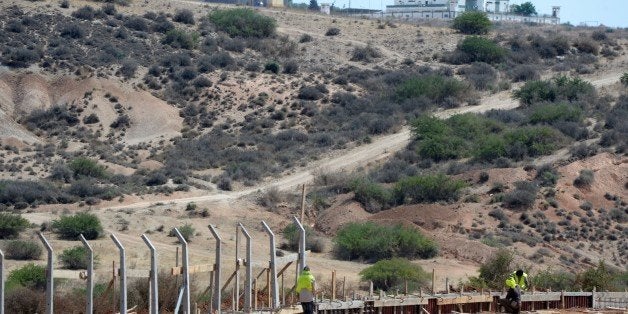 RABAT, Morocco -- Algeria's decision to shut down its land border with Morocco in 1994 has created many challenges for families in the two countries whose members are now separated. Despite the strict border control, however, Moroccan-Algerian families living in the border region occasionally manage to cross over. Most of these visits are carried out illegally, and they sometimes involve putting lives at risk.
Algeria closed the border after Morocco imposed visa restrictions on Algerian citizens in the wake of a terrorist attack on the Atlas Ansi Hotel in Marrakesh. Moroccan authorities maintained that the Algerian Secret Service played a role in the attacks.
HuffPost Arabi recently visited the border region and spoke to members of several families who live this reality every day. They shared the hardships they face and the sometimes inventive ways they stay in touch, despite the closed border.
The 1,559 kilometer-long land border between Algeria and Morocco stretches from the Mediterranean Sea to the Western Sahara.
It is still difficult for many families separated by the political frontier to fathom that the other side is so close, yet so difficult to access. Members of one family living in the Moroccan city of Oujda said the border won't stand in the way of maintaining strong family bonds, and that they'll find a way to stick together.
Milod, a young man from the city of Jarada, located in eastern Morocco, said that there are a few spots on both sides of the border where human smugglers can easily help people get across. Among the most active of these, he says, is "the shore of the Moroccan city of al Saidia to the port of Bin Mahdi, near Ghazawat in Algeria." He also referred to "departure points in Beni Drar, Ahfir and Sidi Yehia, all of which are towns in the east of Morocco."
Crossing the land border is the least expensive option, Milod pointed out. Smugglers usually ask for a small fee, somewhere between 100 and 200 dirhams ($10-20). Meanwhile, a plane ticket from Casablanca, Morocco, to the Algerian capital can cost the equivalent of up to 300 or 400 dollars.
A soldier stands on the Algerian side of the Algeria-Morocco border, near Tlemcen, at a border post in the Marsat Ben M'Hidi region. (Photo: Farouk Batiche/AFP/Getty Images)
"The first illegal crossing of the border is always frightening," said Shama, a Moroccan girl who was born to an Algerian mother. Until recently, Shama and her mother lived in Oujda. She recounted the experience of her three uncles, who recently crossed the border from the Algerian city of Oran to bury her mother's body.
"The three of them came here from Oran, to say their last goodbyes to a sister who was torn apart from them by borders," Shama said. "They were scared, because it is illegal, and no one knows what awaits them across the border they're breaching."
Shama said her uncles were initially terrified of the Moroccan soldiers and police, but after their first foray went well, they didn't hesitate to repeat it.
While Shama wishes she could visit her mother's side of the family in Oran, her fear of the border guards stops her. Still, she dreams of meeting the rest of her family in Algeria "at whatever cost."
The border was temporarily reopened in 2009 for an aid convoy heading towards the Gaza Strip, following a three-week military offensive by Israel.
Residents of the border area also note that security is less tight when people are crossing the border for family-related or humanitarian reasons.
Mohamed, who owns a small grocery store in the Moroccan city of Ahfir, says "the guards on both sides turn a blind eye to movement across the borders, which is usually carried out on foot. The person who crosses over either finds his family waiting to welcome him on the other side, or takes a cab to his destination."
However, Mohamed added that people trying to cross the border sometimes encounter police operations attempting to obstruct fuel-smuggling networks. Before a 2013 crackdown on petroleum smuggling from Algeria to Morocco, an estimated 600,000 Moroccan cars ran on smuggled Algerian fuel.
"And they might run into trouble, if they are, for example, arrested by security forces," Mohamed added. "They usually release them shortly, in exchange for a written pledge to refrain from attempts to cross the border again."
For those who can't afford a plane flight and fear the risk of crossing the border on their own, smartphones are the easiest way to check in with family during holidays or to convey sad news, such as the loss of a loved one.
Yehia was born to a Moroccan mother who went home following the death of her Algerian husband. He confirmed that the emergence of social media has helped families separated by the Algerian-Moroccan border to communicate. He still feels, though, that "the intimacy of face-to-face meetings can't be replaced by anything else."
His mother and sisters, for instance, became emotional when they saw pictures of weddings of their cousins in nearby but difficult-to-reach towns.
"My Algerian grandmother cried when she saw my seven-day old daughter over Skype," Yehia added.
This article first appeared on HuffPost Arabi and was translated into English.