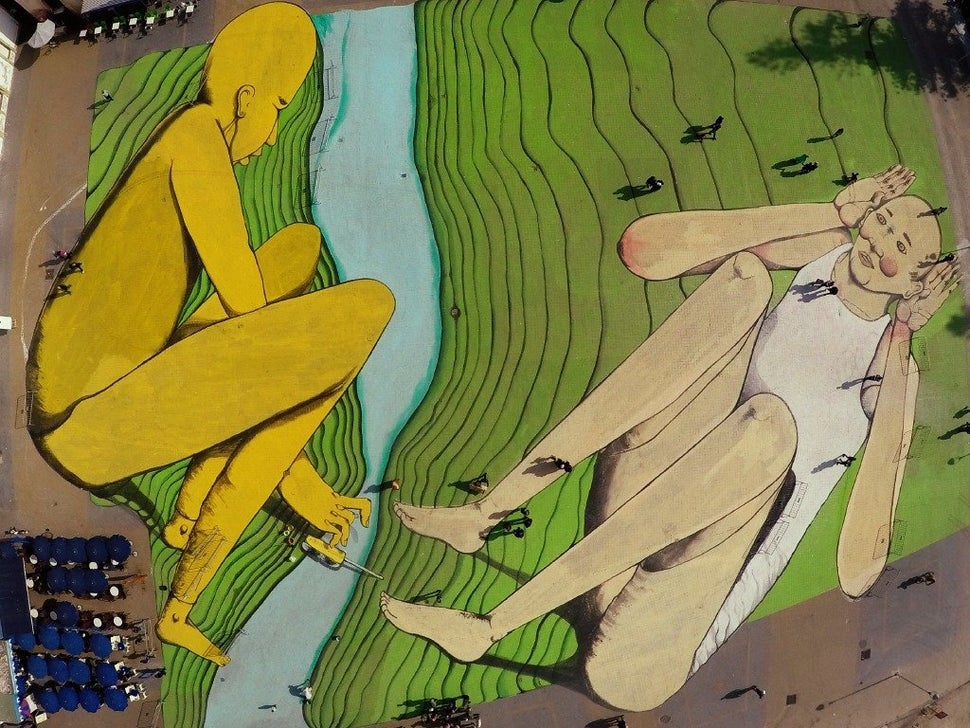 Italian artist Giacomo Bufarini, known as RUN, has painted a giant fresco in the Moroccan coastal town of Essaouira. The 6,400-square-meter mural stretches across the floor of the city's main square, Moulay Hassan.
The fresco required a week of work, said Kaoutar Chakir, the general secretary of the Essaouira Mogador Association, which is tasked with the cultural and socio-economic revitalization of the city. Bufarini finished the fresco on February 3, with the help of 10 local students.
Adorning the floor of the Moulay Hassan square, the fresco depicts two figures on opposite sides of a narrow river, facing  each other and trying to communicate. The mural can be read as a symbol of unity and dialogue.
The London-based Italian artist Bufarini has painted large-scale murals in various other global cities, including in countries like China, Italy and Senegal. He is known for his striking compositions, lively colors and attention to detail. He uses his art as a playful means of communication, painting characters with minimal features that could easily speak to people from various backgrounds. 
"We came to Essaouira to paint the place Moulay Hassan, we found an endless ocean of inspiration," the artist posted on his Facebook page.
This fresco, the biggest in north Africa, was created as part of the sixth Marrakech Biennale, which will take place from February 24 to May 8. RUN is among a group of globally renowned street artists invited to participate in a parallel project dubbed "MB6 Street Art," which will be open from February 24 through the official end of the Biennale.
This story originally appeared on HuffPost Morocco. It has been translated into English and edited for clarity.
PHOTO GALLERY
25 Street Artists' Works From Around The World
Calling all HuffPost superfans!
Sign up for membership to become a founding member and help shape HuffPost's next chapter