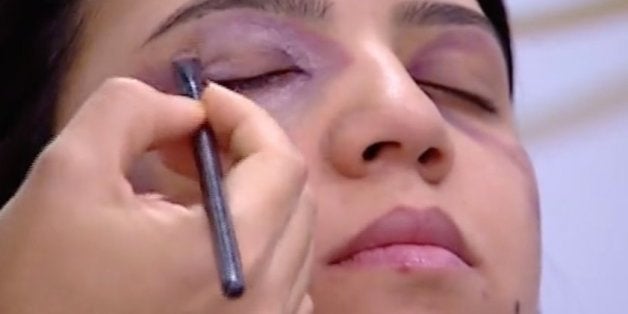 Unfortunately, women in Morocco had multiple reasons to observe the International Day for the Elimination of Violence against Women on November 25.
A segment on the daily TV program Sabahiyate, aired on Channel 2M, demonstrated how women could use makeup to cover up wounds and bruises brought about by domestic violence. This reflects the normalization of the subject for the vast majority of Moroccans.
Violence against women is such an integral part of everyday life in Morocco that we no longer think to eradicate this phenomenon, or at least to educate the masses. Instead, we deem it necessary to "help" those poor women to cover up their wounds -- giving them a blank canvas on which they would only receive other bruises.
After all, makeup would only "camouflage" the harsh realities of women, forcing them to accept their fate and live with abuse.
In the same week, prevalent misogynist discourse in Morocco was only perpetuated by a video posted on the Moroccan website Welovebuzz. In the video, three young men nonchalantly discuss violence against women. "Should we beat women?" asks the interviewer.
For the men featured in this video, marriage is a contract between husband and wife that delineates that a housewife has to obey her master or suffer beatings as retaliation. "Women should be beaten at least once a week," one man explains confidently, as if he had just quoted a verse from the Quran.
In the video, violence is even described as a right for women. Such stupid and absurd answers initially appear comedic -- then we realize that the ideas held by the three men interviewed are shared by many Moroccans, including women.

 
Ladies, do not camouflage your wounds, change your spouse!


My thoughts therefore go out to these women who accept to be beaten, and who consider this to be normal, or even a sign of love and affection.
My thoughts are also with women who tolerate their abusive husbands -- women who at an early age internalize the idea that to disobey their husbands is to disobey God.
I have particular sympathy for women who flee their husband's blows and face even more abuse by their disappointed fathers.
Finally, my thoughts are with the Moroccan women who have had the courage to denounce their husbands, and who have not concealed the marks of their beatings, but rather wore them proudly.
Ladies, do not camouflage your wounds, change your spouse! Do not camouflage your wounds -- let the law deal with this animal!
This post originally appeared on HuffPost Morocco and has been translated into English.
Calling all HuffPost superfans!
Sign up for membership to become a founding member and help shape HuffPost's next chapter