When I booked my trip to Morocco, I had only a few notions in mind: good surf, good food and a drastic cultural change from my humdrum winter in England. It was a bonus that landing in Agadir only took a four-hour flight from London, but what I came to discover during my 12-day trip was far more than what I expected.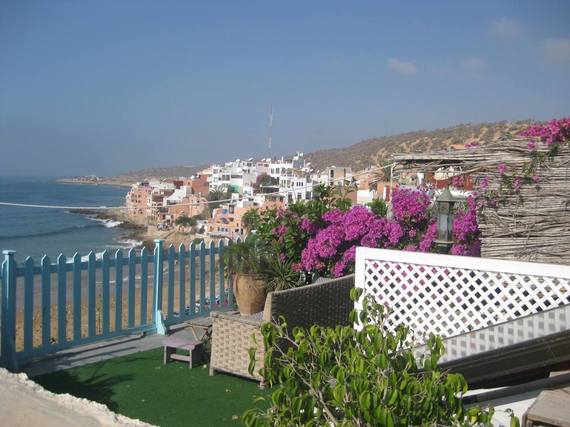 My girlfriend, Grace, and I first arrived in Taghazout, a small fishing village in the south west of Morocco. It was originally inhabited by the Berber people, who used the village to store their fishing equipment, as they preferred to reside in the foothills surrounding the village. With the ever-growing presence of the Spanish in the 19tth century, the village expanded with factories, mosques, and housing for the Berber people. Fishing for seafood is their main form of income (followed by the production of Argan oil,) with a rich current of fish and shellfish swept to their shores by the mass of the Atlantic Ocean. But the ocean has provided another form of income for this tight-knit community of humble residents -- the Dirham brought by surfers.
We were dropped off in the village's town center/bus and taxi stop/impromptu livestock butchering station after a 40-minute taxi ride from its nearest city, Agadir, to the south. The chaotic ambiance hit us like a fresh onshore wind to the face.
"You need a place to stay!? Good price for you my friend! Follow me! Best place in town!" shouted the local businessmen, desperately trying to out pitch their fellow competitor. Thankfully, we had already booked a place to stay and our host Chris, easy to spot due to his 6ft 4" stature and broad frame, arrived to pluck us from the crowd of swarming salesmen. A short stroll through the village brought us to our residence, a modest apartment with panoramic views from the roof terrace of the mountains and bustling village, spilling into the vastness of the Atlantic, stretched as far as we could see.
We settled in to our home for the next week and sipped on freshly made Berber tea, the local tipple infused with mint, mountain leaf, and copious amounts of sugar. The locals called it 'Moroccan whiskey' as their religious views don't permit alcohol consumption, but to us, it quickly became just as satisfying.
Our next adventure was out into the village to shop for our dinner -- chicken and vegetable tajine. I find that hitting the produce stalls is always a great way to submerse yourself in the local culture. The smell of fresh fish pierced the salty ocean breeze that swept through the streets, blending with the spices and herbs that commanded our senses as we walked past open-air stalls and kitchens. With this caressing our nostrils, our stomachs began to rumble with excitement. A healthy amount of vegetables, snacks and a kilo of chicken set us back the modest sum of 30 Dirham each -- around £2, or $4 USD.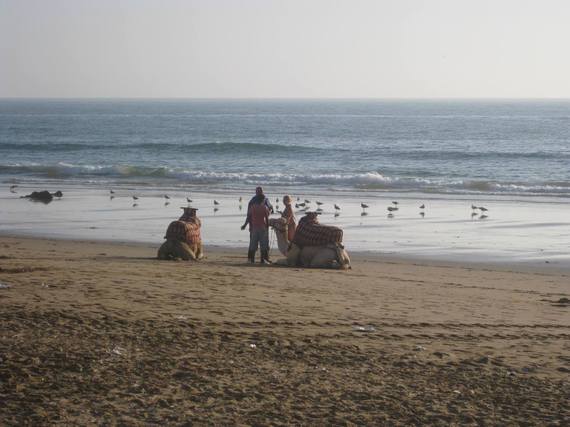 The next morning we walked from our apartment with waxed-up boards under arms and the sun on our backs, headed to a local surf spot called 'Panoramas'. The sand spread south in an endless stream of glistening gold. A host of bays and nooks cut through the shoreline, each offering different micro breaks and unique surfing conditions. Panoramas is a beach break mainly serving up right-handers by the rock frame on the near side of the beach. We shared the beach with a host of sunbathing tourists, waving away camel rides and local trinkets being sold to them by the steadfast local salesmen.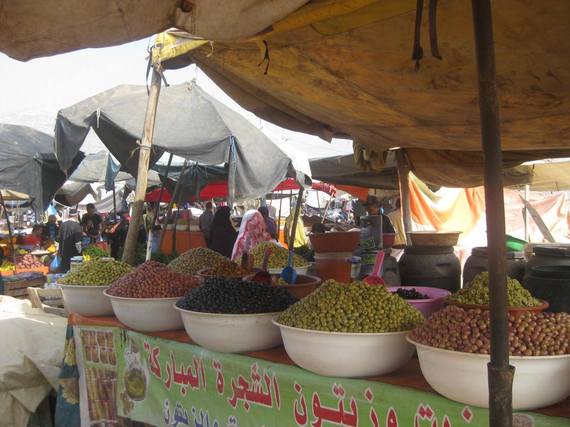 After surfing and indulging ourselves in the homespun scene of Taghazout, we took a bus ride to the slightly bigger town of 'Banana Beach'. It was market day and the air was filled with exotic fragrances, crowded with families going about their weekly shopping, tourists looking for bargain souvenirs to bring home, and the makeshift stalls of energised salesmen, pitching their goods to the bustling crowd in five different languages. Vibrant red, orange and green spice piles towered from their stalls, shimmering gems framed in gold and silver laid out on carpets at our feet. I felt surprisingly relaxed in the chaos, excited by the culture whirlwind around me. A few hours later, exhausted and laden with bags but happy, we headed back to Taghazout.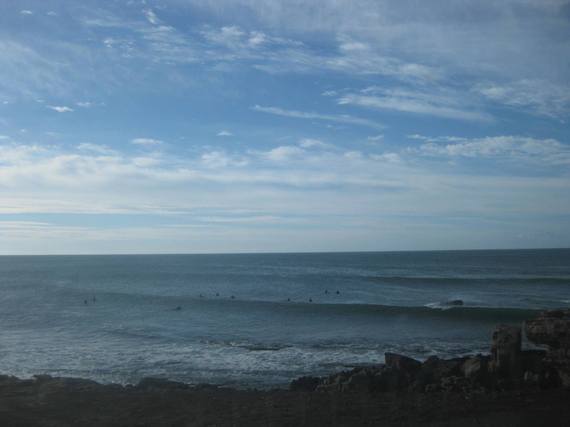 The next day we hired a car and headed north, with the promise of bigger swell at 'Boilers'. A safari-like road trip took us through some of Morocco's outback terrain and cliff hanging string roads. Arriving at the ocean, the surf appeared like a desert mirage as we squinted through the dust cloud of our journey. We quickly suited up and headed down the rocky entrance into the water. Fresh but not cold, we paddled straight into the line-up and waited our turn. Rumour of the returned swell had spread, so a barrage of wave-depraved surfers started to show up. The wait was worth it, and I was happy to find beautifully rounded right-handers peeling away with a light offshore breeze.
While sitting in the line-up, I felt like I'd disappeared into this land of sensory riches, timeless and without identity. In that moment I wasn't 'Adam Williams, the twenty-five year old Englishman,' but just another ocean lover seeking freedom, waiting for those few moments of weightlessness with nature as my playground. Floating, quietly rocking back and forth as the ocean took it's own rest between sets, I reflected on how the west-coast of Morocco had been the perfect host.