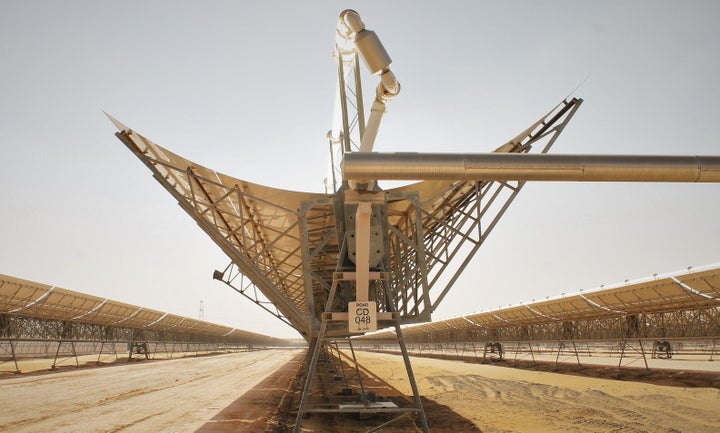 This week and last, countries gathered in Marrakesh to discuss the implementation of the watershed Paris Agreement on climate change. We would be hard-pressed to find a better, more inspiring place to do this than Morocco – a country which is racing towards a renewable energy future.
In 2007, less than 10 per cent of the country's electricity was powered by renewables. Yet even while energy demand has increased, that figure has risen dramatically. In 2015, following years of innovation and investment, renewables accounted for more than 30 per cent of installed power capacity.
With the opening last February of the Noor I concentrated solar power (CSP) plant near the city of Ouarzazate – the largest of its kind on the African continent – that figure will rise even further. Once Noor II and III are built, the complex of solar plants will be the largest of its kind in the world. In 2015, Morocco became the world's leader in CSP investments and capacity additions (the first developing country to do so), and the fourth in the world in terms of overall capacity (behind Spain, the US and India). And the complex at Ouarzazate is only the first of five planned to be operational by 2020. Given CSP is in the early stages of deployment, Morocco is now well positioned to take advantage of possible cost reductions for CSP of up to 43 per cent by 2025.
And this is just solar. Wind power offers another success story. By 2014, wind power made up 5 per cent of the total power supply, and that figure is expected to rise to 14 per cent by 2020. This growth is being driven in large part by falling costs. Morocco recently secured average bids of just USD .03 per kilowatt hour from its tender for 850 megawatts (MW) of large-scale wind energy projects, a cost that is significantly cheaper than coal in Morocco. By some estimates, wind could potentially supply electricity to 6 million homes by 2020.
Morocco is well on its way to achieving its ambitious target of sourcing 42 per cent of its electricity needs from renewables by 2020, and 52 per cent by 2030.
So what can Morocco's success teach the rest of the world?
Morocco proves that having ambitious targets combined with policies to meet those targets matters. And by policies, I refer to actual laws on the books and regulations which both favour investments in renewable energy – including the elimination of many fossil fuel subsidies – while also opening up the market to new players.
For instance, Morocco has a law in place which helps attract private finance to the renewables sector by allowing businesses to produce and sell electricity directly to utilities and private consumers. Some of the excess electricity produced by private investors in renewables can now also be sold into the high and very-high voltage grid. Additionally, the government launched an initiative to encourage large industrial consumers to produce their own electricity for self-consumption. Morocco is today one of the only countries in the Middle East and North Africa region to have utility-scale projects developed by independent power producers. Some examples, other than the groundbreaking CSP developments recorded in the country, include the 300 MW Tarfaya project – the largest wind farm in Africa and largest private utility-supply renewable energy project – which was developed in 2014 through a public-private partnership.
While the Moroccan story today is largely one of large-scale projects, in recent years, the country has also spurred small-scale rural electrification with decentralized renewable energy. Thanks to a concerted national electrification initiative, tens of thousands of remote villages are now powered by domestic sources including small solar, hydro and wind. This initiative has resulted in an electrification rate which is now over 98 per cent.
The fact that the Paris Agreement came into force on November 4, faster than anyone imagined possible is a powerful signal that governments are prepared to move swiftly forward with strong climate action. The transition to sustainable and affordable renewable energy will be at the heart of climate action.
Morocco is setting a compelling example for the world and can serve as an example of what is countries can achieve with ambitious targets, and the right enabling policies and frameworks in place.
Popular in the Community