Morocco has long been an exotic and adventurous oasis for savvy travelers and global thrill seekers. If you have already explored the Saharan, climbed the Atlas Mountains and seen Morocco's many cities and medinas, it's time to dive deep into Morocco's coastal road. You will easily be seduced by the sea and become immersed in to the authentic old world charm and elegance of Morocco that is seamlessly mixed with modern amenities and that global sense of sophistication by the sea.
As the gateway to Northern Africa, Morocco provides a rich and cultural backdrop. Along the coast you will see an African ambiance, Middle Eastern and Mediterranean sensibilities, a European aesthetic and that definitive French flair. Here are but a few posts along the coast well worth a stop.

Start your journey with a direct flight from JFK to Casablanca, Morocco's largest city and its chief port. You will get a quick taste for their culinary culture with the in-flight food, which is excellent on their signature Royal Air Maroc airline.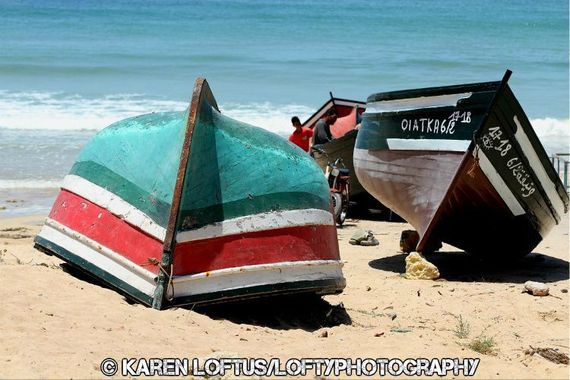 Once in Casablanca, check out Hassan II Mosque, the largest mosque in the country and sixth largest in the world. Built on reclaimed land, half the surface of the mosque lies right above the sea, over the Atlantic. The partially glass floor offers clear views of the water. This mosque and the Tin Mal Mosque are the only mosques in Morocco open to non-Muslims. So, take advantage.
The panoramic bar Sky 28 at the Preferred Hotels & Resorts five-star Kenzi Tower Hotel in Casablanca offers iconic views of the city and a stunning photographic picture at the Hassan II, but be sure to leave time for the inside tour to explore every inch of the rich architecture and design.
Grab a sexy seafood lunch with a crisp glass of the local Moroccan wine, which has fared far better in recent years, at one of the many restaurants on the water's edge before continuing along the coast.

Check in to the luxury five-star Mazagan Beach Resort another hour away from Casablanca, along the coast. Before dinner, grab a game of golf, take a sunset walk, ride a camel or quad bike on the beach and in to the forest . Or you can simply relax in the spa or by the pool.
There are 250 hectares to relax or exercise your sense of Moroccan adventure at Mazagan. This is a great place to decompress for an overnight or for a few days after a long flight.

Once you leave Mazagan and are well on your coastal way, slip in to the small neighboring port city of El Jadida/Mazagan. The Portuguese Fortified City is a UNESCO World Heritage site with an evocative medina with some of the best scarves and clothes in the country, all at a very reasonable price.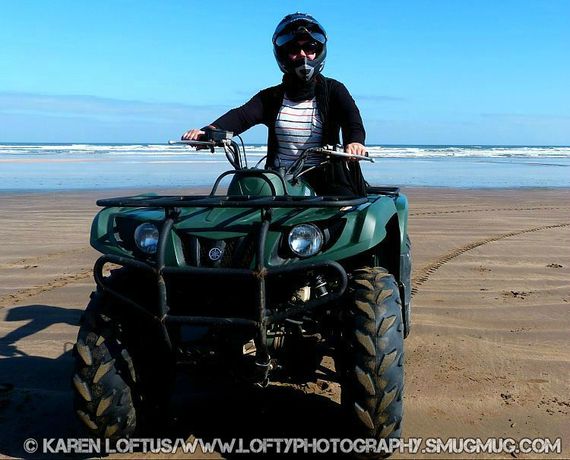 Continue south along R301, the and rugged coastal road to Essaouira, but not before slipping in to the quiet Qualidia, well-known for their oysters. The Small Luxury Hotel La Sultana Qualidia with 11 rooms and suites is a hidden elegant gem. The day I was there, it was rumored that either the president or the president's Mom was in residence. Regardless, everyone on site is treated royally.
Grab a champagne lunch on their private beach capped off with a leisurely walk along the jetty or grab relaxing nap in the sand. With the Caribbean-like colors all to yourself, this sophisticated slice, often referred to as "the St. Tropez of Morocco", is a favored place among wealthy Moroccans and ex-pats. There was a buzz of Brits while I was there.
Another 100 miles south you will find the idyllic Essaouira, a picturesque 800 year old port city with its Iberian influence. Once enclosed by fortress walls, it is now a large open fishing harbor, perfect for kite and wind surfing.
Check in to the Heure Bleue Palais. It is a rich and a multi sensorial experience with the dusty maze of the medina right outside its door. The madness of the medina is counterbalanced with a refined elegance and a traditional northern African charm within the walls of this textural Relais and Chateaux property. The service, aesthetics and gastronomy are simply sublime with a rooftop pool pitch perfect for sunsets or sunrise.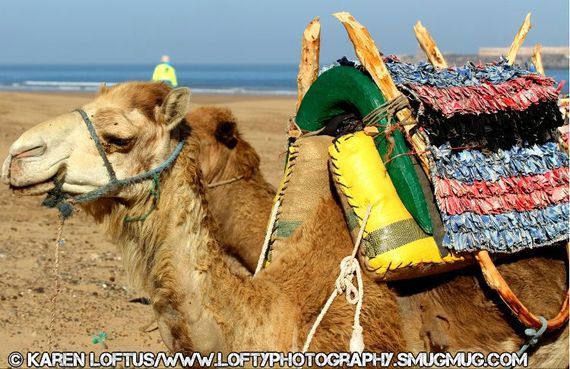 Be sure to take a quiet camel ride on the local beach in Essaouira before heading further south to Agadir, Morocco's answer to Miami. As this major Moroccan city was largely destroyed by an earthquake in 1960, you will see high rise resorts and restaurants, more modern than old world, including a modern medina.
This is where the well-heeled locals go to get away. One of their newest luxury hotels in the resort town is the Sofitel Agadir Thalassa Sea & Spa set on a private beach. Stop for an exquisite spa experience, poolside cocktails or a very chic sleep.
We were instantly won over by the decadence and the seduction of the Sofitel, so much so that we considered staying there for the night versus continuing onward to Mirleft as was planned.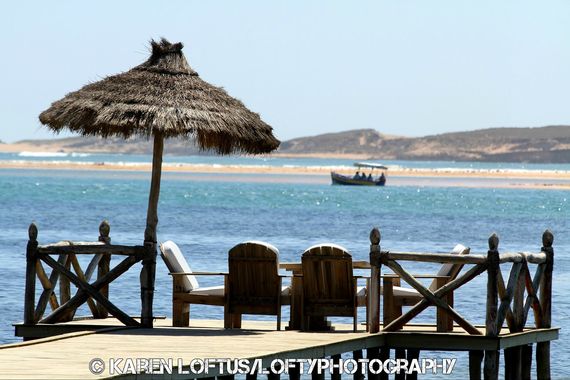 We opted to continue onward as Mirleft had its own iconic allure we were quite keen to explore. If you choose to do the same, two more hours of driving later, through tiny traditional coastal towns, you will finally make your way to Mirleft on the southern coast of Morocco.
Ascend up the dusty road to the rustic chic ambiance of Les 3 Chameaux. It is just the ticket for the gyp-set crowd in search of that authentic Moroccan ambiance riddled with old world French flair.
Favored by the affluent and ever-arty Europeans and Moroccans, Les 3's Moroccan architecture mixed with modern European offers panoramic views of the Anti-Atlas Mountains behind and the Atlantic Ocean. Grab an afternoon tea overlooking the sea before a poolside plunge at dusk and a traditional multi-plated feast in the evening. Then let your many muses mingle away while you settle in for some seriously sweet dreaming.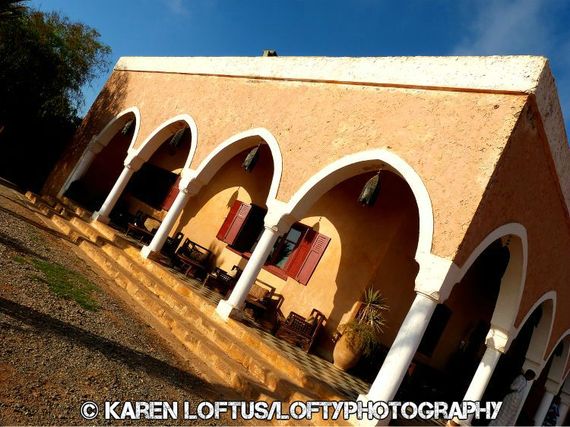 Now that you've had your fill of the coast, best to head in and finish your trip in Marrakesh. It is a ways away from the salty sea, however no trip to Morocco is complete without a stop in Morocco's fourth largest city. The medina alone is a marvel unto itself. Prepare to spend at least one full day if not a few days where you can pop in and out to fully explore this evocative spot.
Churchill described Marrakesh well to Roosevelt as simply the loveliest spot on earth. It's hard to argue. There are countless riads and several five star resorts dotted throughout the city, but nothing rivals the Royal Mansour.
Morocco's King Mohammed VI spared no expense in creating this palace, modeled after a traditional Moroccan home. Each of the 53 private riads with three floors of luxury provide a mix of fabrics, silks, carpets and carvings and a rooftop complete with a private plunge pool. As the only entirely hand-built hotel in the world, the craftsmanship is evident in every inch of each riad, from multi-colored mosaics and carpets to precious metals and carved cedar ceilings.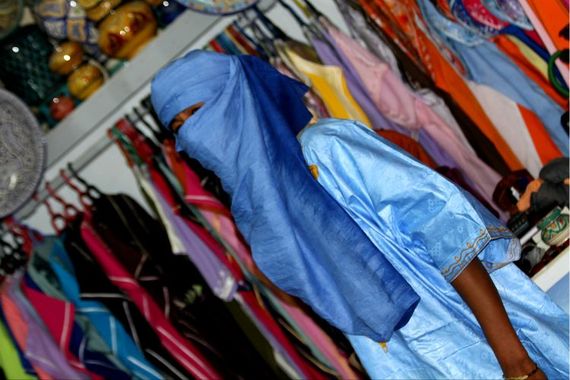 Aesthetics aside, each riad comes with an attentive yet discreet butler. You are hard pressed to ever see any staff as they all operate underground, driving golf carts along a maze of passageways, entering riads quietly through hidden portals.
If you need to detox from the overt decadence at hand, simply slip in to their white marble spa for the best hammam of your life. You will be carried, literally, through a unique and luxurious bathing ritual that combines hot saunas, fragranced steams and a cold plunge pool that revitalizes both body and soul.
Now you just might be ready to catch that flight back in Casablanca.