"Alone we can do so little, together we can do so much."
As frequent (or even occasional) readers of this column will know, the cornerstone of the "morphmom" concept is to inspire and lend a helping hand to women who have dedicated a portion of their lives to a most noble calling – raising their kids-but have entered a new phase pursuing old dreams or new interests, and, are not only willing, but downright thirsty, to offer one another a helping hand. Sharing a bit of hard-earned wisdom or concrete advice in order to encourage each other to reach our dreams seems somehow intrinsic to, and inextricable from, achieving what we originally thought were our own individual goals.  By staying connected with one another – and connecting with others who have chosen to chart different courses – we muster a veritable army of women who, together, are unstoppable.
Watching such women help each other attain their objectives by giving of themselves – be it providing step-by-step guidance or simply sharing their own inspirational stories ― is itself an inspiration. Time and again, as I've crisscrossed the country documenting such moments, I've witnessed that unmistakable spark – that spontaneously-generated surge of energy ― when women make a connection far exceeding anything they could have expected. When they realize that they are not alone and that their personal aspirations are part of something larger.
As a result of that spark, the "morphmom" community has exploded to encompass a dizzying array of amazing women – from artists to doctors, producers to philanthropists, military women, writers ― even a roller derby queen!
So intoxicating has been its sudden awakening that one might be forgiven for thinking that simply being a part of the "morphmom movement" – watching and contributing as it gained its footing and went on the march – would be enough for many of these women.  But that would be to misunderstand them at a fundamental level.  Indeed, it should really come as no surprise, given the cloth from which they're cut, that it was actually not nearly enough.  To the contrary; what I hear from them, time and again, is that there must be a way to further harness this energy and channel it not only towards helping other morphmoms – or even other women ― but to all those unable to help themselves.
This widely-shared conviction is what gave birth to the newest facet of our morphmom community ― "Morphmom Goes To..." ― which was the brainchild of fellow morphmom Shelia Klehm, Managing Director, Private Wealth Management, UBS Financial Services, Inc. and a  true example of a woman for all other women.
How best to describe "Morphmom Goes To ..."? I think our inaugural event, which harnessed the incredible power of morphmoms across the country to participate as a community in Maria Shriver's Move for Minds, sums it up perfectly.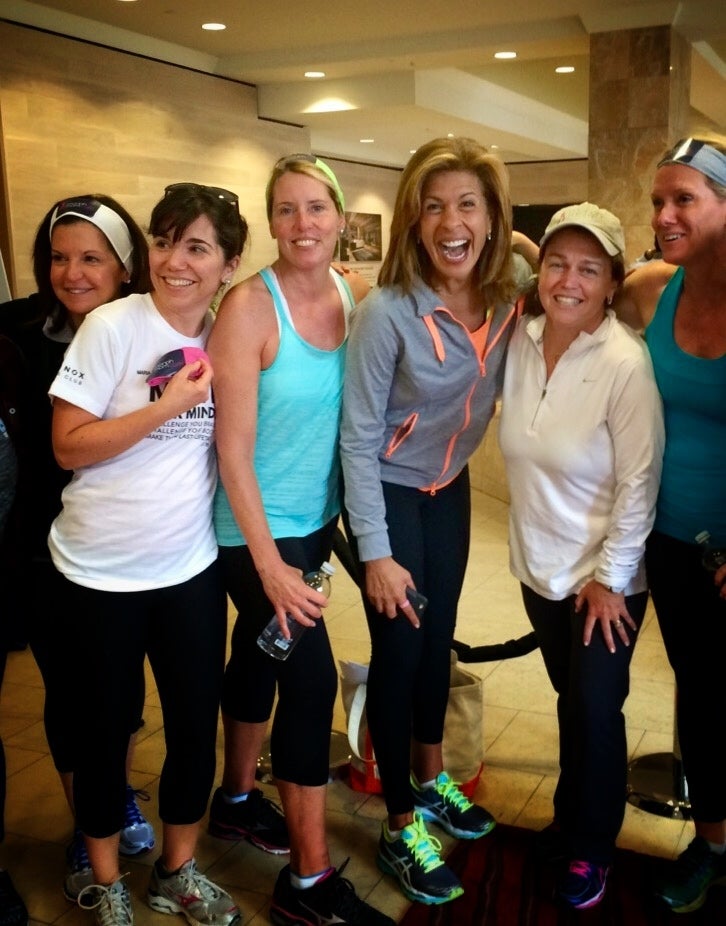 We sounded the trumpets, and, as always does happen, morphmoms responded in droves, especially when they learned of the destination!  An army of  morphmoms attended the New York chapter of the Move for Minds Event, hosted by Hoda Kotb (in fact, morphmom rallied the largest group of women to this NYC event!). Move for Minds was a "mind-blowing experience where women and men in six cities across the country used their bodies and their minds to raise awareness and funding to support research on women's brains and, in particular, Alzheimer's disease. "  We participated in various discussion groups and exercise classes at Equinox Fitness Club.  We supported a cause that has touched most, if not all of us, in one way or another, and we began a new chapter for morphmom.  "Morphmom Goes To..." is  a new way to connect, and now that we have gotten off to a running start we cannot be stopped!
We will continue to host our famous cocktail parties and networking events across the country, but we will now also look for ways to give back to the greater good.  We will select a show, cause, fundraiser, a walk for charity etc and rally the troops to come out and show support morphmom style.
And, in true morphmom fashion, these events will also give women another way to connect and help each other reach that next step!  
This article was co-authored by Breene Wesson, morphmom extraordinaire!
For more information about joining our morphmom momvement...
Calling all HuffPost superfans!
Sign up for membership to become a founding member and help shape HuffPost's next chapter
This post was published on the now-closed HuffPost Contributor platform. Contributors control their own work and posted freely to our site. If you need to flag this entry as abusive,
send us an email
.