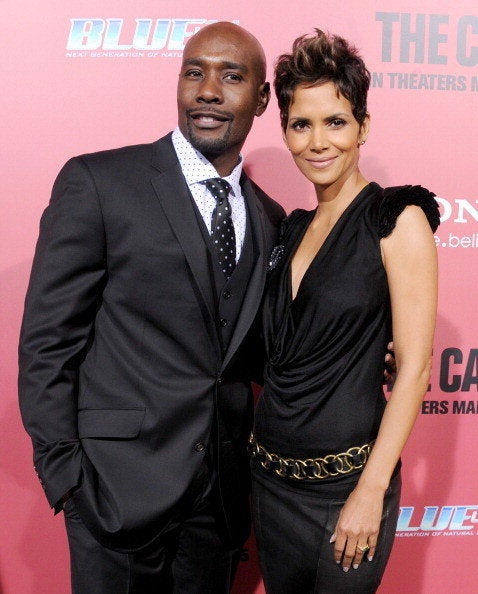 Last year the National Crime Information Center reported 661,593 missing person records in America, down 2.5% from 2011's totals of 678,860, according to the center's official site. Though the statistics are declining, Brad Anderson's latest thriller, "The Call," aims to shine a light on the issue.
Starring Halle Berry, Morris Chestnut, Abigail Breslin, and David Otunga, the WWE Studios-produced film centers around Berry's character and veteran 911 operator, Jordan Turner, as she races against time in an effort to save a kidnapped teenage girl from a serial killer.
During a recent interview with the Huffington Post, Morris Chestnut opened up on his role as Berry's love interest, Officer Paul Phillips, in addition to what fans can expect in the highly anticipated sequel, "The Best Man Holiday."
Can you talk about your role as Officer Paul Phillips?

Basically, I play the love interest to Halle Berry's character in the movie. She's a 911 operator and she gets a call about a kidnapping and she has to pursue the killer. I play a police officer, so when she gets information in the 911 call center about the possible location of the killer, that's when she calls me and my partner in the movie, David Otunga, who's pursuing him.
Since you're playing Halle Berry's "love interest," was there any extra preparations made on your behalf?
[Laughs] She was great man. She's a very, very sweet woman. But the thing about it is, people don't know that she's just as sweet on the inside as she looks on the outside. And that's refreshing to see, especially in this town [Hollywood] where you have people pretending to be something that they're not, having an attitude and all of that stuff. So it was just refreshing to see someone as accomplished as she is, one of the most beautiful women in the world. And to be so sweet and down to earth is really refreshing.
Do you think once people see the movie that they will become more informed on what to do when there's an actual abduction?
Yeah, it will definitely give people an idea of what they can do to prevent certain things from happening. Whenever we see a movie and we relate to the characters we would imagine what we would do in those types of situations. And there are a couple of things in this particular situation that if people found themselves in the trunk of a car, I think it would give them better ideas of what they could do to get themselves from out of that car. It also sheds light on what 911 operators have to go through and experience, because it's not an easy job. I think about 80 percent of the people who take the test to become a 911 operator fail, because you have to have certain characteristics. So you'll learn a lot.
Were you surprised by the various qualifications?
Yeah, because it was something that I never really thought about. I never thought about becoming a 911 operator and I don't know any 911 operators. When I read the script and started shooting the movie, it kind of reminded me of when I was back in elementary school. I had a perception and never thought about teachers having a family. I never thought about them having a family and what they go through on a day to day basis because they're our teachers. And that's the same way I thought about the 911 operators. I never thought about them and what they had to go through. So that's where this movie is interesting, because sometimes you can call 911 and as soon as you hang up that phone, they have no way of knowing how it ended. So there's a lot that sheds light on being a 911 operator.
Yeah, that's pretty accurate. It's going to be a movie to where I think people are going to experience the whole gamut of emotions. I think they're going to laugh, and I think they're going to cry. There's a lot of stuff going on in this movie. It's a fun movie, don't get me wrong, but there's a lot of heartwarming moments, some realization with some characters. There's a lot in this movie.
If you had to pick any two films from your filmography to star in a sequel, which two would you choose?
One would be "The Best Man." That's why I'm glad we're definitely doing that. Another one that I wish I could be in the sequel to is "Boyz n the Hood." But I couldn't be in it because I didn't make it out of the first one… Unless I come back as a ghost, but that's a whole new movie. [Laughs] But those are the ones that most people talk about. And people are really affected by those two movies, so those would be the two.
"The Call" is now in theaters. For more info on showtimes in your area, click here.
Support HuffPost
Every Voice Matters
Popular in the Community