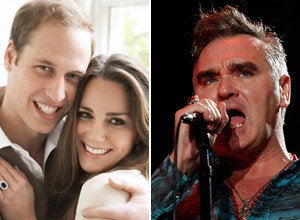 Morrissey once sang "the Queen is dead." Looks like he wouldn't have been too upset had the metaphor been reality.
The legendary rocker, first of seminal 80's band The Smiths and now well into a prominent solo career, has been nothing if not outspoken since rising to stardom, often taking on contemporary English society. With the Royal Wedding just a day away, Morrissey shot out at his nation's ceremonial rulers.
"Why would I watch the wedding? I couldn't take any of that seriously," he said in an interview with BBC Radio 4. "I don't think the so-called Royal family speak for England now, and I don't think England needs them.
"I do seriously believe that they are benefit scroungers, nothing else," he continued. "I don't believe they serve any purpose whatsoever. I'm not an anarchist, but I believe that people don't want the Royal family -- the so-called Royal family. They're not royal to me, but they're royal to the media for some reason."
In his 1986 epic "The Queen Is Dead," which launched the album of the same name, Morrissey shot broadsides against the family. Addressing Prince Charles, who was then recently married to Princess Diana, he sang, "I said Charles, don't you ever crave/ to appear on the front of the Daily Mail/ dressed in your Mother's bridal veil?"
In 2006, Morrissey, who has lived in Los Angeles since the mid-90's and sang "London is dead" in the song "Glamorous Glue," said of Charles, "The very idea of Charles being King is laughable. You might as well say that Ronnie Corbett will be king one day. I think that would give people more pleasure."
Corbett is a Scottish comedian who stands just five foot one.