Mortadella di Bologna is so closely associated with the city of Bologna that many people often use the terms "mortadella" and "bologna" interchangeably.
There is something to be said for being in the right place at the right time. During our visit to Bologna in the Emilia Romagna region of Italy, we looked out our window and discovered we were almost sitting on top of MortadellaBo, a one-of-a-kind, four-day festival celebrating mortadella.
Much of Piazza Maggiore, the public square in the historic center of the city, was swathed in pink with white dots. Booths were set up in the shape of a U on three sides of the square, facing San Petronius Basilica.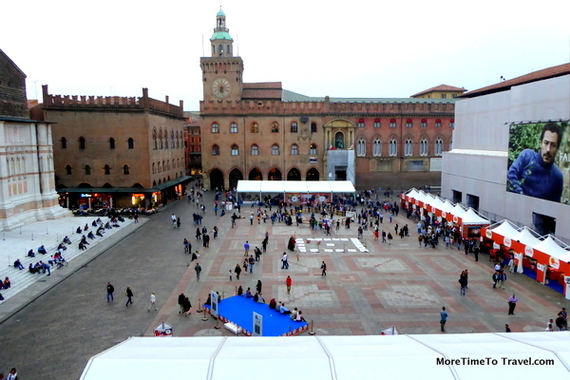 There was something for everyone: Cooking demos and classes (using mortadella as an ingredient, of course), tastings, retail stalls, entertainment for children and families, finger foods, and a pink restaurant under a tent---and a Queen reigning over the Festival dressed, of course, in a pink gown with white dots. Even the slicing machines were painted pink.
Mortadella is a large, cylindrical, pink cured sausage made from crushed pork and spices based on recipes that date back to the Middle Ages. The sausage also has a distinctive aroma. However, what sets it apart from the bologna we eat in the U.S., is the meat's visible fat in the form of white cubes.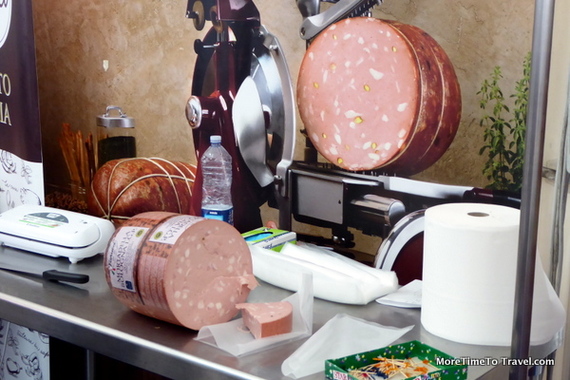 Under European law, Mortadella di Bologna (PGI) has a protected geographical indication, meaning that it can only be called mortadella if it is produced in Bologna, in other areas of Emilia Romagna, or in neighboring regions in Italy.
In Italy, it is traditionally served in very thin slices (almost like proscuitto) but it is also served in cubes (with toothpicks) as an appetizer. It is often paired with bread (making a tasty sandwich with cheese), added to salads, or used as the stuffing for Bolognese tortellini.
There were so many mortadella makers and retailers at the festival that I stopped to ask a young woman how a consumer would know how to choose one mortadella from the others.
"It's just a matter of taste," she said, "The same way some people like Coke and others like Pepsi."
She left us with only one option, to taste several, because all the explanatory literature associated with the festival was written entirely in Italian.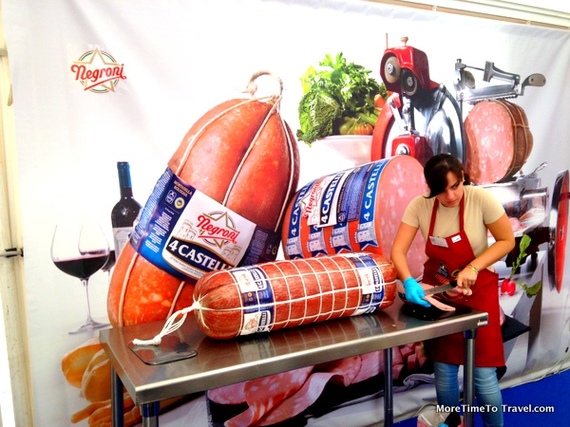 A festival celebrating a sausage: Why?
Co-sponsored by many governmental and corporate entities, the MortadellaBo Festival is spearheaded by the Consorzio Mortadella, a group established in 2001 to "protect, promote and enhance Mortadella di Bologna IGP." Some 31 companies belong to the consortium, producing 95 percent of the mortadella products consumed.
We participated in one of many cooking classes on the program and learned from two excellent cooks how to make a pasta-free lasagna dish with sliced potatoes, fontina cheese and slices of mortadella.
When I asked the young woman working next to me why she was there, she sheepishly told me that she was crazy about mortadella although she acknowledged that is is often viewed as a low-brow food choice by some (akin to a hot dog in America.) One reason for this is that it is made from some of the less desirable parts of the pig, in an effort to make sure that no part is wasted.
Clearly, this event was intended to reverse the image problem of the lowly sausage. There were lectures by doctors and nutritionists debunking myths that it wasn't healthy. They explained that one serving has no more calories that a serving of yogurt and fruit, and has less calories than a bowl of pasta. They went on to add that consumption of mortadella is part of a balanced diet. The authentic product is high in protein and contains no fillers or preservatives and tastes nothing like the bologna we eat at home.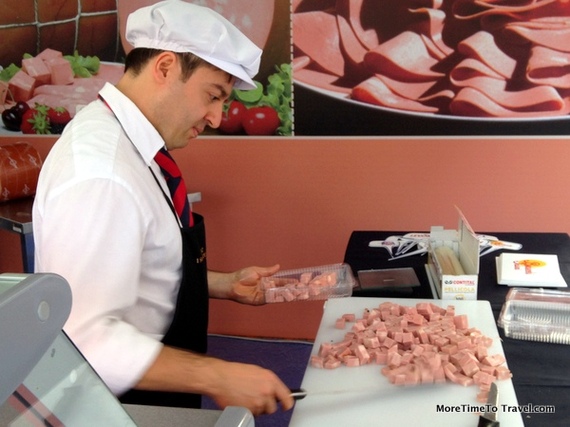 All the festival events were free. After mingling on the square with other festival attendees, we left not only with a renewed appreciation for mortadella but also a healthy respect for this unique festival celebrating the famous Italian sausage.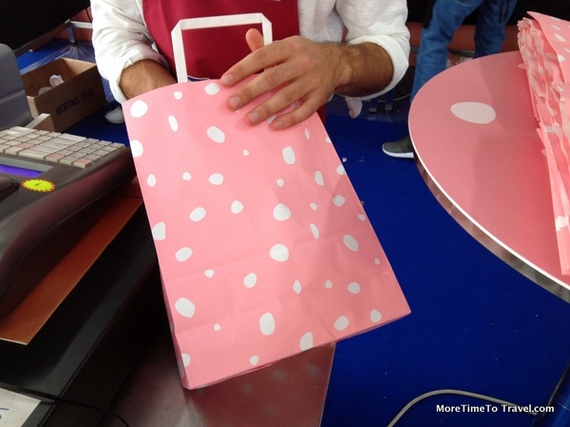 Irene S. Levine, PhD is an award-winning travel writer and member of the Society of American Travel Writers (SATW). You can follow her blog for travelers over 50 at More Time To Travel.