You can't keep a good woman down. In 2009, when Angela Logan was faced with foreclosure, she got to cooking. A beautiful actress, model and single mother of three sons, Angela had been making ends meet with odd jobs. When the $2,559 mortgage payment on her Teaneck, N.J., house was due, she used her grandmother's recipe for a cake filled with Red Delicious and Gala apples iced with cream cheese frosting to raise the funds.
"My grandmother passed along the quest for great flavor, aroma, and all natural products. Using produce from her garden and from local farms, she could make anything taste good. As a child. the only thing greater than cooking with my grandmother was eating her cooking. Throughout my life I have sought fresh natural flavors."
Mortgage Cakes was born when Angela calculated she could sell 100 cakes at $40 a pop in 10 days she could save her home. She sold out by email to friends, asked her church members, farmers markets, online sales, restaurants and specialty stores. For Angela, the journey is about family: "I am able to teach my sons to never give up and to give the best of what you've got all the time; because everything you do, says who you are." Angela added cupcakes and specialty cakes -- apple rum upside down cake, apple pound cake with Ghirardelli white chocolate drizzle and caramel apple cake with warm slow cooked caramel -- to her menu.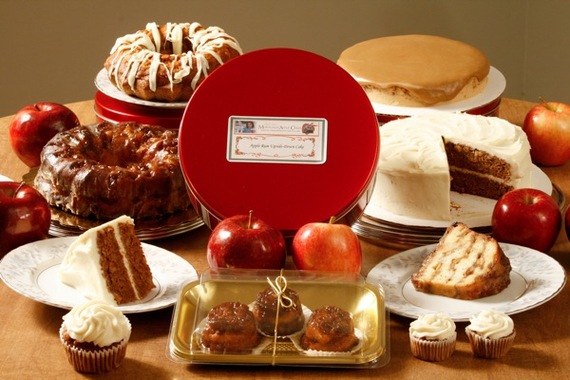 The media picked up on her hustle and Angela's business success story was featured on CNN, Today Show and Essence magazine, to name a few. Angela says:
"I was in 'show business,' and a lot of the skills I learned from the business, such as marketing, making contacts, connecting with customers was an easy transfer. I took a business class years ago during one my acting dry spells which dealt primarily with taxes and profit loss issues. It has been, "learn as you go" for us. I have consulted with SCORE, Rutgers SBA, Specialty Foods, and most recently Business Connect. All have been very helpful to my business development. However; some of the best insights have come from other start-up businesses. One of the models we are following is farmer's markets, one vendor has 60 markets. You start small and work your way into the best ones. Farmers' markets have been very fruitful. We also do several fundraisers and sell to clients on line; among other things. I am very product oriented. During a fundraiser, a restaurateur confirmed what I know to be true- your product has to be good, consistently.
If you think this uplifting journey would make a good movie, you're right. Apple Mortgage Cakes starring Kimberly Elise (For Colored Girls, Woman Thou Art Loosed, Beloved, Diary of a Mad Black Woman) as Angela Logan will premiere on UpTV.
"I would hope that people would find faith in their own talents and find ways to think outside the box. But more so than that, do not to be concerned with people who are judgmental - especially you. In order to sell the cakes on the scale that I did, I had to admit that I needed help desperately. It was one of the most difficult things I have ever had to do. However, I had to live up to my own "Mommy" teachings: "Not to let people's judgment of you, get in the way of what you believe in. "They don't feed you."
Maya Angelou says, "I love to see a girl go out and grab the world by the lapels. Life's a bitch. You've got to go out and kick ass." Deliciously.
Related
Popular in the Community