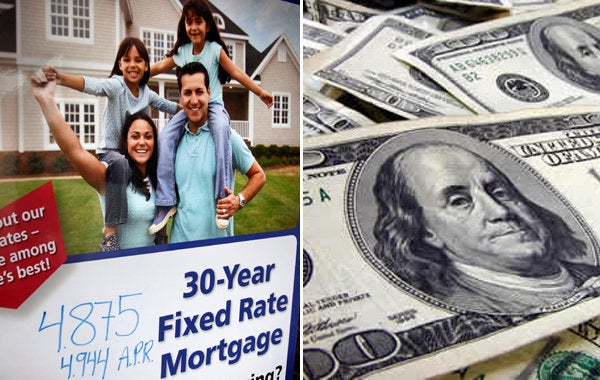 Never ones to let an opportunity go unexploited, mortgage lenders are taking advantage of a market fueled by low interest rates and massive government subsidies to turn record profits. Their secret: The return of "junk fees."
The Mortgage Bankers Association recently announced that independent mortgage lenders made an average profit of about $1,100 per loan originated in the first quarter of the year, an astonishing 635 percent increase from the previous quarter.
Nine big mortgage lenders, representing about two-thirds of the market, made about $9.1 billion in the first six months of the year off loan originations, according to Inside Mortgage Finance, a leading trade publication that collects data from lenders. In 2008, those lenders made about $3.3 billion for the whole year.
Meanwhile, real estate agents, consumer advocates and mortgage researchers say consumers are paying more than ever in fees, typically tacked on at the end of the transaction. Though rarely more than a few thousand dollars, the fees, multiplied by every homeowner trying to refinance an existing mortgage and every prospective home buyer taking on a new one, can add up to billions in undeserved profits, experts say.
"There's been a return of fees -- originating fees, underwriting fees, processing fees -- fees you haven't seen in years," says Guy Cecala, publisher of Inside Mortgage Finance. "There are roughly 12 to 20 fees you wouldn't have seen as recently as two to three years ago. But lenders can charge them, so they're charging them.
"This is the greatest period in recent memory for generating income," he adds. The rate of profits per loan has nearly doubled from last year, according to Inside Mortgage Profitability, an Inside Mortgage Finance publication.
"You do wonder what's going on here," says House Financial Services Committee member Brad Miller (D-N.C.). "Is this a case of the mortgage industry making great profits, at a time when consumers are suffering, yelling the sky is falling when in fact they're doing quite well? I'm more concerned that the banks are misrepresenting the true picture."
Realtor Rose L. Harris, owner of Re/Max Elite Properties in Coral Gables, Fla., says she sees fees on every loan. "I see a lot of junk fees," she says. "Even for people who have really good credit and qualified down payments... they are being charged a lot of extra fees."
Cecala points to several factors behind the resurgence of fees. Among them: fewer lenders, which means less competition. Many of the biggest lenders have gone out of business. "Mortgage lending used to be very competitive," Cecala says. "There were lots of different players, and the competition kept prices low.... But now, if you want a loan you pretty much have to accept the lender's terms... You can't play them off one another."
Also, brokers no longer play such a big role in the mortgage industry. In 2005, brokers were responsible for 31 percent of all mortgages, Cecala says; in the second quarter of this year, they had 15 percent of the market. With fewer brokers demanding a piece of the pie, lenders are keeping more of the profit.
Then there's the issue of the massive government subsidies designed to spur lending, resulting in low interest rates for mortgages. With rates so low, lenders can tack on extra fees without it being as noticeable, Cecala says.
"We live in an automated mortgage processing environment," Cecala says. He notes that Fannie- and Freddie-backed loans require little more than a few clicks of the mouse on the part of the lender. "If you type in Fannie or Freddie, the system will tell you whether it's a go or not," he says.
The Mortgage Bankers Association points out that much of its profit numbers were the result of refinancings of existing mortgages, thanks to low interest rates.
"Refinancings tend to be good for consumers because they often reduce their mortgage rate," MBA spokesperson Carolyn Kemp wrote in an e-mail. "The first quarter [of 2009] was a period of high refinancing volume so many consumers were taking advantage of lower interest rates."
Norma Garcia, a senior attorney with Consumers Union, calls attention to Bank of America's profits. The bank made about $3.3 billion off mortgage originations through June, and another $2.8 billion off servicing mortgages (essentially collecting payments), according to Inside Mortgage Profitability.
Garcia notes the bank's abysmal record at modifying troubled mortgages -- it has modified just seven percent of eligible loans under the government's $75 billion loan modification program -- and its bailout haul -- the federal government has committed $45 billion in taxpayer money to the bank.
"They're keeping the money for themselves," Garcia says. "Given the need for credit, is it fair for them to be making these profits?"
Were you recently hit with "junk fees" when buying or refinancing your home? The Huffington Post wants to hear from you. Please e-mail me your story at shahien [at] huffingtonpost [dot] com.
Calling all HuffPost superfans!
Sign up for membership to become a founding member and help shape HuffPost's next chapter