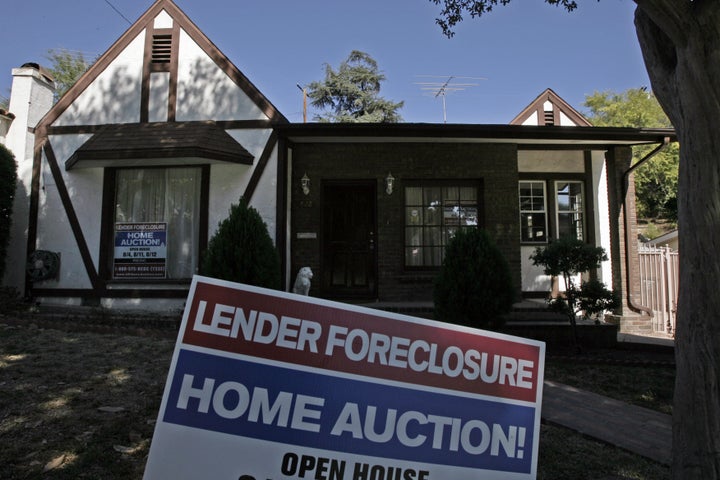 While the Obama administration and reporters trumpet the fact that the administration is about a month early in reaching its stated goal of modifying half a million troubled mortgages (an accomplishment worth trumpeting), an important aspect is being ignored: last month, less homeowners accepted offers to modify their loans, according to Treasury Department figures released Thursday.
Though the number of offers extended to eligible homeowners continues to rise, the number of offers accepted actually dropped, according to an analysis of Treasury Department data. In August, about 81 percent of homeowners accepted their modification offers; last month, just 54 percent of homeowners did so.
The implications, according to at least one economist, aren't good: homeowners have either lost hope or they're the recipients of terrible advice and just don't trust the Obama administration's $75 billion program.
An administration official confirmed that both are serious challenges.
Since June, when month-specific reports became available, the number of offers extended has increased every month, from 136,560 in June to 186,601 in September. Homeowners were taking advantage of the offers. In June 93,146 homeowners accepted; by August 133,192 homeowners had signed up for the Treasury's plan. But in September, the total dropped to 100,216.
Home Affordable Modification Program
Loan Modification Offers Extended vs Offers Accepted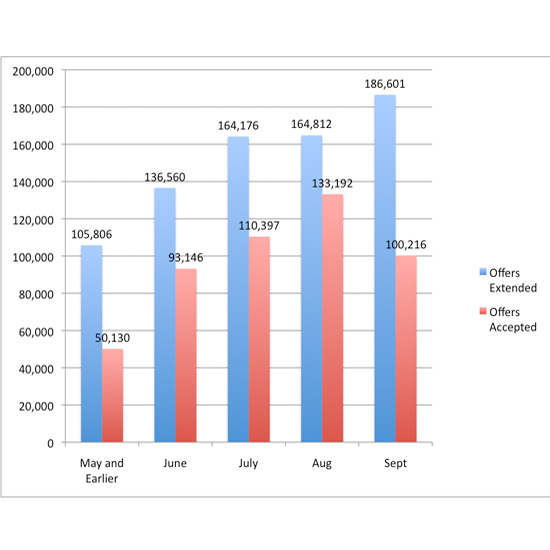 Source: U.S. Treasury Department
"Servicers are making more offers, but borrowers aren't accepting -- that's a negative sign," says Cristian de Ritis, an economist at Moody's Economy.com. De Ritis speculates that those who declined have "lost hope."
"If they're uncertain about their employment, or feeling insecure about their economic position, they're thinking, 'Do I really want to continue investing in this mortgage?' In order to modify their loan, homeowners need to be certain they can make the payments," he says.
"Everyone is focusing on the cumulative numbers, which is what the government is stressing, but it doesn't speak to the deeper problems," De Ritis continued. "If borrowers are losing confidence, that's a problem."
Much has been written about servicers' apparent stubbornness and incompetence when it comes to modifying home mortgages -- not to mention the reportedly frustrating process of going through a modification program -- but homeowners who are declining offers have already gone through the process. As de Ritis notes, they've already been approved. And that's what makes September's low acceptance rate numbers troubling. (more than 72 percent of offers were accepted from June to August)
Officials at the Treasury Department have taken notice. The agency is working with behavioral economists to improve outreach to borrowers, the Huffington Post has learned. Troubled homeowners are waiting too long to respond to the administration's Making Home Affordable Program; Treasury officials are trying to get homeowners to join the program sooner after becoming eligible, rather than waiting until they're on the brink of foreclosure. Behavioral economists study the effects of incentives on decision-making.
Also, on Wednesday officials from Treasury met with marketing representatives from the various mortgage servicers to get them to improve awareness among homeowners. There is concern that some borrowers may not trust the promotional materials arriving in their mailboxes, or the calls they're receiving from servicers encouraging them to take part in the administration-led effort.
One problem lies in the fact that homeowners generally distrust their mortgage servicers, especially since the onset of the housing crisis. But now, borrowers are being asked to trust them. Though it can't be an easy transition, mortgage companies did get borrowers to sign up for these loans; maybe they can also convince homeowners to modify them.
Were you recently offered a home loan modification? The Huffington Post wants to hear from you. Please e-mail me your story at shahien [at] huffingtonpost [dot] com.
Note: This post was updated Friday morning to include the graph seen above, and to reflect the fact that there is some lag time between when a servicer extends an offer and when a borrower's modification plan actually begins. Therefore, monthly ratios aren't as useful. Felix Salmon of Reuters breaks it down.
Calling all HuffPost superfans!
Sign up for membership to become a founding member and help shape HuffPost's next chapter