It's never been cheaper to borrow money, and that includes home loans. Mortgage rates have been falling all year and are flirting with historic lows.
That's made homeownership more affordable for some people, but not nearly as much as you'd think. That's because house prices are rising faster than interest rates are falling. Call it the dilemma of Fed policy, which has been keeping money cheap since 2009 in an effort to light a fire under the economy. It hasn't exactly worked.

Since the beginning of the year, falling mortgage rates in theory have shaved $44 off the monthly payment on a median-priced home. Take rising prices into account, though, and the savings is less than half that, only $18 a month, according to an analysis from Black Knight Financial Services, which puts home price appreciation at 5.3 percent this year.
Some places have it worse. In Washington, Colorado and Oregon, home price gains this year have completely canceled out any interest rate savings. The monthly mortgage payment on homes bought in those states now is higher than it would have been had buyers closed a deal at the end of 2015, Black Knight found.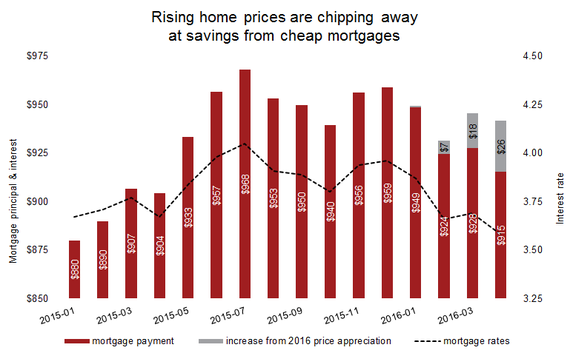 Source: Black Knight. Mortgage payment based on a 30-year loan with 20 percent down on median-priced home. Interest rates from Freddie Mac.
"This isn't to say that interest rate reductions aren't beneficial to buyers - they almost certainly are," said Ben Graboske, Black Knight's senior vice president for data and analytics. "If rates hadn't dropped over the past four months, it would cost an additional $28 to buy the median-priced home today as compared to December 2015."
Rates on a 30-year fixed loan currently average 3.58 percent, according to Freddie Mac. But compared to last spring, when a typical mortgage cost 3.67 percent, it's actually more expensive to buy a house now because of the jump in prices.
The Black Knight report shows the limits of our unprecedented run of low interest rates. While buyers have benefited from cheap borrowing, home sellers have too, because it's allowed them to set higher prices.
Back in 2009, Fed policymakers cut short-term rates to near zero and took other steps to heal the crippled housing market. Getting money circulating would boost consumer spending, get homebuilders back to work and lift the overall economy.
That was the idea, anyway. Seven years later, housing isn't a drag on the economy, but it's not leading the recovery, either. That's unusual and it's one reason we're taking so long to dig out of the recession.
To be sure, low rates aren't the only thing pushing up prices. Homebuilders aren't breaking ground fast enough to meet demand and more homeowners are staying put. That's crimped the supply of houses for sale even as more people are house hunting. The number of buyers touring properties for sale was up almost 44 percent last month from a year earlier.
Something has to give. For now, there's no sign rates will rise soon and little relief in sight for the short supply of houses on the market.
Popular in the Community