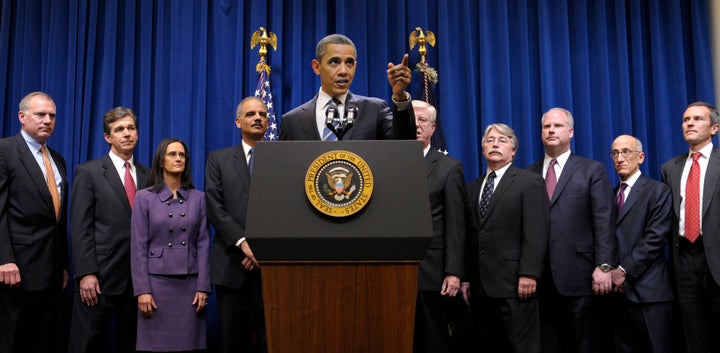 As part of the $25 billion mortgage fraud settlement announced Thursday, five of the biggest U.S. banks promised to end practices that have led to botched loan modifications, wrongful foreclosures and unnecessary fees tacked onto the accounts of struggling borrowers.
Promising to change bad behavior is easy. Making a convincing argument to those who have been burned by those promises is considerably more difficult.
It's been three years since President Barack Obama announced his housing relief initiative, the awkwardly named Making Home Affordable Program. Though some borrowers have been helped, the loan modification program is widely viewed as a failure, in large part because of banks' unwillingness to play along.
Mortgage experts and consumer lawyers who have reviewed the settlement summary say that if enforced, the reforms would go a long way to solving systemic problems with how banks service home loans. But banks have made many of the same promises in past settlements, including a deal last year with the Office of the Comptroller of the Currency, and little has changed, they say.
"On paper it looks like it will help people," said Joseph Sant, a foreclosure lawyer at Staten Island Legal Services in New York. "But we have a lot of programs that look good on paper that are failing because they aren't being enforced. As soon as A.G.s lower their guns, the mortgage servicers will go back to flaunting the rules."
The deal with Bank of America, Citigroup, JPMorgan Chase, Wells Fargo and Ally Financial came after a long investigation into widespread reports that banks were using forged or "robo-signed" signatures to speed foreclosures. It could potentially help more than 1 million struggling homeowners with partial loan forgiveness, "principal reduction," or loan modification, according to government officials.
Forty-nine states signed on, with Oklahoma the lone holdout.
North Carolina banking commissioner Joseph Smith will serve as the national monitor of the deal, working from Raleigh. Details of how the states will make sure banks follow the deal's guidelines haven't yet been released.
Smith appears to have authority to ensure that banks are complying with the deal's signature $20 billion program that would provide refinancing, loan modification and principal reduction to as many as 1 million homeowners. Banks will pay a penalty that will be from 25 percent to 40 percent of any unmet commitment under those terms, said Patrick Madigan, Iowa assistant attorney general and one of the lead negotiators in the settlement, in an interview earlier this month with The Huffington Post.
The announcement on Thursday did not include any new information on bank penalties. A call to the Smith's office was not immediately returned. A HUD spokesman did not immediately return an e-mailed request for comment.
"I'm crossing my fingers," said Rochelle Sparko, a North Carolina foreclosure lawyer. Sparko said Smith has been "very strong in his position as commissioner of banks in consumer enforcement." Sparko added that she hopes Smith will allow homeowners an easy way to make complaints, because she doesn't think bank self-reporting will work.
In a conference call with reporters on Thursday, California Attorney General Kamala Harris said she will appoint her state's own monitor to help make sure "the deal gets done."
"It will be someone respected who understands the system well enough to get it done, which is the difference between a deal being real and a grand gesture," she said.
The states' ability to enforce the deal remains one of the great unknowns. Nearly four years ago, 11 states signed an $8.4 billion settlement with Bank of America over predatory lending practices by Countrywide Financial. (Bank of America acquired Countrywide in 2008.) Most housing experts agree that the deal has significantly underperformed in large part because the states didn't have a good mechanism for holding the bank accountable.
This settlement will be different because it has a "very robust enforcement mechanism," said Patrick Madigan earlier this month. The Iowa assistant attorney general was one of the lead negotiators for the Countrywide settlement and the current deal.
A summary sheet on a website set up by the states and the U.S. Department of Housing and Urban Development, which helped broker the deal, includes a list of reforms, which, if implemented, would address many of the problems homeowners have found the most exasperating and harmful:
Banks would have to set up a single point of contact for troubled borrowers, so they would not be forced to start fresh each time they call to discuss their loan.
Banks may not charge late fees while a loan modification is being considered.
Banks must make payments to outstanding principal and interest before they pay themselves late fees -- a common error that can push a loan into foreclosure.
"It would be a major improvement," said Alan White, a law professor at Valparaiso University who has written extensively about foreclosure law. "But much of this is restating obligations loan servicers already have."
Max Gardner, a bankruptcy attorney in North Carolina, said he routinely sees clients who have been stuck in a trial loan modification for as long as 14 months.
Why haven't things changed? Many mortgage servicers -- banks and stand-alone companies -- use antiquated software to manage troubled loans. The automated system prizes efficiency over customer service, makes frequent errors in the administration of troubled home loans, and, according to one study, pays servicers more for foreclosures than for loan modifications in some instances.
Loan histories are also notoriously difficult to unwind. Gardner said that investigating a troubled loan to discover what exactly went wrong can take him as long as five hours. He said he doubts whether the independent monitor or the states have the resources to do this kind of forensic work.
On the modification front, the government already offers a $5,000 incentive to banks and other servicers each time they refinance a troubled loan under one of the government programs. But the banks still don't want to modify. HAMP has helped about 1 million homeowners, far fewer than the four to five million originally promised by the government. The Treasury Department recently withheld incentive payments to Bank of America and JPMorgan Chase, citing their continued failure to follow HAMP guidelines.
Using Treasury data, White said he determined that banks are refusing to modify loans, even when it would be in the best interest of the investors who actually own the loans to do so. (Many home loans have been bundled into mortgage-backed securities and are owned by investors such as pension funds, which hire outside servicers to collect payments and manage defaults.)
For those loans rejected up front for even a temporary modification, a whopping 67 percent were "net present value" positive, White found. This means that investors would lose less money granting the modification than if the home were sold at foreclosure.
"It is very hard for law enforcement to make a large company do its job effectively if it is bound and determined not to," White said.
Loren Berlin contributed reporting.
REAL LIFE. REAL NEWS. REAL VOICES.
Help us tell more of the stories that matter from voices that too often remain unheard.