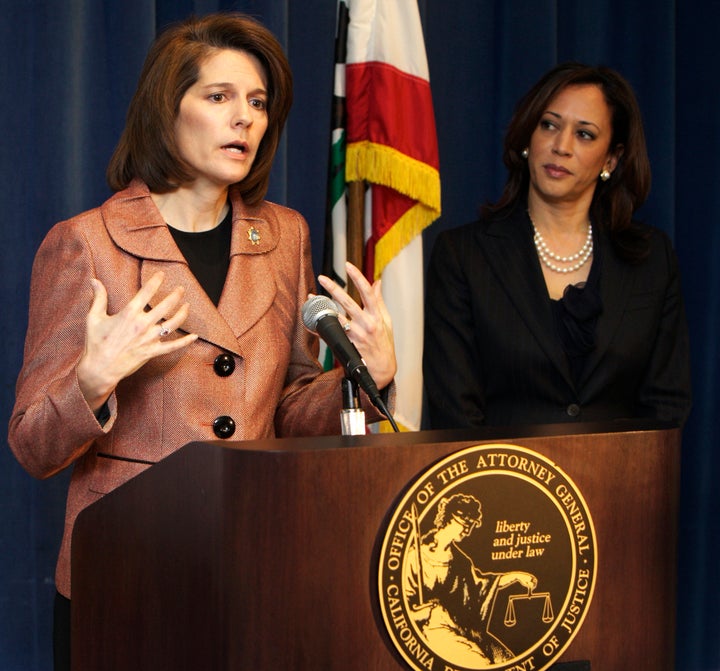 As the Obama administration, state attorneys general and the nation's biggest banks close in on a settlement over allegations of widespread mortgage fraud, Nevada's attorney general is pushing back with concerns and questions. Meanwhile a Feb. 3 deadline looms for states to declare whether they are joining the settlement.
In a letter sent Friday, emailed to federal officials and obtained by The Huffington Post, Nevada's attorney general, Catherine Cortez Masto, asked 38 questions relating to a variety of concerns, including fears that states would play second fiddle to the federal government in making decisions. She also questioned if states would lose their ability to pursue certain types of lawsuits against banks and whether states would get their fair share of the housing assistance for their borrowers.
"What would happen if all of the state attorney general representatives had one view and the federal agencies disagreed?" Masto asked in her letter.
Masto's letter comes at a time when the Obama administration is looking to show it can be tough with Wall Street. Consumer advocates and housing experts alike have consistently criticized the administration's handling of the foreclosure crisis, calling the president soft on the banks. The settlement represents the president's best opportunity to prove those critics wrong and he is pressuring states to sign the settlement.
Though a handful of states have voiced fears about joining the settlement, Mastro's email is the first to detail those concerns clearly. It serves as a window into unresolved issues remaining for this settlement deal, 15 months in the making and valued at roughly $25 billion.
"These are the types of questions all the attorneys general have been asking: clarification on language, which servicing standards will be implemented, things like that, rather than indicating resistance to the settlement," said an Obama administration official not authorized to speak on the record.
"We, along with our federal partners, are responding directly to Attorney General Masto to try to address her concerns," said Geoff Greenwood, spokesman for Iowa Attorney General Tom Miller, the lead negotiator for the state attorneys general and one of the three original recipients of Masto's letter.
Nevada has been burned in the past by large, multistate mortgage settlements. In 2009 the state joined 10 others in agreeing to a settlement regarding fraudulent mortgage practices at Countrywide, the subprime lender that came to epitomize questionable lending during the housing boom. Bank of America, which now owns Countrywide, agreed to offer as much as $8.4 billion in loan modifications and foreclosure relief to 400,000 homeowners victimized by Countrywide's mortgage fraud. But as of June 30, just roughly $216 million in payments had been made through the program. In August 2011, a frustrated Masto asked a court to void the deal so that Nevada could go after the bank on its own.
Settlement talks began in October 2010, when attorneys general from all 50 states joined with the federal government to prosecute five large financial institutions -- Bank of America, JPMorgan Chase, Citigroup, Wells Fargo and Ally Financial -- for mortgage-related misconduct, including falsifying documents and failing to provide mortgage modifications to eligible homeowners. In addition to a monetary penalty, the deal is expected to reform the mortgage servicing industry and offer relief to homeowners via mortgage modifications, principal write-downs and refinancings.
In last week's State of the Union speech, President Barack Obama remained silent on the topic of the settlement but announced the creation of a new financial crimes unit tasked with investigating fraud related to mortgage loans pooled into bonds. "This new unit will hold accountable those who broke the law, speed assistance to homeowners and help turn the page on an era of recklessness that hurt so many Americans," he said.
Some remain unconvinced. "Look at what happened with WorldCom ... Those guys were committing fraud at their own companies, and still they went to jail for what they did," said a prominent securities lawyer who wished to remain anonymous, referring to the fates of CEO Bernard Ebbers and other WorldCom executives. In comparison, "these financial shenanigans had an impact way beyond any one company, and these guys are still walking around free," the lawyer said. "There's just not been much effort to hold Wall Street or any of these other guys accountable."
"I view this as nothing more than election-year grandstanding, an attempt by the [Obama] administration to look like it's doing something to help homeowners," said Melissa Huelsman, a private attorney who has represented homeowners for more than a decade.
In an effort to flex its muscles on the housing crisis, the Obama administration is feverishly pushing to announce a mortgage settlement deal as soon as possible. Though most states plan to sign on to the settlement, a few remain undecided, including California and Nevada, the two states that have spent the last four years in either first and second place as the one with the nation's highest foreclosure rate.

Click here for the full text of Attorney General Masto's letter.
CORRECTION: Originally this story stated that Masto's letter was sent Monday to federal officials. It has been corrected to reflect that the letter was sent on Friday.
Popular in the Community