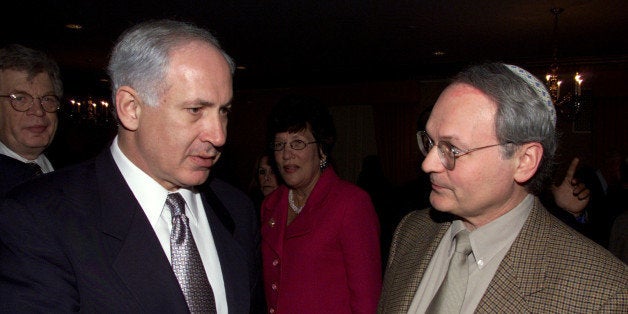 WASHINGTON -- Late last year, Morton Klein sat in on an off-the-record conference call hosted by the American Israel Public Affairs Committee where more than 100 donors were being briefed on the group's behind-the-scenes strategy to influence negotiations over Iran's nuclear weapons program. The goal on the call was to lobby for a deal that would be amenable to Israel. But the side effort, as Klein recalled, seemed to be not to ruffle too many feathers along the way.
"Whatever you do, don't criticize Obama on Iran," Klein recalled Howard Kohr, AIPAC's executive director, urging members. "Lobby Congress for more sanctions, but for God's sake, do not bring up military action against Iran."
As head of the Zionist Organization of America -- one of the oldest pro-Israel groups, and possibly the only one more hawkish than AIPAC -- Klein fumed as he listened in from his study at home in Philadelphia. This was a shock moment for him. Rather than play nice, he believes that only a credible bombing threat against Iran will help U.S. negotiators get concessions. "After all, Iran stopped their work on their nuclear program from 2003-2005 when America was militarily attacking Iraq and Afghanistan, because Iran was petrified Bush was going to hit them next," he reasoned.
Much to Klein's chagrin, AIPAC disagrees (at least publicly), preferring to promote additional sanctions as the means to getting Iran to agreeing to a tougher deal. An official with the group did not return requests to confirm Klein's description of the conference call.
"AIPAC hasn't been strong enough," Klein said in one of several conversations over the past few days. He is waging what he views as an increasingly lonely fight not just against the Iran deal but against traditional allies who won't do what it takes to derail it. "I can't do it alone," he bemoaned.

"You see, [Neville] Chamberlain was weak and had no army. And Chamberlain actually thought maybe [Adolf] Hitler was going to do the right thing. ... We know ahead of time that Iran is a vicious, hateful country."

As negotiators from Iran and the six-country negotiating team known as the P5+1 inch closer to a nuclear agreement, Klein represents the furthest extreme of opposition that any deal is bound to face. It's easy to see him as a fringe voice in the vast pro-Israel political terrain: His hardline views are not representative of the broader coalition of Iran deal critics. And his undiplomatic touch stands out in a world where many are risk-averse.
But Klein insists he's simply the only one willing to say what everyone else is thinking. Born in a displaced persons camp in Gunzberg, Germany, to parents who had survived the Holocaust, he sees threats of that era waiting around the corner.
"You see, [Neville] Chamberlain was weak and had no army. And Chamberlain actually thought maybe [Adolf] Hitler was going to do the right thing," he said. "We know ahead of time that Iran is a vicious, hateful country."
Klein is no stranger to playing the role of internal agitator within the pro-Israel lobby. He once clashed with AIPAC over its support for the failed Oslo Accords, a 1993 peace deal between Israel and the Palestinians, arguing that a Palestinian state would be an existential threat to Israel's security.
His critics view his style as self-promotional and detrimental to the greater pro-Israel cause. When Klein lobbied lawmakers to put stricter conditions on aid to the Palestinians in the 1990s, AIPAC accused him of acting in an "amateurish and hostile fashion" and unsuccessfully tried to force him to coordinate with AIPAC before lobbying on Capitol Hill.
Even within his own organization there are skeptics. When former ZOA National Vice Chairman Steven Goldberg proposed setting up a PAC to compete with AIPAC for influence in Congress, Klein shut down the idea. In 2014, Goldberg ran for president of ZOA, mounting the first challenge to Klein's leadership in his 21-year reign. He charged that the organization had shrunk in influence and credibility under Klein, and described ZOA's claims of 25,000 members and 12 regional chapters as "misleading." According to Goldberg, the group's email distribution list was down to 800 working email addresses by 2014, and several of the local chapters listed online are now defunct. "Even J Street is already much more influential," he lamented in a recent interview, referring to the liberal pro-Israel lobbying group.
The attempted coup was futile. Goldberg won 7 percent of the vote, which was held in Klein's hometown of Philadelphia and did not allow for absentee voting. "People admire him for having a clear vision and the guts to speak out about it," Goldberg said of Klein. "But ZOA has been around since 1897, and it's not about one person. It's not supposed to be a cult."
Klein doesn't brush this criticism off. He actively lashes back at it. He claims his influence in Congress and ability to promote his organization's agenda is uncontested. "If someone came along who was better at this job than I am, then I'd want them to do it," he said last year. "If there was someone else who could raise $4-5 million from personal donors, be a credible, outstanding public speaker who could inspire people and promote our agenda, then great ... but no one has these qualifications."

"People admire him for having a clear vision and the guts to speak out about it," Goldberg said of Klein. "But ZOA has been around since 1897, and it's not about one person. It's not supposed to be a cult."

Klein boasts that he has personal cell phone numbers of several lawmakers, his "own billionaire" in the form of casino magnet Sheldon Adelson, and the ear of presidential hopefuls Marco Rubio, Ted Cruz, Mike Huckabee, Scott Walker and Chris Christie. "I did meet with him. He ate all of my cupcakes," he said of Christie. "That's joke, that's only a joke!"
But for all his braggadocio, Klein's influence among those who actually have political power seems inflated. Several foreign policy staffers across the aisle deny having heard of Klein or his agenda. The main pieces of legislation aimed at the Iran deal echo AIPAC's model while eschewing his. Sens. Mark Kirk (R-Ill.) and Bob Menendez (D-N.J.), two of the Senate's leading Iran hawks, have called for additional sanctions against Iran and largely have conceded to the administration's insistence for some breathing room to conduct negotiations.
"They are nervous about talking about military action, even though privately they'll say that's the only way to stop Iran," Klein says about lawmakers without naming any one individual. "They're nervous about it politically, and they're worried about the media attacking them."
Frustration with these lawmakers is mounting for Klein, who sees any conversation that ignores the prospects of military intervention as the equivalent of political dilly-dallying. "It's bad times," he said in response to a casual "How are you?" the night before the July 7 deadline (which has since been extended to July 10). "This deal is the most immoral and catastrophic deal maybe ever."
Although Klein's speech is sprinkled with vocal tics that give away his Tourette's syndrome, he is an enthusiastic and frequent public speaker, especially on Iran. He can be genial, even while advocating for military intervention. "Call me Mort," he tells people decades his junior while joking about plans to move to Iceland if Congress fails to block the implementation of the Iran nuclear deal.
But beneath the friendly veneer there are obvious signs that this is, and remains, a business. In the lead-up to the nuclear talks deadline, ZOA's public relations firm pitched his message to journalists, including HuffPost. Klein also has two full-time lobbyists roaming Capitol Hill daily and makes weekly visits himself to Washington. He plans to be there even more in the upcoming weeks as Congress reviews the nuclear deal and ultimately decides whether to cast a vote on the deal. In addition to urging lawmakers to pass a resolution of disapproval if a nuclear deal is reached, he wants members to support Israel's "right and even obligation" to launch a military attack on Iran if it feels threatened.
As the date of a final agreement grows closer and deadlines get moved further back, he is more and more on edge, as if he is the only one who can see the nuclear annihilation on the horizon.
"It seems as if President Obama's plan is to facilitate Iran getting nuclear weapons," he said with resignation.
Before You Go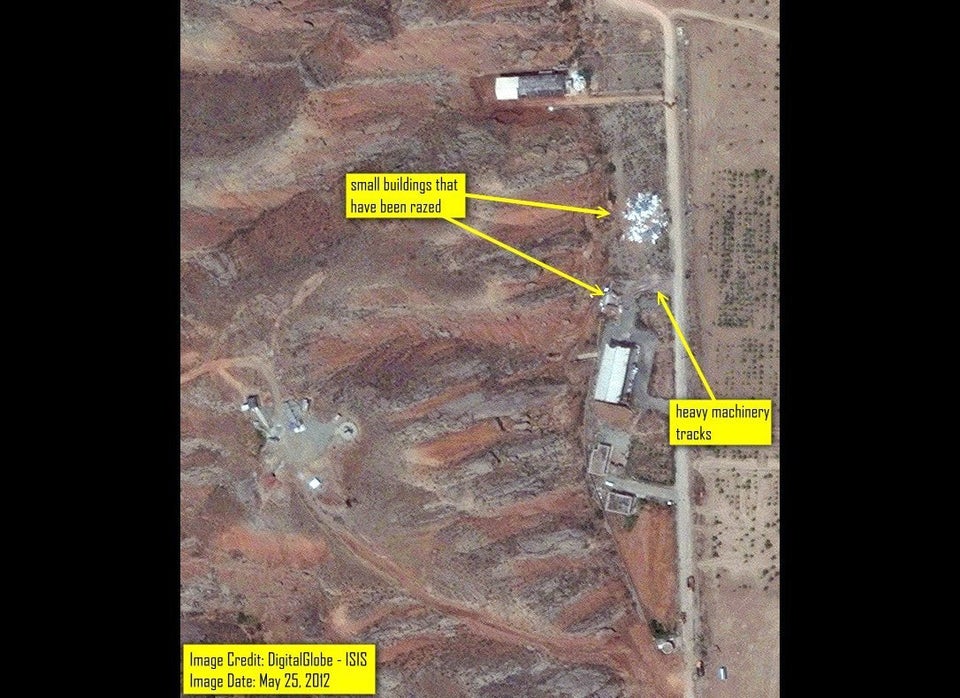 Iran Nuclear Satellite Photos
Popular in the Community