The 5th Moscow Biennale, which closed October 20, saw Political Correctness rear its head beneath the Kremlin walls as feminist Belgian curator Catherine de Zegher turned the swanky Manège exhibition center into a Global Bazaar, crammed with 28 rolls of wire, 65 tubes of toothpaste, 102 earthenware bowls, 139 pairs of shoes, 176 wicker baskets, 213 plates, 240 skis, 277 wooden crates, 314 cardboard boxes, 351 cuddly toys, 388 shopping bags, 425 plastic bottles, 462 gloves and one Aboriginal Tent.
The poster said Moscow but it could have been Miami, Melbourne or Mumbai. All that was missing was Michael Jackson & C° crooning We Are The World over the tannoy. Few of the artists were Russian, and none of the vodka at the opening.
The first time I visited the Moscow Biennale, in 2007, it was stuck halfway up an unfinished skyscraper. Now, for all Ms De Zegher's third-world pretensions, it is just another Banale on the international curator-go-round. Chief organizer Joseph Backstein doubtless thought the Manège a venue to brag about to his overseas buddies; it is an impressive building, with one of the largest roof-spans in the world and dozens of opulent windows, but has virtually no wall space and is better suited to show-jumping than showing art. To fill it either requires a maze of temporary partition-walls or a forest of installations.
A show devoted to installations, in a city that likes to consider itself the Capital of Conceptualism, is not necessarily a bad idea. But the only Moscow conceptualist in sight was Alexander Brodsky, who had built a hut with a Metro sign on it surrounded by crumpled tin foil. Presumably he had been briefed to "fill at least 300 square meters of the Manège with some bright idea" and tin foil was the cheapest (and brightest) idea he came up with. It might have been brighter (and cheaper) if he had used gold foil instead and asked Ferrero Rocher to sponsor him.
Adding verbal insult to aesthetic injury, De Zegher packed the Biennale catalogue with her flatulent theories about art and how, I quote, "a local chronotopy, in which our perception of time is connected to a geographically defined place, is supplanted by aglobal chronotopy." There were seventy pages of this guff.
Overhead washing-lines, reams of wire mesh and the 40 year-old Aeromodeller by De Zegher's compatriot Panamarenko rounded off a Diet Coke of a Show, whose English title should have read Lighter - not More Light.
Political messages also infused Art Moskva, the city's annual contemporary art fair, which ran concurrently with the opening days of the Biennale.
Those messages were ambivalent.
Putin supporters glowered at Mikhail Blinov's 2013 Joy of Victory - two athletes in giant Lesbian embrace (Vostochnaya Gallery) - yet savored the Übermensch paintings around the walls of the echoing first floor hall, otherwise empty but for a metal horse, a gilded radar dish and a boxing-ring.
The paintings looked like aggressive relics of Socialist Realism but, on closer inspection, dated from 2012/13 and embodied New Russian Realism. Their presence was reportedly a last-minute brainwave from Valery Bychkov, whose Expopark company runs Art Moskva and a host of other commercial (non-artistic) fairs. All this Realism was purportedly non-commercial, but the accompanying logo of Polyot Gallery (coincidentally run by Mrs Bychkov) suggested otherwise and red dots were soon proliferating like measles.
Conflicts of interest bother few businessmen, least of all Russian, but Mr Bychkov had mitigating circumstances. Speaking at the round-table I chaired during the Fair, he revealed that Art Moskva had lost money on 16 of its 17 editions. Given that participating galleries are charged some of the heftiest fees in world boothdom, that assertion was startling. Perhaps Mr Bychkov was afraid the taxman might be listening, or perhaps his fair has not been very efficiently run. Or perhaps Mr Bychkov subsidizes Art Moskva out of the goodness of his culture-loving heart, from the profits he rakes in from all his other fairs.
Meanwhile Art Moskva's new Creative Director Eric Schlosser, former Cultural Advisor to the European Commission in Moscow, had taken the Fair by the scruff of its neck.
In addition to revamping the gallery area, with a radical 'walk-through' lay-out that jettisoned traditional aisles, schlosserization engendered new sections for local art students, gallery-less artists, Polish abstraction, video art, and private and corporate collections. It was all somewhat quixotic but hugely entertaining, rounded off by a lively Talks program that included ARCO Director Carlos Urroz and petite Parisienne Paquita Escofet presenting the catalogue of her outstanding collection of Russian art.
SERGEY KISHCHENKO (28): Galleryless for How Much Longer?

Given that the junta of city galleries who used to bend Art Moskva to their iron will have (bar Triumf) melted away or morphed into 'foundations,' the coast was clear for some unfamiliar provincial dealers (from Voronezh and Ekaterinburg) and adventurous foreign galleries (from Munich, Paris, Lecce and even Havana). Several highlights hailed from Eastern Europe: Maxim Tyminko's 939 Picture Elements video at Ў Gallery (Minsk); Eglė Grėbliauskaitė's subtle paintings at Rooster (Vilnius); the contagious enthusiasm of Riga's Happy Art Museum; and Evgeny Petrov's watercolor Surfer attacking Zaporozhye's giant Stalinist Dam (TSEKH, Kiev).
Art Moskva remains a powerful focal-point for the city's art scene. I bumped into collectors Tatiana and Natasha Kolodzei, over from New York; Alexei Yorsh, one of Moscow's top/few comic-strip artists; and Alexander Ponomaryov, back to his bristling best after recent illness, now plotting two major events in Italy: an Antarctica Pavilion in Venice, and Vada a Bordo, Cacco - an installation inspired by the Costa Concordia disaster. He is also preparing a solo show at the Manège (which I back him to fill more excitingly than De Zegher).
Until 2009 Art Moskva and the Moscow Biennale were held at different times of year. Now the two events overlap in September, are drowned in a supercharged international calendar, and cannot possibly be done justice by foreign visitors - most of whom, I suspect, are in town for just two or three days. I managed six but only felt I was scratching the surface.
My program involved a breakfast at Pierre Brochet's new flat, bought after he sold his contemporary art collection to Roman Abramovich; lunches with Inna Basyrova, to discuss a major 2014 exhibition devoted to her late husband Garif, and with William MacDougall, to toast his new, startlingly modernistic Moscow premises (and his poaching of Decorative Arts specialist Olga Vygacheva from Sotheby's) with horseradish vodka; an evening discussing Tselkov's Last Supper with the trustees of Tate Modern; Queen of Spades at the Bolshoi; nocturnal drinks with artist Igor Novikov, busy mounting a retrospective for his 82 year-old father Alexei; and succulent dinners at Georgian restaurant Sakhli, hosted by Igor Tsukanov to celebrate the 70th birthday of pioneering Sots Artist Vitaly Komar, and Casta Diva, to honour Ilya and Emilia Kabakov after the opening of the thought-provoking Kabakov/El Lissitzky show (first staged at the Van Abbemuseum in Eindhoven) in Olga Sviblova's Multimedia Art Museum.
Somehow this show came under the umbrella of the Moscow Biennale, along with 45 Special Projects and a further 47 events in the Parallel Program - although how to tell what event fell into which category beat me.
The one which caught my imagination - perhaps because I was shown around it by co-curator Hermes Zygott at one in the morning, by flashlight - was Tetractys at the MosChaos Art Centre. Its eclectic array of works by Russian artists, in decrepit industrial premises, is what the Moscow Biennale used to (and should) be all about.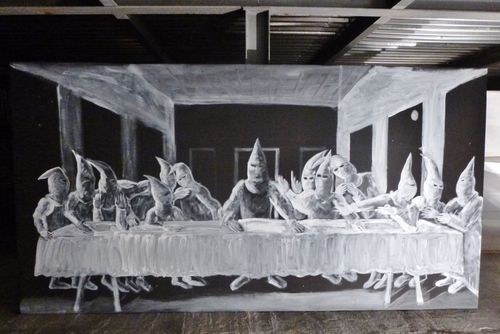 CHAOS AFTER DARK: Sergey Anufriev's Last Supper at Tetractys

I missed out on the United States of Siberia in the Palace of the Boyars, but marveled how a Moscow Biennale could include shows in Ekaterinburg (Hurrah for the Urals) and Murmansk, where the Lenin Icebreaker had been converted into a floating museum. I went to quiz curator Simon Mraz about this at the opening of the explanatory exhibition he staged at the DEVE gallery in Moscow, but he wasn't there.
Elena Selina, late of XL Gallery, was responsible for two shows. Embellished with landmark works by Faibisovich and Koshlyakov, Reconstructions (at the Ekaterina Foundation) cogently charted the history of the Moscow gallery scene since 1989. But her Weightlessness show at the Worker & Kolkhoznitsa Exhibition Center was a chore, and the building - inspired by Boris Iofan's Soviet Pavilion for the 1937 Paris Exposition Universelle - a disappointment, consisting of one long ramp peppered with bland exhibition spaces. I had more fun at the nearby Cosmos museum. And at the Kandinsky Prize exhibition in the converted (now sadly whitewashed) Uraldnik Cinema. And at Alexei Ananyev's stylish brick Institute of Realist Art near the Moscova, where Gely Korzhov and Viktor Ivanov catch the eye ahead of Dmitry Zhilinsky, Alexander Petrov, Viktor Popkov and the Tkachev brothers.
Many of the Parallel Projects were straightforward gallery shows, like Margot Ovcharenko at Pop/Off or Rinat Voligamsi at 11.12 - where the real find was up in the loft: the mini-Basquiat-like canvases of Ekaterina Zhadina, a retired 62 year-old English teacher from a village near Orenburg, 900 miles from Moscow. Gallery owner Alex Sharov, who scours the provinces for offbeat talent, also hosted an enthralling installation by Vova Marin (29), Pity The Trees - ingenious carvings from pieces of wood found littering the streets of his native Kaluga.
SHAROV'S ROVING EYE: Vova Marin (29) - Katya Zhadina (62)

As usual Vinzavod, with its large halls and many galleries, provided a busy focus. There was Gosha Ostretsov explaining the Vglaz group show; Vladimir Frolov trying to sell huge recent works by Natalya Nesterova to visiting Australians; Marat Guelman littering the courtyard with chunky sculptures supposedly forming a Perm Coral Reef; a hefty sample of Austrian Erwin Wurm's 3-D whimsy; and a rare chance to wander the cavernous underground cellars, peopled by Heavy Metal installations by young artists.
But when I wandered a few hundred yards down the road to the ArtPlay center, to see an exhibition of international artists called Defining the Route, it was shut - thwarting my attempts to explore its "practical and theoretical investigation of the perception of art in the age of the post-medium condition."
Not sure I missed much. Skip the verbiage, give us the art.
Calling all HuffPost superfans!
Sign up for membership to become a founding member and help shape HuffPost's next chapter