Moscow is one of those cities that doesn't do anything half way -- it is too hot in the summer and too cold in the winter. In December, I voluntarily packed my bags and the only Russian phrase I knew - здравствуйте ("How are you?") -- and headed toward the tundra that is Red Square.
Before I arrived, I was unreliably informed that it would be a torrid -10 degrees, but when the plane touched down on the tarmac, the captain of the motherboard announced that we'd landed in a -17 degree freeze.
I thought seven degrees difference wouldn't make much difference. I was wrong.
As I stepped out of Domodedovo airport, I was greeted by sharp blades of icy wind that threatened to cut my face open. I knew I had truly arrived. I also knew that the most logical thing to do was to run for shelter, so I started chasing after the cosy Aeroexpress faster than Usain Bolt.
The balmy train took under an hour to arrive at Paveletskiy railway station. After battling thousands of Metro commuters, we alighted at Smolenskaya, which was a short walk to our hotel, situated on Moscow's most famous pedestrian street, Old Arbat. Because this street is a tourist trap, fur hats are readily available. I bought one to combat the weather.
The next couple of days were equally cold. We opted for short walks and sought shelter in any building every 15 minutes. Russian women do not scrimp on fur or duvet coats, many of them wear double scarves and often a scarf around their head with a hat on top, it was a make or break survival situation.
In a city where 79 of the world's billionaires live, most of them do their shopping in GUM, otherwise known as "the exhibition of prices," as no one except the mega-wealthy can truly afford to buy anything in the Red Square adjacent department store. The store had both entrancing displays and heat. I stepped inside and did a little behind-the-window shopping.
Within nearby St Basil's Cathedral, I got lost amid dimly lit, maze-like corridors. Doors that were painted in gold and painted floral motifs on walls evoked a spiritual ambience that instilled peace in its visitors.
By way of serendipity, we found our way to Kamchatka, a Soviet-style bar which served food from Soviet times as well as smooth vodka for excellent prices. Liquor combats cold as well as any jacket.
The interior of the two-beer hall was decorated by objects that reminisced Soviet nostalgia, and everyone looked like they were having the best time. The Soviet snacks did not look pleasing though and I decided to give it a miss. It was a place that if you did not come with a group of friends, you were bound to leave with some. We met an entertaining, fun, and intelligent bunch of new friends, who were so nice they drove us around the city.
On the same side as the Kremlin, facing the frozen Moskva River, we stumbled upon the Cathedral of Christ the Saviour, which is now better known as the Pussy Riot church. This beauty was rebuilt in the 1990′s since its demolition by the Soviet Union, and it glistened like the purest pearl in the night.
In a gargantuan city like Moscow, most people go on their ways daily, minding their own businesses. Throughout our short trip, a fair number of Russians, especially those who spoke English, were very curious about us and offered heartwarming hospitalities. Although the city was enveloped in a grey vibe while we were there, we were touched by a few souls who had very sunny personalities. Perhaps it was a coping mechanism for the cold weather, that they each carried a sun within their hearts. If this doesn't warm you up, and you like to be beaten with a stick in temperatures upwards of 90°C (200°F), you can always go to the best banya in Moscow.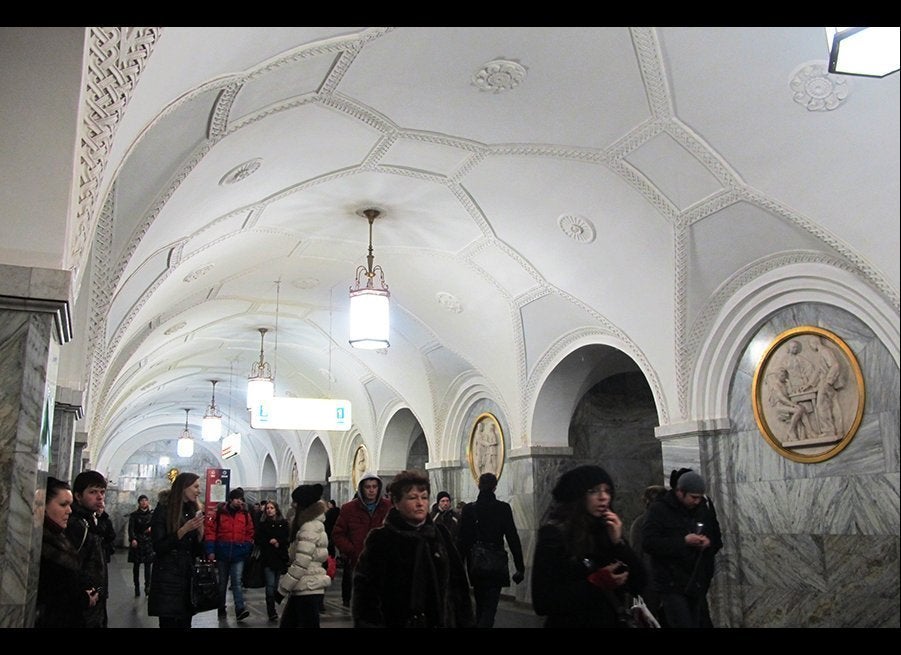 Surviving Moscow
Related