Woody Allen's son Moses Farrow came to the filmmaker's defense on Wednesday in a long essay that accused his mother, Mia Farrow, of child abuse.
Farrow, 40, disputed sister Dylan's claim that Allen sexually abused her as a child and blamed their mother for years of turmoil in their household.
"I'm a very private person and not at all interested in public attention," Farrow wrote in an entry on his blog titled, "A Son Speaks Out." "But, given the incredibly inaccurate and misleading attacks on my father, Woody Allen, I feel that I can no longer stay silent as he continues to be condemned for a crime he did not commit."
Allen has denied Dylan Farrow's claims, and no charges were filed after an investigation. But the accusations have resurfaced amid the Me Too movement against sexual misconduct, and Allen has been reduced to a pariah in some circles. Some actors have denounced him or donated salaries they earned on Allen films.
Moses Farrow wrote that the abuse his sister alleges never happened, and pointed to what he said were inconsistencies in her claim. Of Dylan's recollection that she was abused in an attic while Allen asked her to play with an electric train, Moses said there was no train in the attic and the space was too small for anyone to play there.
Mia Farrow, Moses wrote, had been telling the children for months that their father was a "monster," he added. "None of us would have allowed Dylan to step away with Woody, even if he tried."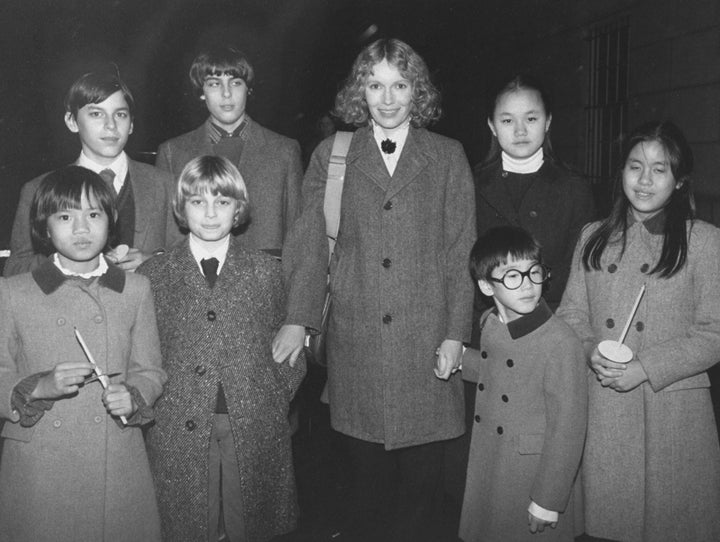 It was Mia Farrow, Moses wrote, who was the abuser. He said she struck him multiple times, and once made him strip and stand in a corner. She dragged physically disabled siblings down a stairway and locked them into a closet, he claimed.
She punished her son Thaddeus, a paraplegic, by shutting him in an outdoor shed overnight, Moses said. She was especially hard on Soon-Yi Previn, Allen's future wife, Moses wrote. Farrow threw a porcelain centerpiece at her head and beat her with a telephone, he alleged.
"For all of us, life under my mother's roof was impossible if you didn't do exactly what you were told, no matter how questionable the demand," Moses wrote. "It was important to my mother to project to the world a picture of a happy blended household of both biological and adopted children, but this was far from the truth."
Dylan Farrow responded to her brother's claims with a statement on Twitter, calling them "beyond hurtful to me" and "easily disproven."
Ronan Farrow also weighed in on Moses Farrow's claims, saying Mia Farrow did an "extraordinary" job of raising them.
A rep for Woody Allen declined to comment. Mia Farrow's rep didn't immediately respond.
This article has been updated to include Ronan Farrow's comment.
REAL LIFE. REAL NEWS. REAL VOICES.
Help us tell more of the stories that matter from voices that too often remain unheard.
BEFORE YOU GO
PHOTO GALLERY
Celebrity Photos