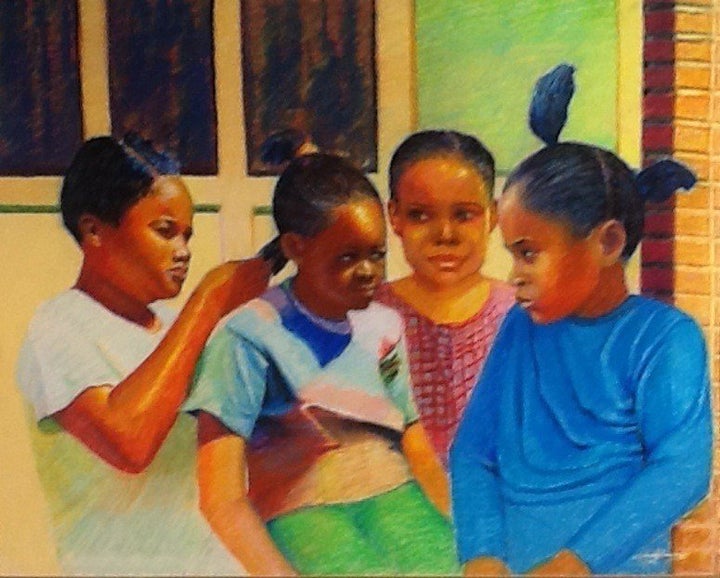 Moses Groves was not always an artist. As a bass, baritone, and second tenor, he recorded with his group, Little Jimmy and The Tops, their hit singles, "Puppy Love" and "Say You Love Me" in 1959. Little Jimmy and The Tops were especially successful in Philadelphia. They also performed three times at the world famous Apollo Theater in Harlem. The group, however, eventually disbanded. One of their members, Sylvia Peterson, went on to sing with the Chiffons who recorded the hit song, "He's so fine." The lead singer, Jimmy Rivers, went solo and Groves was drafted to the Army in 1963 during the Vietnam War. He completed his time of service before he would have been deployed. A future filled with life, love, and art intertwined would ensue for this passionate artist.
----------------------------------
Groves began his art training in 1969, although his budding artistry started as a first grader with drawing. Groves continued his art training at the Art Students League of New York, at New York University on a one-year scholarship and at the National Academy Museum and School for sketching where he spent two years.
His first instructor was Joe Hing Lowe, 79, an instructor at Ridgewood Art Institute in Bergen County, N.J. Groves studied under Lowe for five years at Lowe's 6th avenue studio in Manhattan. Lowe remembered his former pupil after so many years and offered his thoughts as an instructor on what it took to create any type of art. "You have to have patience and skill," Lowe said. Lowe owned his Manhattan studio for 14 years.
Groves agreed with his former teacher. "You have to be very patient. You have to almost like be alone," said Groves. An artist had to have a plan as well. "First of all, you have to form it in your mind," he said about the process. An artist had to decide if he or she wanted to leave a legacy behind with the painting. "I feel I want to leave a legacy."
Groves managed to do just that. A few years after he closed the Bronx studio he owned for 20 years with two artist friends, he opened up a second studio with his wife and youngest daughter, Lisa, in Englewood. N.J. He realized it was important to include his wife into his art world. "We, as artists, don't realize the spouse is being neglected," said Groves. The entire family helped to run the business.
Groves and his family no longer own the art studio but have had a great deal of support from community churches and especially from patrons of Brooklyn, N.Y. "That's the Black experience. They come out," said Groves. Support has also come from organizations such as the Urban League who commissioned Groves to paint a portrait of Robert Johnson, the first African American District Attorney in New York's history. Groves' other accomplishments included showcases up and down the east coast and a feature on NY1.

------------------------------------
Inspiration can come from unlikely places. For Groves, who is now 71, it was on one of the most famous streets in America. His subject -- a homeless man on 125th Street. Groves would later explain to me that the homeless man, whose hood and overall appearance reminded Groves of the biblical figure, had been an admirer of Groves' street display. One day, the man gave him a photograph of himself. The man told Groves that he would make a lot of money. "And I did," said Groves. Groves reproduced the image as a charcoal print of Moses on Mount Sinai in his most elemental role -- delivering the 10 Commandments in Hebrew lettering.
The African American subjects of Groves's paintings are portrayed with great detail and vivacity. It is seen in his portrayals of religious themes, female basket weavers, saxophone players, and in my favorite, four pre-pubescent girls sitting together outside hair braiding while one girl directs her indignant, facial expression at the hair braider. Groves's use of blended hues of blue, red, yellow, orange, green, and their ancillary pigments in this painting and others remind me of the works of Jacob Lawrence and Ellis Wilson.

I sat down with Groves at his home in Teaneck, N.J., to find out what was the inspiration for some of his artwork. For our meeting, Groves was dressed conservatively -- black slacks, shiny black dress shoes and a brown belt. The yellow of his square-printed shirt appeared more brilliant against his dark skin and salt n' pepper hair. The shirt was a perfect complement to his golden-framed glasses. From head to toe, his attire was pressed and orderly. Groves, with an iPad in one hand and his wife, Anne, 67, by his side, seemed ready to talk art.
We started our conversation with the sweetgrass basket weavers. He told me the oil paintings of the sweetgrass basket weavers were inspired by his trip back to his home of Charleston, S.C. To develop these paintings, he took photographs of the area and added the female subjects. He spoke of the history of these basket weavers -- how the community had mobilized in Charleston to preserve the African folk art. Grove is still completing one of the paintings of the Charleston basket weavers and wants to focus on more themes in his art. He is currently working on another Charleston scene.
The painting of the four girls captured images of young girls his family knew, one being his granddaughter at age 9. The painting, "Good Hair" was originally named "I was Next!" He explained to me that the girl was frowning because she wanted her hair braided next but he made an artistic choice to change the painting's name because the little girl's pigtail hairstyle looked done.
Being able to communicate a feeling that Groves captured with "Good Hair" is what he learned to do with his training and experience, and especially with his passion for art. "It just comes out of you. When the spirit hits you, you have to paint."
To get more information on the artwork of Moses Groves, go here.
See samples of Moses Groves's artwork: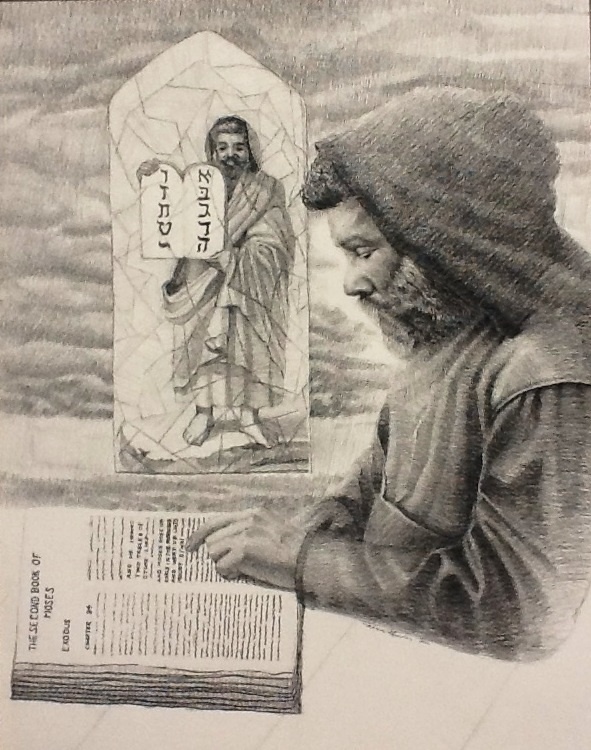 A charcoal print of the Hebrew prophet, Moses, on Mount Sinai, by Moses Groves, dated 2000, is featured on Black Art in America.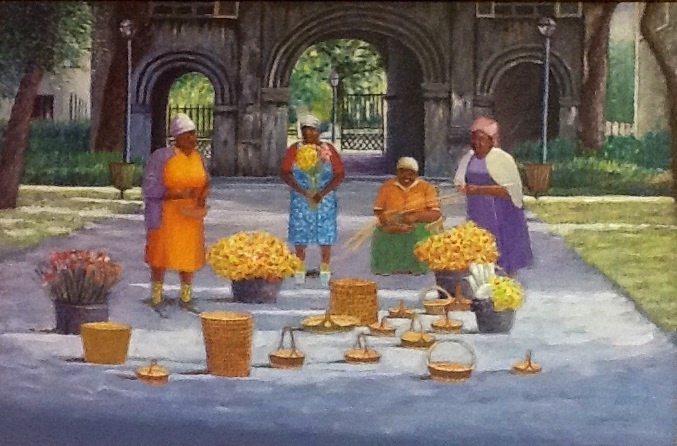 Moses Groves's "Sweetgrass baskets," dated 2010, is featured on Black Art in America.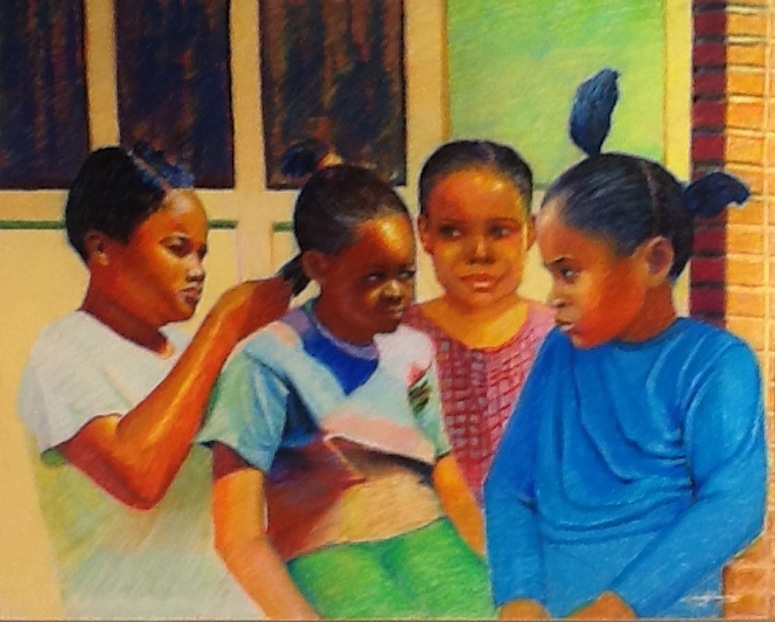 Moses Groves's "Good Hair," dated 2003, is featured on Black Art in America.

Editor's Note: This post has been updated since it was first published.
REAL LIFE. REAL NEWS. REAL VOICES.
Help us tell more of the stories that matter from voices that too often remain unheard.