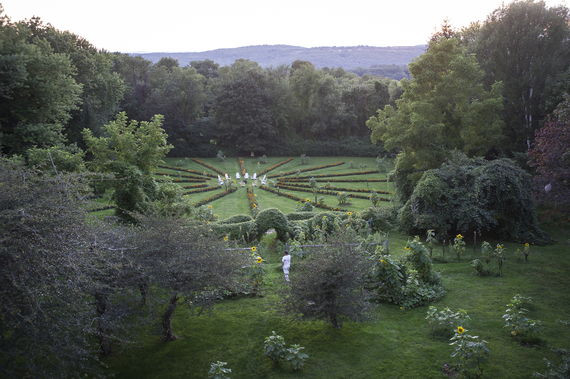 Moses Pendleton in his garden. Photo credit: Rich Pomerantz.
"How do you take the loss, the fear, the negative, leaden part of your life and spin it into golden air that you can breathe and give breath to others?" Moses Pendleton asked.
His frenetic eagerness hinted that he might, indeed, hold all the energy of the cosmos inside his being. His eyes bulged with wonder and expectation. His hands gestured with articulation. He rarely answered a question directly, instead elaborating on the concept behind it with the severity of a philosopher and the whimsy of a child.
Pendleton knows a thing or two about reinvention. As the artistic director of MOMIX, he has turned lead into gold like the alchemists of yore, infusing the world with a pinch of magic and a dash of curiosity. His life has not been devoid of loss, fear, or negativity; in fact, his story could have been a tragedy if he had not harbored such stubborn resolve. He grew up in Northeast Kingdom in Vermont, a tough farming region that he affectionately called "green neck." When he was 12 years old, his father committed suicide. Devastated by her husband's passing, Pendleton's mother sent him to Timberline Lodge in Mount Hood, Oregon, where he returned every summer for ski training. By the end of high school, he was Vermont's state champion in cross-country skiing, and Dartmouth recruited him for college. He moved to New Hampshire with dreams of becoming an Olympic skier -- until he broke his leg the second day of practice. As he lay in a hospital bed, he passed notes two floors up to his mom, who was dying of breast cancer.
Despite each emotional and physical obstacle that he faced, Pendleton kept his spark for life. "You only have to be in control of your reaction to what you cannot foresee," he said.
When Pendleton lost his skiing career and both his parents, he took a dance class. In the 1970s, "macho" men weren't supposed to dress in tights and leotards, so he and his colleagues wore blue jeans as they collaborated on their first project: crafting their own dance. Two months later, their choreography opened a Frank Zappa concert, where screaming Smith girls boosted their egos and made them reconsider their career paths. Maybe, they were onto something with this dance thing. Maybe, it was even worth pursuing as more than just a hobby.
And so Pendleton and his Dartmouth peers formed Pilobolus in 1971, gracing the cover of Time Out London and earning raves from Anna Kisselgoff, then-Chief Dance Critic at The New York Times.
Pendleton explained that much of Pilobolus' early success was thanks to the sociopolitical climate of the decade. "It was always about being creative, whether it was in chemistry, or dance, or music," he said. "It was all about being able to really demonstrate your own ability to interpret."
Finally, in 1981, Pendleton founded his own company. The rest is history.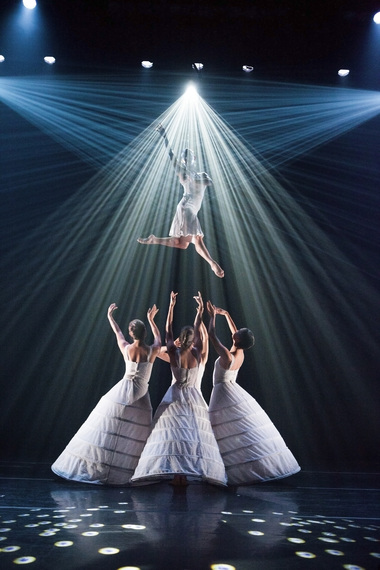 Alchemia. Photo Credit: Todd Burnsed.
Now, throughout July 2015, MOMIX will present its latest full-length piece at the Joyce Theater. Alchemia is the culmination of ten years of brainstorming and innovation. The work deals with the four elements and is an extension of Botanica, which focused on the seasons. Originally, Alchemia was supposed to be about water, as Pendleton is hydro-minded (he swims for an hour every a.m.). It then evolved into a reflection on firewater, a play on whiskey in a saloon setting. Eventually, someone suggested that Pendleton should explore earth and air as well.
It makes sense that Pendleton would interpret the elements through his choreography, as his existence revolves around nature and metamorphosis. He lives on a farm in Litchfield County, where he has access to thousands of acres of countryside. After his swim, he eats breakfast and goes for a walk while listening to music and playing back his recorded thoughts from the day before. "Daydream transports the dreamer outside the immediate world to a world that bears the mark of infinity," Gaston Bachelard writes in The Poetics of Space. Just so, Pendleton drifts into another universe, where the specific stresses of the mundane fade away.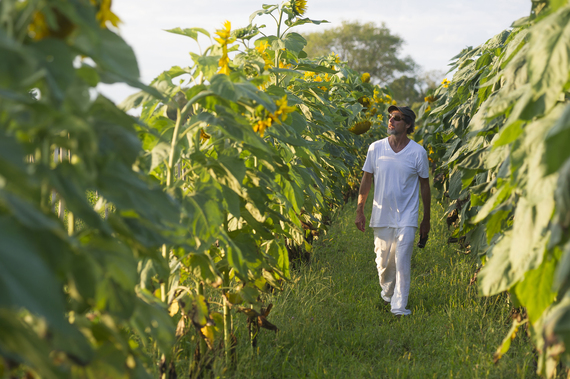 Pendleton with his sunflowers. Photo credit: Rich Pomerantz
As MOMIX's natural guru, Pendleton encourages all of his dancers to get their hands dirty in his sunflower fields. Not only does he benefit from free weeding services, but time in the country also allows his troupe to discover the pulse and grit of the earth. Most dancers grow up in studios tucked inside urban façades. When they join MOMIX, they learn the joy of feeling the sun on their backs or the wind whipping through their hair.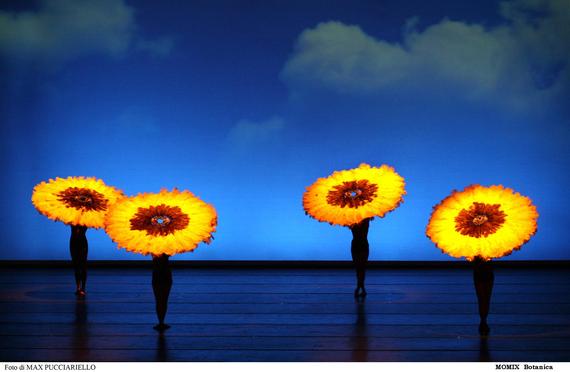 Botanica. Photo credit: Max Pucciareiello.

"In my association with the plant world and nature, you begin to really believe that you're connected to morning sunlight and to cold lake water, and you're kind of living in it," Pendleton said. "You become sensitive enough to your surroundings that you can breathe them and they can actually energize you, because in the end, it's about life force and energy."
Certainly, Pendleton's company model is not typical. His ranks are filled with self-identified athletes. They take ballet classes and set choreography on a farm. Some of their illusions occur on skis, others on horseshoe-like seesaws. The works are more than dance; they evoke a mood that is amplified by movement.
"There's a lot of notion about what is and what isn't choreography," Pendleton explained. "It's organization -- for me -- of visual material, so that you may not be seeing dance choreography. You might not see a dancer going through choreographic patterns, but you might sense some kind of musical phrasing or various pictures arranged in certain ways that could be a dance of multimedia, or whatever it is. It's got to be a musical experience. That's really the only qualification."
"I don't think of myself just as a choreographer, really," he continued. "I'm trying to find ways to express what seems to need to be expressed, visually and orally."
Of course, Pendleton isn't just a choreographer. He's a photographer who's featured in galleries around the United States and Europe. He's a writer and reader who translates ideas into images on the stage. He's an adventurer who listens to birdcalls and imagines musical scores.
Pendleton is a 21st-century Renaissance man. He's a journey into the unknown, just like alchemy.
"That's my job," he said, "to be a daydreamer, you see."
Popular in the Community