As part of HuffPost's "Reclaim" project, HuffPost Style will focus the month of September on simple ways to educate yourself on becoming a better consumer.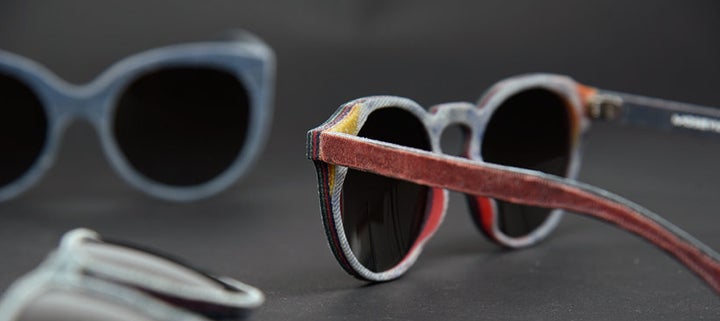 Instead of letting your old used jeans sit in a landfill and contribute to our textile-waste problem, why not turn them into a pair of cool shades?
That's exactly what's being done by Mosevic, a Cornwall, United Kingdom-based brand that handcrafts reclaimed denim into six different styles of gorgeous sunglasses.
Mosevic was founded by Jack Spencer and Alex Boswell, both of whom have a background in sustainable product design. So it may come as no surprise that their collections of Signature Denim and Worn sunglasses are made entirely out of reclaimed denim fabric.
"We buy damaged denim clothing (mostly jeans) from local charity shops," Spencer told The Huffington Post. "The charity shop receives donations of second-hand clothing from the public and we buy the items that the charity shop cannot sell, usually because of damage. We do pay for the jeans and this money goes directly to the charity that the shop supports."
And the shades aren't just coated in denim ― they're almost entirely made of it. Layers of the fabric are stacked on top of one another and pressed into molds, then soaked in a special synthetic resin that creates a tough composite material the brand calls solid denim. Next, computer-controlled machinery cuts the frames, and they're stonewashed to restore that classic denim appearance.
Here's a visual of how it's done: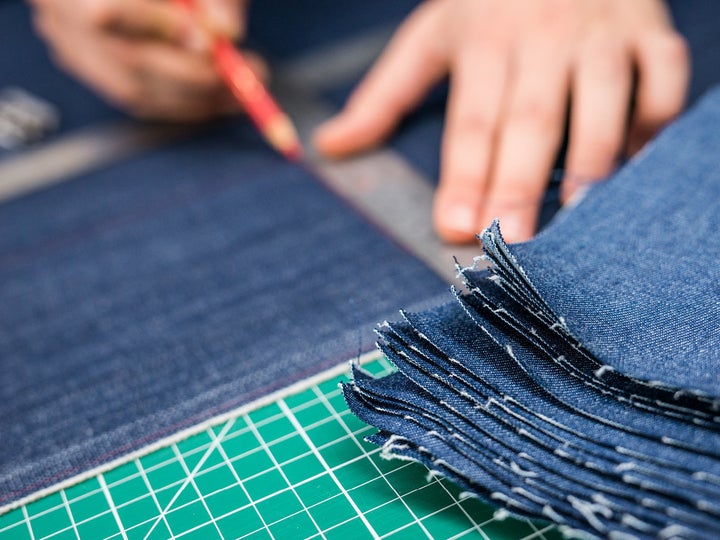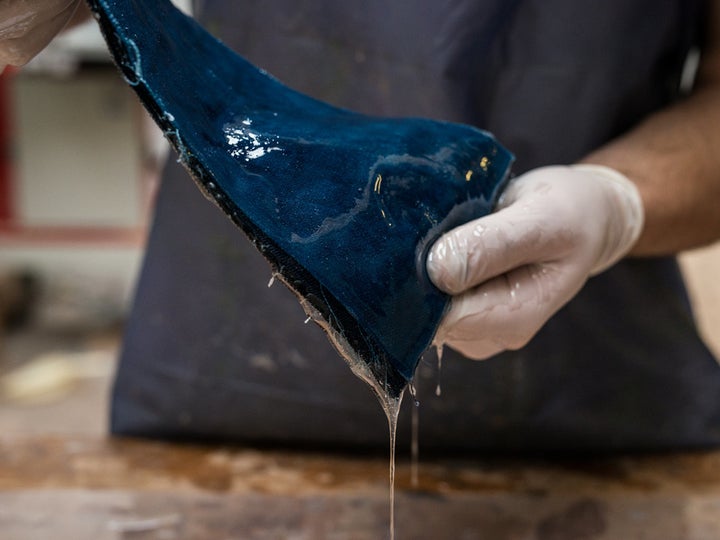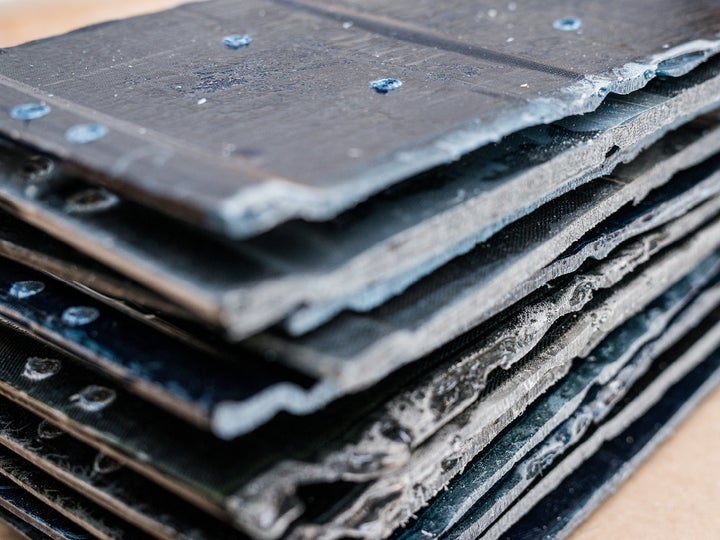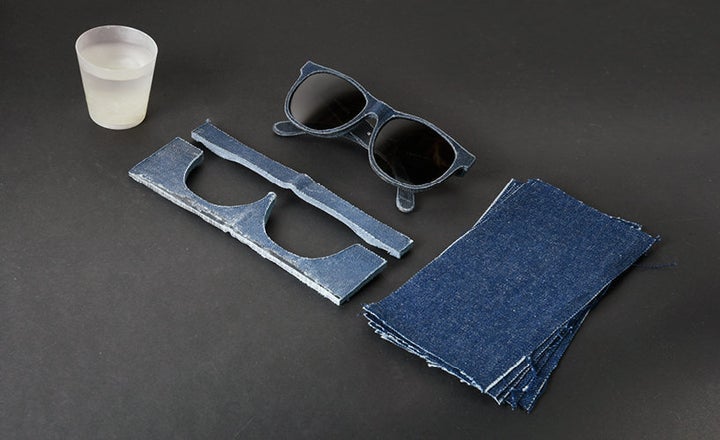 Assembled with tough barrel hinges and steel wire-enforced arms, the frames are finished off with polarized Zeiss lenses.
Aside from being lightweight, stylish and eco-friendly, every single pair is also unique ― so it's unlikely you'll ever cross paths with someone wearing the same pair. The shades of blue in the Signature Denim collection vary slightly, and the colors in the Worn collection can be customized to have side pieces made from green or red denim.
"I've always had a passion for eyewear (even though I don't wear glasses) and I knew that I wanted to start a sunglasses company," said Spencer. "I knew that to stand out from the crowd the product should be radically different to anything else out there. I was working on a different project which involved the use of composites. It's when I realized that resin could be mixed with a textile other than glass or carbon fiber that I decided to start testing solid denim. It took four years of development from the first trials to launching in 2015."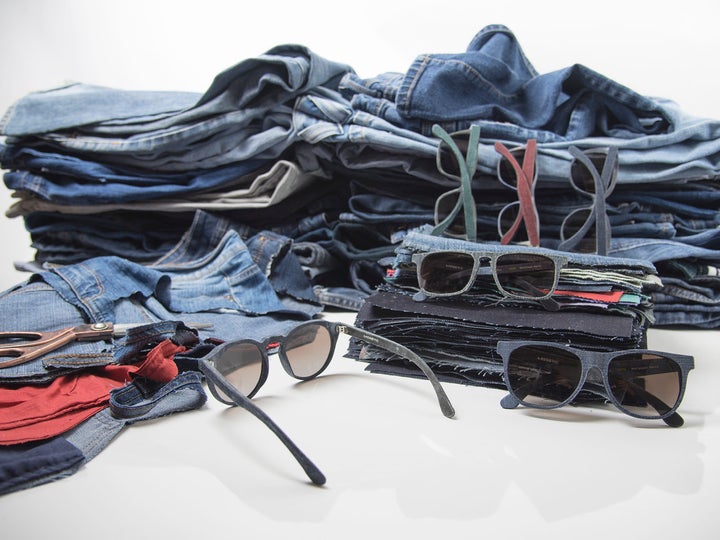 Sunglasses are a luxury product, so their eco-friendly efficacy is minimal. Still, Spencer says Mosevic is aware of this and does what it can to minimize its impact on the environment.
"By producing the best product possible we expect our customers to love their sunglasses. We don't want to be part of a 'throw away' culture. ... And it's all very well considering all the environmental impacts of the product, but if the packaging is excessive then this is somewhat pointless. That is why we use minimal recycled card packaging."
The company is working on becoming even more efficient with its materials.
"As well as sourcing denim from charity shops, we are looking to work with companies who have waste denim, using their offcuts or old stock to produce our products," Spencer said. "We hope that our products will raise awareness of the issues of fashion waste."
For more photos of available styles, check out the slideshow below.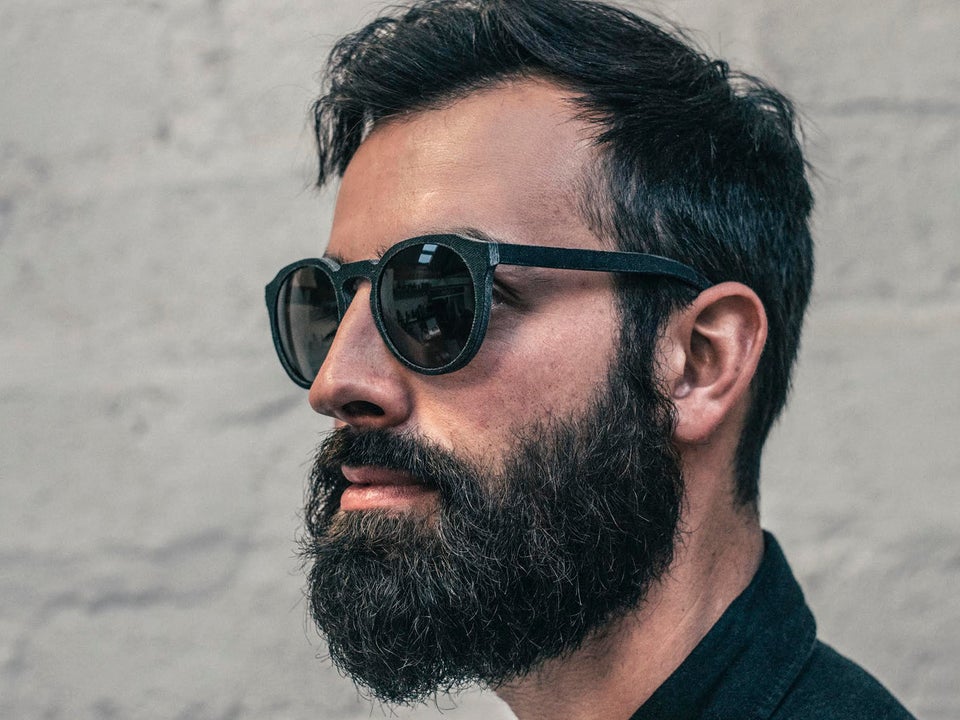 Mosevic Eyewear