Someone needed to address the elephant in the room. Literally.
Mosha, an Asian elephant who lost her right foreleg at just 7 months old when she stepped on a land mine on Thailand's border with Myanmar got her ninth prosthetic limb on June 29, which ended up saving her life.
"The way she walked was unbalanced and her spine was going to bend," Dr. Therdchai Jivacate, the orthopedist surgeon who designed the artificial leg, told Reuters. "She would have died."
Jivacate made Mosha her first prosthetic leg six years ago when he met her at Friends of the Asian Elephant Foundation when the majestic mammal was 2 and a half. Back then, Mosha weighed 1,300 pounds, now she weighs 4,000 and her artificial legs need to be redesigned to keep up with her growing body. In fact, in the first year of working with her, Jivacate made her three prosthetic legs, Vice's Motherboard reported.
But the very first one was quite a challenge.
Jivacate and his team had to build a comfy socket that Mosha could easily slide into, and in order for her to walk properly, perfect alignment between the socket and her foot was key.
"We knew that she wouldn't use the prosthetic leg if it caused her pain," Jivacate told Motherboard. "At first, she was curious about what was attached to her stump and tried to remove the prosthetic with her trunk, but we'd secured it tightly."
Twelve hours later, Mosha had gotten the hang of it and has been getting updated limbs ever since.
Though Mosha was the first elephant to be fitted with a prosthetic limb at Friends of the Asian Elephant Foundation, she isn't the only one. Motola, another resident elephant at the hospital also has an artificial limb and lost her leg to a landmine explosion in the same border area in 1999, according to the New York Times.
More than a dozen elephants have been wounded by land mines in the border region due to rebels fighting the Myanmar government for decades.
Jivacate helps to alleviate some of those elephants' pain.
"Animals don't ask that we make legs for them, but we wanted to give Mosha one," Jivacate. "I think she knows that I make her prosthetic legs as each time I come to the elephant hospital she makes a little salute by raising her trunk in the air."
Before You Go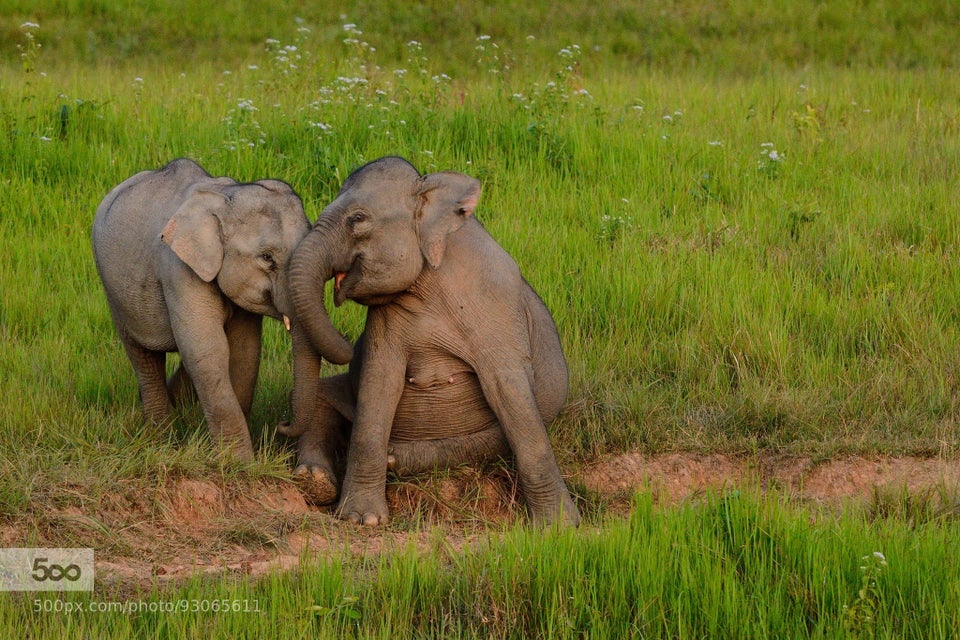 Elegant Elephants
Popular in the Community