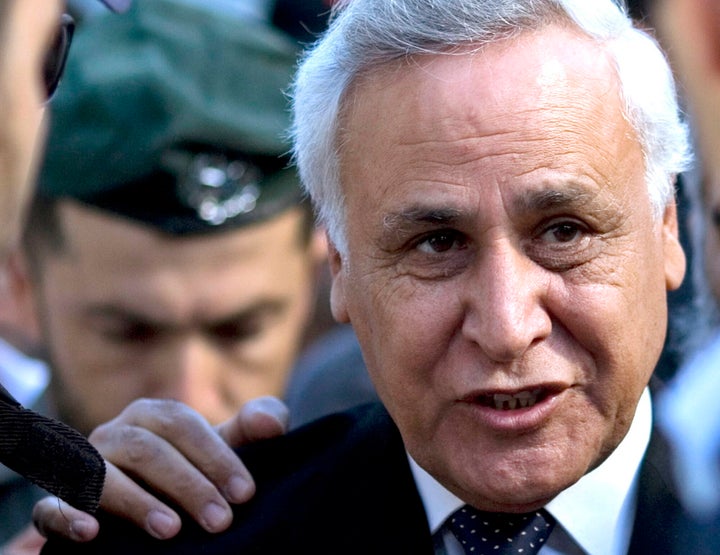 TEL AVIV (Reuters) - Former President Moshe Katsav was sentenced on Tuesday to seven years in jail for rape, a case that brought shame to Israel's highest office and sent a firm message to a transfixed public that no one was above the law.
Katsav had denied charges he twice raped an aide when he was a cabinet minister in the late 1990s, and molested or sexually harassed two other women who worked for him during his 2000-2007 term as president.
But a three-judge panel said on convicting him in December -- on what Prime Minister Benjamin Netanyahu described as "a sad day for Israel and its residents" -- that his testimony had been "riddled with lies."
"When a woman says no, she means no," the panel said in its ruling.
Katsav, 65, was also convicted of obstructing justice, for trying to confer with one complainant about her testimony to police. Netanyahu said at the time the verdict showed that "all are equal before the law."
Rape carries a minimum prison term of four years and a maximum of 16 years in Israel.
Though the scandal had forced Katsav's early retirement in disgrace, it had little impact on Israeli government functions, as the presidency is largely ceremonial.
But the allegations against the Iranian-born Katsav, whose rise from the slums once served as a shining example for disadvantaged Jewish immigrants from the Middle East and North Africa, stirred deep emotions in Israel, where the elite has traditionally been of European descent.
The verdict was dubbed an "earthquake" by one Israeli newspaper and welcomed by women's groups that have long complained of lax attitudes to sexual harassment in workplaces.
Katsav, who is religiously observant, had cast himself as the victim of extortion and an ethnically-motivated "witch hunt."
Katsav immigrated with his family to Israel in 1951. At the age of 24 he became the country's youngest mayor and went on to hold a number of Likud cabinet posts.
Parliament elected him president in 2000 in a surprise victory over Shimon Peres, Israel's Nobel Peace Prize-winning elder statesman. Peres succeeded Katsav as president, an appointment observers say has restored dignity to the post.
The eruption of the Katsav affair had amplified corruption scandals that brought down Israel's then premier, Ehud Olmert.
(Writing by Jeffrey Heller, Editing by Matthew Jones)
REAL LIFE. REAL NEWS. REAL VOICES.
Help us tell more of the stories that matter from voices that too often remain unheard.