His mosque was burned to the ground in the early morning hours of Saturday, but on Sunday night his heart was full of hope. 
"We are so overwhelmed," said Imam Fazal Hassan, looking out over the crowd inside Sammamish High School in Bellevue, Washington. Some 400 people had gathered there to show support for the local Muslim community, according to mosque board member Tanvir Rahman. 
Hassan recounted how immediately after news spread that his mosque ― the Islamic Center of Eastside in Bellevue ― had been destroyed by fire, he received calls from the area's rabbis, priests and pastors, all offering to help.
Outside the mosque, Hassan said, other non-Muslims in the Seattle area left gifts: flowers, balloons and cookies. 
"They were still warm!" Hassan said of the cookies, and the crowd burst into laughter. 
Hassan then cited a hadith ― "He who does not thank people, does not thank Allah" ― before thanking the town's mayor, the fire chief, the police chief, the FBI and everyone else in the Bellevue area "from the bottom of my heart."
"I thank you for all the support, love and compassion and respect you have been giving us," he said. The crowd rose to their feet in applause. (You can see the imam's remarks on video shot by an audience member here.)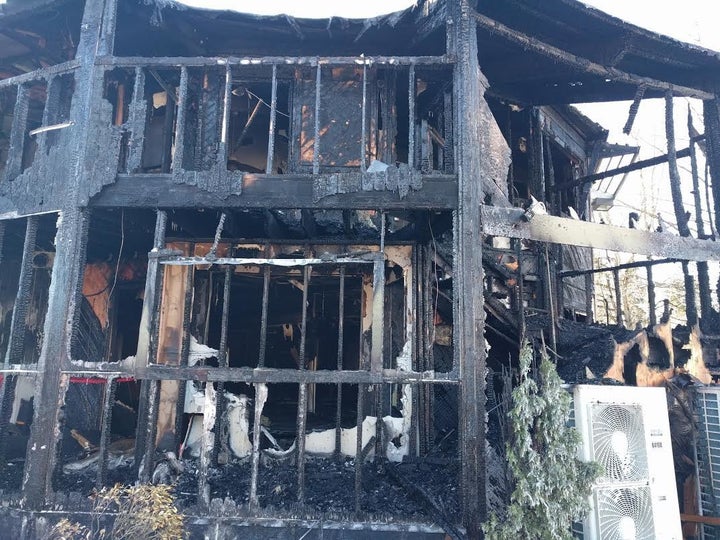 It was a moving moment, Rahman told The Huffington Post, and still more moving to know that the Islamic Center has already raised over $200,000 in donations on LaunchGood toward building a new mosque. That's almost halfway to the $500,000 goal. 
"We are extremely, extremely humbled by the show of support and acceptance," Rahman said. 
"I'm shaking in tears and shock right now," Varisha Khan, a senior at the University of Washington, wrote in a Facebook post on Saturday after watching a video of her childhood mosque in flames.
"This was my second home after moving to Seattle and so much of my identity was shaped from the amazing people, experiences, memories, lessons, and standing shoulder-to-shoulder in prayers here for nearly a decade of my life," she wrote. 
Police have arrested 37-year-old Isaac Wayne Wilson in connection with the fire, Bellevue Police Chief Steve Mylett told reporters at a press conference on Saturday.
After responding to the blaze at 2:44 a.m., police officers discovered Wilson lying down in a nearby parking lot. Mylett said Wilson, who is homeless, made statements to officers that implicated him in the alleged arson. There is also video evidence, Mylett said. 
Wilson was also wanted on a warrant in Seattle for malicious mischief. According to The Seattle Times, Hassan, the imam, said Wilson had visited the mosque last year and said he wanted to pray, but he was asked to leave after creating a disturbance and using profanities.
Speaking at Saturday's press conference, a King County assistant prosecuting attorney said he expected his office to charge Wilson with second-degree arson on Tuesday. Prosecutor Mike Hogan added there is no evidence yet that the fire was a hate crime.
In a Facebook post, the Washington state chapter of the Council on American-Islamic Relations (CAIR) asked people to "not jump to conclusions" about Wilson's motive. Nonetheless, mosques in the area have been targeted in the recent past.
Earlier this month, 36-year-old Kamal Samater was arrested and charged with malicious harassment, a hate crime, for allegedly telling a man in the Islamic Center of Eastside parking lot that he was "going to assassinate everyone" at the mosque. 
"There is no place in America for Muslims," Samater allegedly said. 
In the nearby community of Redmond, the Muslim Association of Puget Sound has had its sign vandalized twice in the last few months. Police are investigating those incidents as hate crimes. 
In June, after the Orlando, Florida, night club shooting, Redmond police received anonymous phone calls threatening people who worship at the Islamic Center of Puget Sound. 
A report last year from the Center for the Study of Hate and Extremism at California State University, San Bernardino, tallied at least 260 hate crimes targeting Muslims across the country in 2015. That's nearly an 80 percent rise from 2014 and the greatest number of such crimes in any year since 2001. 
Mosques were targeted for vandalism, arson and other types of destruction 80 times in 2015, according to a report from CAIR. That's a jump of nearly 400 percent from the year before.
Farida Hakim, a founding member of the Islamic Center of Eastside, told HuffPost that her "heart is overwhelmed with the love and support of our neighbors" since the fire. She said she was especially moved by a letter that a woman dropped off at the mosque Saturday, along with a $20 donation.
"Please don't let the actions of one person (or a nation of people who are ignorant and spiteful for that matter) make you feel unsafe or welcome," the letter read. 
"We care about you. We love you. We value you." 
The Huffington Post is documenting the rising wave of anti-Muslim bigotry and violence in America. Take a stand against hate.
Calling all HuffPost superfans!
Sign up for membership to become a founding member and help shape HuffPost's next chapter