"Who?" you ask? Don't be embarrassed, but do get in line behind everyone else asking that question, since the Cairo-born, UK-inhabiting, globe-trotting architect with projects stretching from Miami, to South Africa, to all over Saudi Arabia is far from a pulsating mass on the radar screen. More like a small UFO, darting in from the ether. But even if El-Wakil hasn't yet joined the ranks of starchitects like Frank Gehry, Rem Koolhaas, or Richard Rogers, his Google searches must be multiplying exponentially.
As it happens, El-Wakil is considered one of the most prominent proponents of contemporary Islamic architecture, which makes him a stimulating choice for the Driehaus Prize ("Yeah, I was surprised. I'd never heard of him either!" admitted Driehaus himself, Founder and Chairman of Chicago's Driehaus Capital Management, who endows the eponymous prize). Established in 2003 specifically to - take a deep breath - "honor, promote and encourage architectural excellence that applies to the principles of traditional, classical and sustainable architecture in contemporary society and environments," the Driehaus has thus far been bestowed only upon Western architects.
The meaty, six-digit award is double the $100,000 Pritzker Architecture Prize, which was founded in 1979 and has seemed, like the flashiest dancer in the room, to hog all of the architectural limelight. Make that modernist limelight, since its honorees have been some of the most prominent modern architects (Gehry, Koolhaas, and Rogers among them, besides Norman Foster, Philip Johnson, Richard Meier, and decades of others). In fact, the Driehaus Prize was conceived as a sort of anti-Pritzker, aimed at rewarding and publicizing those poor over-looked classicists who didn't seem to garner the same critical accolades as their more cutting-edge peers (Fun Fact: the patrons of both prizes abide in Chicago. Maybe it's something in the water.)
Ignorant as Westerners may be to Abdel-Wahed El-Wakil's reputation, he's got forty years-worth of award-winning structures on his CV: residences (beach homes, palaces), public buildings (the Oxford Center for Islamic Studies), and over a dozen prominent mosques in Saudi Arabia with others in South Africa, Bahrain, and Brunei.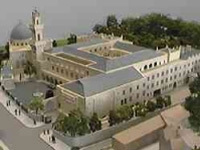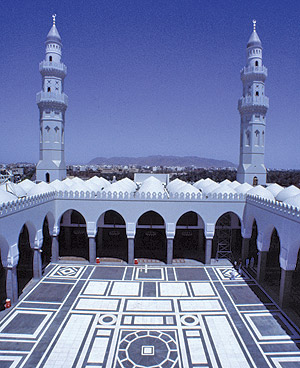 True to traditional techniques, El-Wakil has banished concrete and steel from his work, relying on brick, stone, and a precise understanding of what keeps an edifice standing. Classicist fanboy Prince Charles is a supporter, adding El-Wakil to the academic board of the Prince of Wales School of Architecture.

I grilled the newly-minted laureate, Abdel-Wahed El-Wakil, on his stop in Chicago, where a recent fete was held in his honor.
WERE YOU AS SURPRISED AS EVERYONE ELSE ABOUT WINNING THE PRIZE?

Oh, yes. In fact, I broke into tears! I thought this was a joke someone was playing on me, until my friend (former Driehaus recipient) Leon Krier got on the phone and convinced me.
EVEN SOME FOLKS CONNECTED TO THE PRIZE HADN'T HEARD OF YOU. IS THAT BOTHERSOME?
No. I've always tried to keep a very low profile. I learned this from a French philosopher who advised not to become famous until very late in life, until at least age seventy. I've followed his advice! Since I'm sixty-five now, I'm five years early. But I think that you pay a high price for public life, and the one who paid the most for it was Diana.
PRINCESS DIANA? THAT'S AN INTERESTING REFERENCE, CONSIDERING PRINCE CHARLES IS ONE OF YOUR BIGGEST ALLIES.
Prince Charles is one of the most cherished persons in my life, and I have a very, very close, spiritual relationship with him. He is a man who, regardless of nation or religion or creed, is trying to create a world with a sense of the sacred. That is in a sense his greatest quality. Very few people realize what he's trying to do, they make fun of him in England, saying he talks to his flowers, how he can't go back to the past. But he's really trying to bring meaning back into people's lives.

AS A MUSLIM, IS DESIGNING MOSQUES PARTICULARLY MEANINGFUL?
I just go in there to solve a problem architecturally: to make places more available for worship. In fact I was just asked to do an extension to the first mosque, in Quba, built by the Prophet Mohammed. That's a very sacred site, and to be asked to do that, I feel like I had a blessing.
SOUNDS LIKE A LOT OF PRESSURE! ARE YOU UNIQUELY QUALIFIED FOR THE JOB?
One of the rare qualities I have in my work is that I've really studied sacred art and sacred architecture. It's amazing that the nobility and the knowledge once transmitted through sacred architecture today is lost. The cathedrals, the temples in Egypt - they all have a message to give. That is what I attempt in my work. And I do believe it is the lack of sacred attitude that's causing so many problems today. I'm not talking about fanaticism, but something universal.
WHAT IF SOMEONE COMMISSIONED A CHURCH OR SYNAGOGUE? WOULD YOU BE COMFORTABLE WITH OTHER SACRED EDIFICES?
Yes, but I'd want to work with someone who understood those traditions, like a friend of mine in England who works in the Gothic style. He would understand the structural forces inherent in that type of building as well as I understand it in Islamic ones. You see, I design without a net, so to speak. I don't use steel reinforcements in my buildings, so if I do it wrong structurally, it will collapse. I have to know the forces working in a building. And unfortunately today, people don't understand these things any more - they just rely on steel and concrete to hold a building together.

THE OXFORD ISLAMIC CENTER IS ENORMOUS. THERE'S NO STEEL?
No! No! I designed it to be completely load-bearing, without any reinforcement, even the halls and the dome. But the structural engineers first refused to do it, and said we'd need buttresses from across the street to support it. We had quite a dispute, until a Cambridge professor of structures came in as arbiter, and he pronounced the building over-designed, very safe, and not requiring steel or reinforcements.
IS IT IRONIC, ACCEPTING THIS PRIZE IN A CITY NOTED FOR ITS MODERN STEEL AND GLASS BUILDINGS?
I studied modernism at university, and came in first of my class. I have great admiration for Mies Van der Rohe. He's the Rolls Royce of architects.
SO, WHAT ARE YOUR PLANS FOR ALL THAT PRIZE MONEY?
Ha! Well, by tradition, in my country, when a man gets a lot of money, he gets married again and chooses a new young wife. But I won't use my privilege as a Muslim, I'm allowed to have...
YOU REALIZE I'M TAPING THIS?
SO WHAT ARE YOU GOING TO DO WITH IT?
I won't tell you. This is very private. Why should I tell you?
Popular in the Community