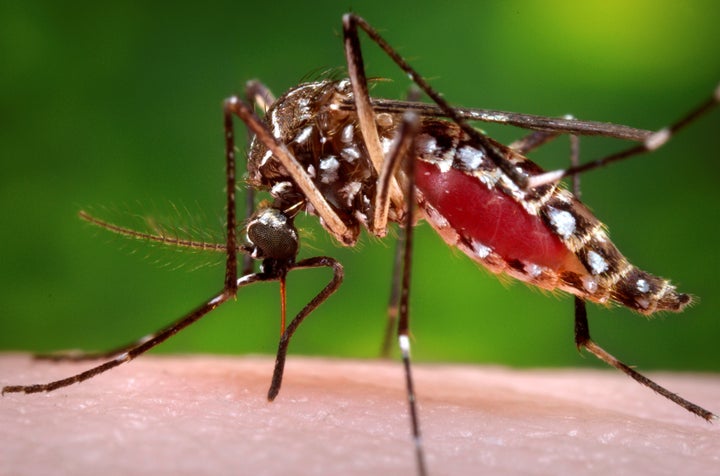 The number of Americans who have gotten sick from mosquito, tick and flea bites more than tripled between 2004 to 2016, according to new figures from the U.S. Centers for Disease Control and Prevention. The study also said that local and state public health departments are unequipped to properly combat the surge of disease from insects.
Since 2004, nine new diseases have been introduced in the United States, including the chikungunya and Zika viruses. Diseases already endemic to the country, such as Lyme disease, shot up, contributing to these high case counts. Experts warn Lyme disease diagnosis numbers can be up to 10 times higher than currently reported.
"The numbers are really staggering," said Dr. Ashish Jha, the director of the Harvard Global Health Institute. "The increase that we're seeing over a very short time period is unprecedented."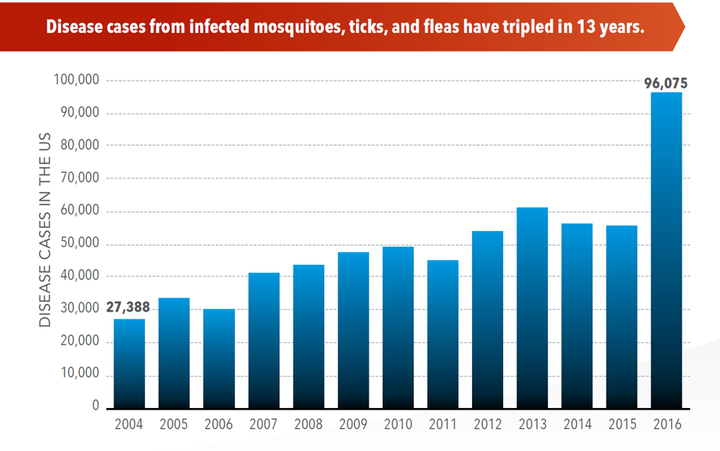 Experts have long warned that warmer weather and other events associated with climate change contribute to longer insect seasons, increased populations and larger habitat areas for mosquitoes, ticks and fleas.
But the CDC report stopped short of citing climate change as a cause.
Lead study author Dr. Lyle Petersen, the CDC's director of vector-borne diseases, avoided that term in an interview. Instead, he said that "changing our environment" was one factor among several.
Petersen did say that higher temperatures create outbreaks of diseases and enable mosquitoes to migrate to new areas, in turn driving up case counts. However, he maintained that international travel and a lack of preparation for the diseases it brings were equally to blame.
While that may be true, Jha said he was disappointed the CDC avoided specifically mentioning climate change.
"It's pretty clear why that phenomenon is occurring ― it's climate change. As our leading health agency, the CDC should call it as it is," Jha said. "By censoring themselves, I think they have both done themselves a disservice and probably brought more attention to the climate change component."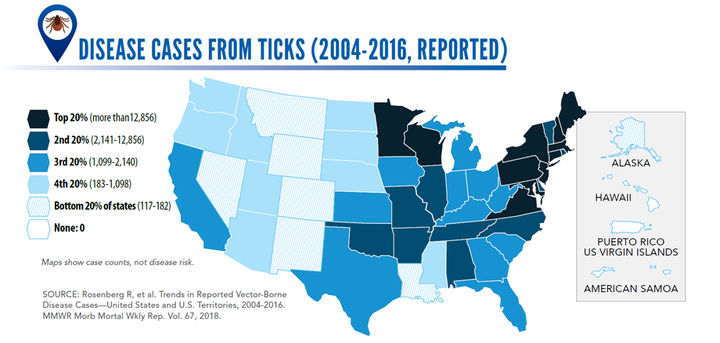 To compound that, a lack of preparedness among local and state health officials is highly concerning. According to the study, only 16 percent of vector control organizations ― programs focused on preventing and controlling disease outbreaks ― have the training, resources and programs in place to adequately battle the increased onslaught of disease.
One particular threat is the widespread failure to test for pesticide resistance, according to Oscar Alleyne, the senior adviser for public health programs at the National Association of County and City Health Officials. Of the departments that flunked their competency tests, 98 percent failed for this reason, he said.
"Imagine you had mosquitos that become resistant to the pesticide you're using, and you just continue to use that chemical treatment and control ― you're not really reducing that population are you?" Alleyne said. "Our line of defense is not strong, there's no question about that."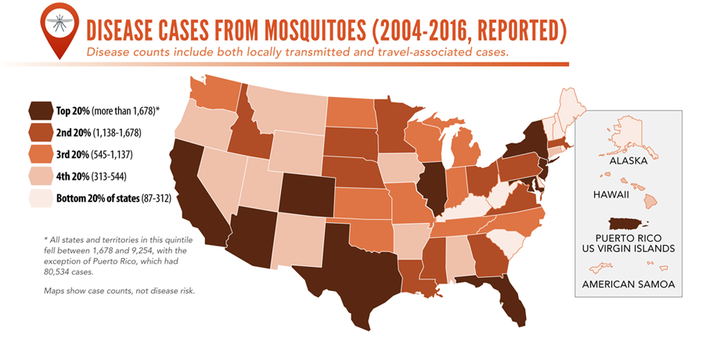 Funding for public health efforts on a state and local level has been decreasing for years, a problem compounded by flat federal funding. So it's no surprise that the U.S. is woefully underprepared, according to Alleyne.
Jha echoed that sentiment. "When you get a report like this everyone panics, you throw a bunch of money at it, then the season goes away and you say it's fine and you neglect it."
Peterson said it often takes a panic like the ones caused by West Nile virus and Zika to get Congress to unleash the purse strings and fund adequate vector control.
"Our goal is to try to build a sustainable capacity ― not one that booms and busts," Peterson said. "I think what is really necessary is a long-term sustained effort to rebuild these capacities and make the nation fully prepared."
In the meantime, the CDC stressed the need to wear EPA-approved bug repellent, treat clothes with permethrin, and treat yards and pets with spray to minimize the risk of disease.
But sustained funding and attention will be vital if public health officials are going to adequately address this shocking jump, Alleyne said.
"The larger picture here is there has been a significant reduction in funding to support vector control at the local level," he said. "We can't allow ourselves to stick our heads in the mud and say it's not a problem because it's a pesky tick or mosquito."
Support HuffPost
The Stakes Have Never Been Higher
Related
Popular in the Community