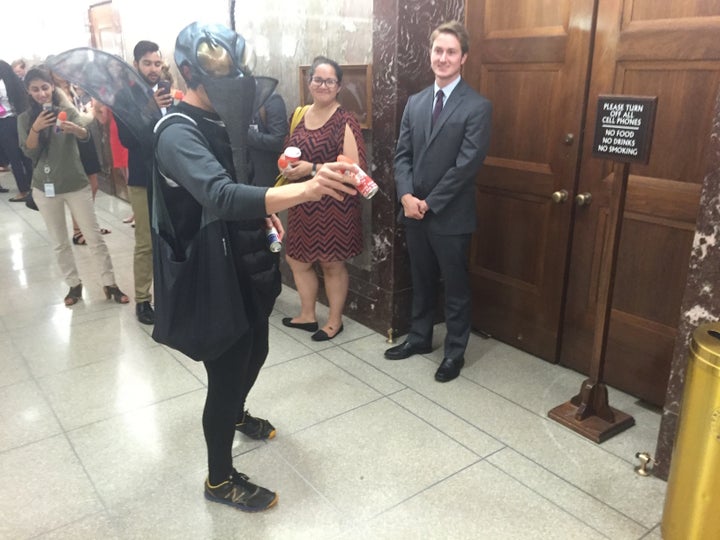 WASHINGTON ― A man in a full-body mosquito costume trolled Senate Republicans on Wednesday by distributing insect repellent outside of their hearing on the Zika virus.
The human-sized mosquito, a reproductive rights advocate with NARAL Pro-Choice America, made an appearance to denounce Republicans' lack of action on the Zika epidemic. Members of the House and Senate are struggling to agree on a plan to address the virus, and House Republicans have proposed a solution that could make it harder for women in Zika-affected countries to access birth control and family planning services.
"Republicans don't have a plan for Zika, but mosquitoes do," the man told people waiting in line for the Senate Foreign Relations Committee hearing as he handed out miniature cans of bug spray.
The Zika virus can be spread by mosquitoes or through sexual contact, and it has been linked to microcephaly, a severe birth defect that causes babies to be born with abnormally small heads. Hundreds of babies have been born with microcephaly throughout the Western Hemisphere after their mothers contracted the virus, and the first baby was born in Texas on Wednesday with the Zika-related condition.
"Countries think they solved a problem when they just tell the women, 'Don't get pregnant.' There's something wrong with that on so many levels."
While Sen. Marco Rubio (R-Fla.) urged his colleagues Wednesday to act swiftly on funding efforts to combat Zika, Republicans have largely ignored the need to provide access to free contraception amid a public health crisis that has the most devastating effect on pregnant women.
Some Latin American countries have advised women to delay pregnancy for two years because of the epidemic. Yet many of the countries where Zika is rapidly spreading have strict anti-abortion laws and even jail women who attempt to end their pregnancies.
Nonetheless, Republicans have proposed to limit the use of USAID funds for contraceptives and family planning in Latin America by directing NGOs to use the money for mosquito control, vaccines and diagnostics instead. They went a step further last week, proposing to eliminate the Title X Family Planning program, which provides low-cost family planning and health services.
At Wednesday's hearing, Sen. Barbara Boxer (D-Calif.) expressed her frustration with the situation, urging her colleagues to help women in Zika-affected countries access free contraception.
"We can't have one hand tied behind our back by saying, as the House said, that none of this money can be used for non-governmental organizations to provide birth control, which is so critical," Boxer said.
"Countries think they solved a problem when they just tell the women, 'Don't get pregnant,'" she added. "There's something wrong with that on so many levels."
Before You Go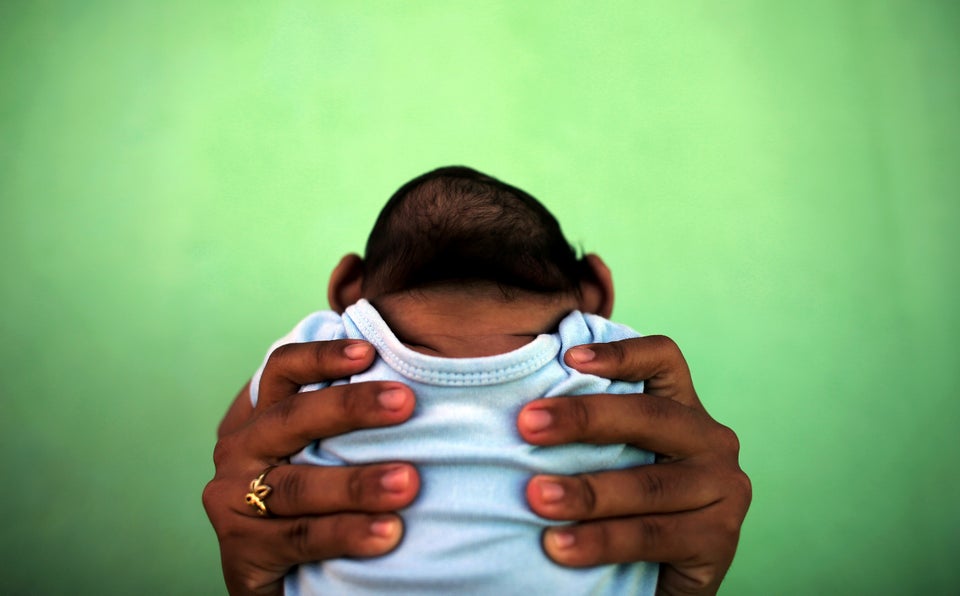 Zika Virus In Brazil
Popular in the Community