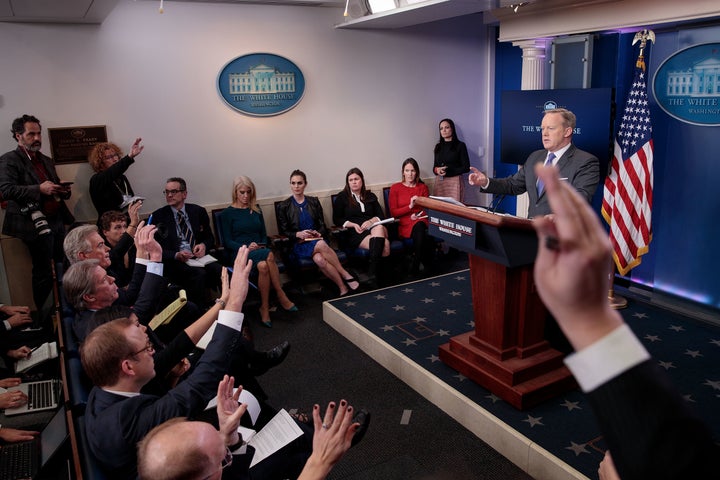 Over half of Americans say that most members of the news media are not honest, according to a Quinnipiac University poll released Monday. Only 39 percent think most media personnel are honest.
The numbers play well into President Donald Trump's attempts to sow mistrust in the media among the American people. In fact, 86 percent of Republicans and 6 in 10 independents think the media is dishonest, while nearly two-thirds of Democrats think most members of the news media are honest.
A recent HuffPost/YouGov poll found very similar results. When asked if they had trust and confidence in the media to state the facts fully, accurately and fairly, over half of respondents said they had "not very much" trust or "none at all." A majority also don't trust Trump's administration to be truthful, but most Republicans trust Trump to be honest.
In the Quinnipiac poll, young people are more likely to think the media is dishonest than any other group except Republicans. Seventy percent of those age 18-34 think most members of the news media are dishonest. That's compared to 53 percent of 35- to 49-year-olds, 57 percent of 50- to 64-year-olds and only 45 percent of those over age 65 who share that view. The HuffPost/YouGov poll did not show significant differences by age, however. In that poll, a majority of all age groups reported little or no trust in the media.
Although it's not clear that the low levels of trust in the media are a result of the current political climate, there is evidence that Trump's assault on the press could be successfully moving the bar on public opinion.
Gallup reported in September that Americans' trust in the media was at an all-time low since it began asking the question in 1972. That drop ― from 40 percent with a great deal or fair amount of trust in the media in 2015 to 32 percent in 2016 ― was mostly caused by an 18 percentage point downturn in media trust among Republicans since 2015. That's the largest single-year drop Gallup has ever measured on the question.
The situation for the media isn't likely to improve among Republicans and Trump supporters. The president has continued his strong criticism of the press in his first days in office, and both Trump and adviser Steve Bannon have referred to the media as the "opposition party." White House press secretary Sean Spicer has regularly berated the media during daily press briefings for what he perceives as biased coverage. And Trump frequently refers to various news outlets, such as The New York Times and CNN, as "fake news."
These attempts to discredit the press by the current administration shouldn't be dismissed as simply the ravings of a president who can't handle criticism. Polling data consistently tell us that a majority of Americans don't trust the media. Trump's rhetoric has a friendly audience on this issue.
Calling all HuffPost superfans!
Sign up for membership to become a founding member and help shape HuffPost's next chapter