In my new book Handmade Houses: A Century of Earth-Friendly Home Design (Rizzoli) I explore the history of ecological architecture, telling the story through a presentation of homes located in the United States, Canada, France, Italy, Spain, the United Kingdom, and Australia. I give special attention to the woodbutcher movement that grew out of 1960s environmentalism, and in the following text I touch on the movement's beginnings.
"My perception was that architecture, as it was practiced, was a dying thing, that you had to get into building if you wanted to be independent of all these horrible structures and the monolithic architecture and engineering firms. You had to be able to build your visions first-hand and have those skills," said eco-architecture pioneer Sim Van der Ryn, looking back to late 1960s and early 70s.
In 71, roughly a year after the first Earth Day celebration, Van der Ryn, then a UC Berkeley College of Environmental Design professor of architecture and a practicing architect, had co-created and sold the university on the idea of a course that would teach students about subsistence living and how to design and build a handmade house. Called "Making a Place in the Country," Van der Ryn's workshop was held on his own five-acre hilltop, beside a wilderness preserve in the Marin County nook called Inverness.
Week after week, the group, both young men and women, collaborated like a family. They improvised their designs, allowing themselves total liberation from the rigid Modernist ideology that dominated architectural education and practice. They salvaged their needed materials, repurposing wood from old chicken coops. In their many building projects, they not only let handcraft's "mistakes" be an integral part of the process, they highlighted them in the finish work. At the end of the semester, students left the Inverness woods holding both a Van der Ryn-created tongue-in-cheek certificate that declared their official status as Outlaw Builder and, as would eventually come to light, a radically altered view toward conventional values and practices.
Unbeknownst to much of the class, the handmade houses that were left behind in Inverness following the course's conclusion (a few of them remain and serve as homes today) looked a lot like certain buildings that had been created during the same period in other parts of the United States and well beyond. Throughout the 1960s, a series of paradigm-shifting events--political, social, and environmental--had conspired to create a culture of protest, and by 1970 the vexation had clearly boiled over into architecture and construction.
Out in the country, a movement in homebuilding--a craft-focused, anti-technology protest architecture--was gaining adherents and taking on codification. Its fullest expression would be found on the West Coast, in Big Sur, Canyon, and parts of Marin County, California, and in British Columbia. It flourished in these locations to a great extent because of plentiful materials and land resources and because of their great geographic distances, not to mention the growing philosophical removal, from capital-"A" Architecture's arbiters on the East Coast. Big Sur had the added benefit of a rich stock of extant late 19th- and early-20th-century pioneer buildings--most of them were of hand-hewn redwood--that could serve as models.
In describing these dwellings that appeared preoccupied with old-world qualities like "feel" and "soulfulness" and that had been built from mostly used materials, the participating artists, carpenters, architects, and novice do-it-yourselfers adopted the humble label "handmade house" or the entirely self-effacing "shelter." The back-to-the-land movement was in full swing then, and these homebuilders had been gathering ideas and inspiration from the most unpretentious of building types, the architecture of the farmer and rancher. At a time when residential design and construction was becoming increasingly corporatized, when the average home was nothing if not a celebration of factory-made, mass-produced parts and outfitted with the latest technological advances, these outlaw builders were going for the polar opposite: the decidedly imperfect, "no-tech" peasant house made of one-of-a-kind, richly patinated collected objects, an architecture free of idealism--"architecture without architects."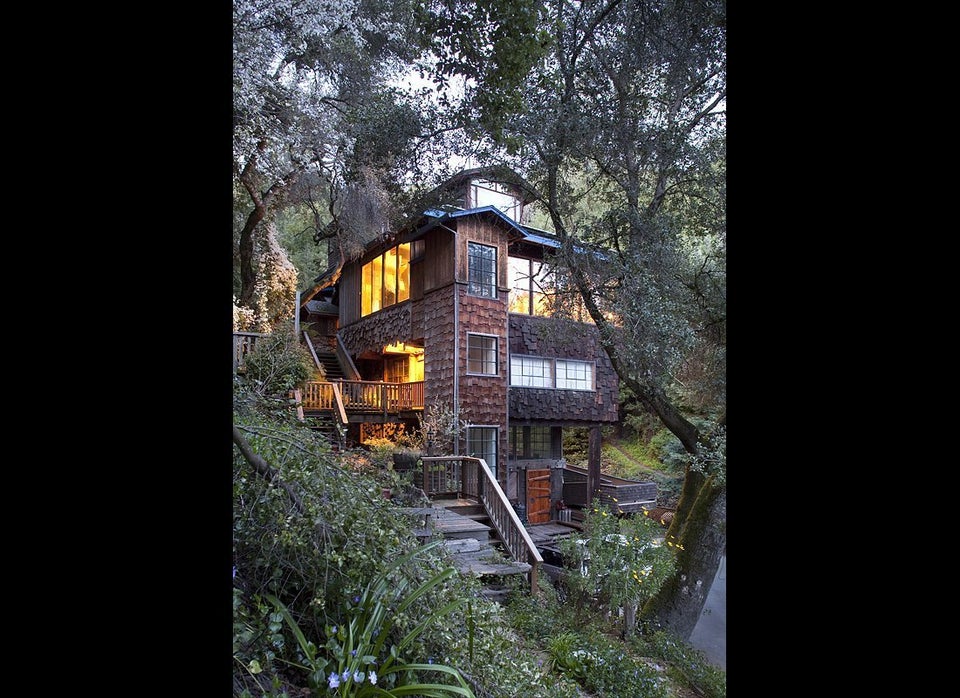 Gallery
All photos courtesy of Richard Olsen.
Popular in the Community