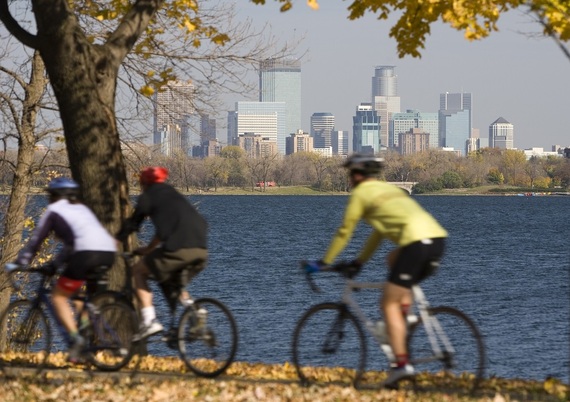 In celebration of Bike to Work Week and National Bike Month, Walk Score, a Redfin company, updated its 2015 Bike Score ranking for 154 U.S. cities and more than 10,000 neighborhoods. Minneapolis wins the award for most bikeable city in the U.S., according to the ranking, with a Bike Score of 81.3. Minneapolis has a strong lead over San Francisco (75.1) and Portland (72.0).
The ranking looked at cities with populations of 300,000 or more, and used Bike Score to determine which locations are best for bikers. The scores are measured on a scale of 0 - 100 based on bike lanes, hills, destinations and road connectivity, and share of local workers' commutes traveled by bicycle.
A handful of smaller cities didn't make the list but deserve recognition. All college towns, they boast some of the country's highest Bike Scores:
Cambridge, MA (92.8)
Davis, CA (89.3)
Berkeley, CA (88.8)
Boulder, CO (86.2)
Santa Cruz, CA (83.8), also a 2015 new addition to Bike Score
Better Infrastructure, Better Bike Scores
Thanks to investments in infrastructure such as protected bike lanes and networks of bike paths, several cities saw big increases in their Bike Scores since the 2013 ranking. On average, cities that ranked in the top 20 saw an increase of more than two Bike Score points. Chicago's Bike Score increased by almost nine full points, from 61.5 in 2013 to 70.2 today. In the past two years, the Chicago Department of Transportation has launched and grown the Divvy bike share system and expanded its on-street bike network to include more than 225 miles of bike lanes and routes. Expect the city's score to climb in the next five years as Mayor Emanuel's Chicago Streets for Cycling Plan 2020 includes completion of a 645-mile network of on-street bikeways by 2020. Many Chicagoans are already considering bike-friendliness when choosing a place to live.
"Many of my clients don't own cars," said Clayton Jirak, a Redfin real estate agent and cycling proponent in Chicago. "They search for condo buildings with dedicated, secure bike rooms in proximity to bike lanes and major trails around Chicago. Our diverse transportation options have made Chicagoans less auto-centric and created a more bike-friendly city."
In San Francisco too, cyclists have seen more protected bike lanes added over the past couple years, reflected in a five-point Bike Score increase from 70.0 in 2013 to 75.1 today. And there are more to come, as the San Francisco Municipal Transportation Agency (SFMTA) last month announced its commitment to start construction on more than 24 miles of bike infrastructure improvements.
Looking for a good place to ride a bike? You can find the full report on Redfin.