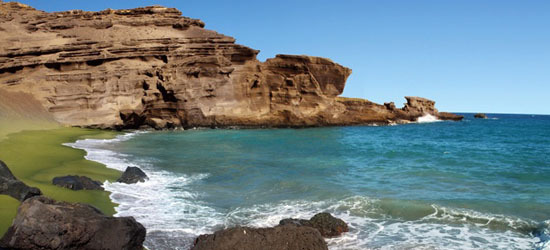 Photo Courtesy of Dreamstime. Article by Kaeli Conforti of Budget Travel.
Most beaches need umbrellas and blankets to brighten up the landscape. Not these stretches of sand. From iconic pink sand beaches in the Bahamas to a green beach in Hawaii, we've rounded up beaches around the world that you have to see to believe -- and we show you exactly how to get there.
BLACK SAND
Muriwai Black Sand Beach, New Zealand
Black sand beaches are typically a result of an island's explosive volcanic past -- the rich color is a result of a mixture of iron, titanium, and several other volcanic materials. New Zealand's stunning Muriwai Black Sand Beach is a 37-mile stretch of sparkling black sand and home to New Zealand's largest colony of Gannet birds. Hike up the scenic trail at the southern end of the beach to two viewing platforms for great ocean views and a peek at the birds in their natural habitat, where nearly 1,200 pairs nest between August and March each year.
See it for yourself: Just a 40-minute ride west of downtown Auckland, Muriwai Black Sand Beach can be a day trip, or book a room at the Lodge Escape at Muriwai for from $120 a night. Feeling gutsy? Try a two-hour lesson from the Muriwai Surf School (from $60 per person including equipment).
GREEN SAND
Papakōlea Beach, Big Island of Hawaii
Located on the southern tip of Hawaii's Big Island, Papakōlea Beach is more commonly referred to as Green Sand Beach. And for good reason. The sand here is made of tiny olivine crystals from the surrounding lava rocks that are trapped in the 49,000-year-old Pu'u Mahana cinder cone by the waters of Mahana Bay. The density of the olivine crystals keeps them from being washed away by the tide, resulting in a striking olive-green accumulation along the coastline. Swimming is allowed but waves on the windy southern coast can be particularly strong. And while it's tempting, it's bad form to take the sand home with you.
See it for yourself: Papakōlea Beach is equidistant from both Kona and Hilo, and well worth the scenic two-hour-and-15-minute drive on Highway 11 (look for signs for Ka Lae, or South Point between mile markers 69 and 70). You can also take the two-mile hike along the southernmost point in the U.S.A. for a glimpse of the uniquely olive-green sand.
RED SAND
Red Beach, Santorini, Greece
Santorini's Red Beach (also called Kokkini Beach) is set at the base of giant red cliffs that rise high over crystal-blue Mediterranean waters. The colorful red sand is a result of the surrounding iron-rich black and red lava rocks left over from the ancient volcanic activity of Thira, the impressive volcano that erupted and essentially shaped Santorini in 1450 B.C. Nowadays, the beach is popular with sunbathers, though you'll want to rent beach chairs to avoid sitting directly on the coarse sand. And it's best to visit in the early morning hours -- the sand heats up under the warm Mediterranean sun.
See it for yourself: The easiest way to reach Red Beach is by boat from Akrotíri or Períssa on Santorini. Pair your trip to the beach with a visit to the ancient Minoan Ruins of Akrotiri, a 10-minute walk away.
PINK SAND
Pink Sand Beach, Harbour Island, Eleuthera, Bahamas
A lot goes into making this Pink Sand Beach so... pink. The three-and-a half-mile-long stretch gets its hue from thousands of broken coral pieces, shells, and calcium carbonate materials left behind by foraminifera (tiny marine creatures with red and pink shells) that live in the coral reefs that surround the beach. The pink sands can also be found on Harbour Island's Atlantic side and along the Exuma Sound -- Lighthouse Beach, Surfer's Beach, Winding Bay Beach, and French Leave Beach are also famous for their rosy sand.
See it for yourself: Several flights to Eleuthera are available through Bahamasair from South Florida, or opt for one of several ferries or water taxis from the other Bahamian islands. The five-hour Eleuthera Express from Nassau costs $35 per person one-way. To get to Harbor Island from North Eleuthera Airport, take a 10-minute taxi ride (about $5 per person) to the boat dock and a 10-minute water taxi (also about $5 per person) across to Harbor Island -- bicycles, scooters, and golf carts are available for rental once on the island, while walking tends to be the preferred form of transportation.
PURPLE SAND
Pfeiffer Beach, Big Sur, California
Have you ever heard of purple sand? Head to the northern coastline of Pfeiffer Beach, where patches of violet and deep-purple sand can be found. The source is large deposits of quartz and manganese garnet originating in the nearby hills being washed down from the creek to its final resting place along the Pacific. The purple sand is more likely to be seen after storms during the winter. Swimming is not recommended because of strong currents and a number of sharp purple rocks offshore, which also contribute to the beach's rare coloration.
See it for yourself: Pfeiffer Beach is located just outside Big Sur State Park about an hour south of Monterey, or roughly two hours and 45 minutes south of San Francisco along Pacific Coast Highway 1. Keep an eye out for Sycamore Canyon Road just past mile marker 45.64 and continue through Los Padres National Forest -- if you are driving from Northern California, turn right approximately 0.66 miles after you see the park ranger station. Parking is available for $5 per vehicle.