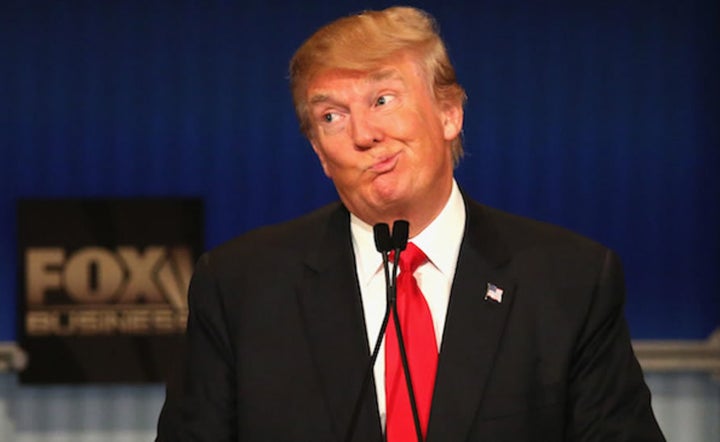 New Yorker Magazine calls Donald Trump the most corrupt presidential candidate in the history of the United States: Donald Trump. They tear to shreds Trump's weighty conflicts of interest running as a real estate developer and brand marketer, which turn him into the kind of candidate that pitched "Trump Steaks" after winning a primary, saying:
Trump has not merely intermingled campaigning with his business interests; the two are one and the same. His entire political career seems to be an outgrowth of his efforts to build his personal brand, which Trump has endlessly used the campaign as a platform to promote.

He has devoted speeches to attacking the judge in the fraud suit against his "university," instructed surrogates to do the same, and promised to relaunch the enterprise if elected. He celebrated the Brexit vote, which drove down the value of the pound, as helpful for driving visitors to his Scottish golf course. This sort of behavior is not an appearance of a conflict of interest but the definition of one.
If Trump's crooked business dealings just ended at shaking down regular Americans across the country in get-rich-quick schemes, it would be gross enough.
But the presumptive Republican nominee for President took that a thousand steps further.
It's no coincidence either that the Republican discarded his female-journalist-bullying former campaign manager, former cop Corey Lewandowski for the dirtiest Republican insider he could find: Paul Manafort.
Republican presidential campaign manager Paul Manafort's major business interests lie in working with pro-Russian Ukrainian politicians (forced from office for hoarding billions in state funds), and he also ran the racist "Southern Strategy" for Ronald Reagan's 1980 presidential campaign which launched in Philadelphia, Mississippi. 
New Yorker Magazine took this all a step further calling out the Republican as a 'Manchurian Candidate' and naming the the adult with a hand inside the little-fingered, blond toupeed Trump puppet as none other than Vladimir Putin.
The Russian dictator and former KGB spymaster has a long history of supporting anti-NATO candidates for office, and isn't afraid to gamble big. They said:
Trump is not merely comfortable doing business with criminals and thugs — his habits of manipulating bankruptcy laws and swindling his partners have left him reliant upon, let us say, unconventional sources of investment, many of whom are the scum of the Earth.

Franklin Foer lays out impressive circumstantial evidence that Trump may well be a puppet of Vladimir Putin, with whom Trump shares a web of financial ties that help explain their shared worldview. Whatever we might think of Clinton, we can be confident she is not controlled by the Kremlin.
The on its face conflicting interests presented by Donald Trump's obvious foreign business interests is appalling, as is his advice from the right hand of dictators and thieves. 
A President shouldn't be the shakedown artist in charge of shady operations the presumptive Republican nominee uses to fleece the public with his once shiny name, a Trump name now stained forever by political bribery, race hate and petty thievery.
Are those words Americans should ever have to worry about when picking the President of the United States?
Calling all HuffPost superfans!
Sign up for membership to become a founding member and help shape HuffPost's next chapter