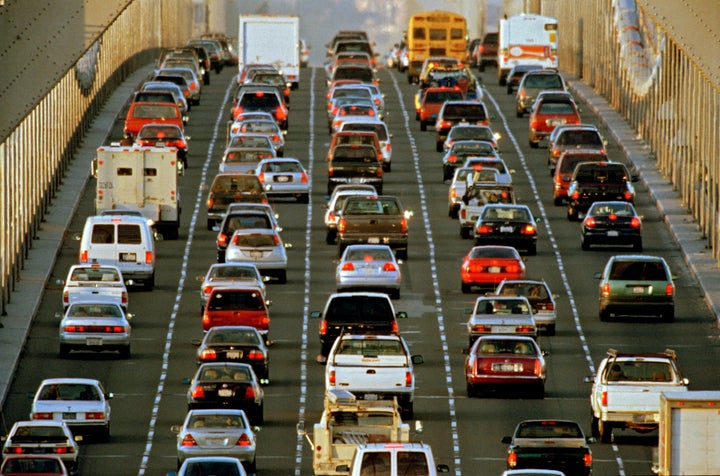 The number of fatal car crashes in the United States has declined, at least partially due to better safety measures and improved road design. In 2014, 32,675 Americans died in car crashes, roughly 10,000 fewer than there were In 2004.
Still, traffic accidents remain a serious problem in this country, and in some states the issue is much more severe than in others. Nationwide, there were 10.2 deaths for every 100,000 people in 2014. In Wyoming, the most dangerous state for drivers, there were 25.7 deaths for every 100,000 people. This was five times the traffic fatality rate recorded in Rhode Island and Massachusetts, the safest states to drive in the country.
One factor that can drive up traffic fatality rates in certain states is the type of road typically traveled on. On the whole, rural roads are much less safe than those in more populated areas. Research shows that drivers tend to drive faster and more recklessly on rural roads, are less likely to wear seat belts, and are more likely to strike a wild animal crossing the road.
Click here to see the most (and least) dangerous states to drive.
According to the Insurance Institute for Highway Safety, a nonprofit traffic safety research organization, the majority of fatal passenger vehicle and large truck accidents take place on rural roads. The organization reports: "although 19 percent of people in the U.S. live in rural areas and 30 percent of the vehicle miles traveled occur in rural areas, more than half of crash deaths occur there."
In no state were more than 75% of the total miles traveled on rural roads, but fatal crashes on rural roads accounted for at least 75% of all vehicle deaths in 15 states. In South Carolina, 45.3% of total miles driven were on rural roads, yet 82.0% of all fatal car accidents in the state were on these roads.
The choices drivers make can also dramatically impact the probability of a fatal accident. Seat belt use, for one, significantly reduces the likelihood of a fatality in the event of an accident. Seat belt use tends to be lower in states with the highest rate of roadway fatalities and higher in states with the lowest rates of death on the road. Nationwide, about 87% of front-seat occupants buckle up. In seven of the 10 least safe states to drive, the seat belt usage rate is below the national proportion. In 14 of the 15 most dangerous states to drive, an above average share of car crash fatalities were not wearing seat belts.
Drinking and driving remains another major cause of auto fatalities, despite numerous public service announcement campaigns and aggressive law enforcement. Nearly one-third of drivers killed in car accidents in 2014 had a blood alcohol content at or above the legal limit of 0.08. In Montana, which had one of the highest rate of fatalities per 100,000 people, 49% of drivers killed had an illegal level of alcohol in their blood, the highest proportion in the country.
To rank the safest and most dangerous states to drive in the United States, 24/7 Wall St. reviewed state by state fatality data from the International Institute for Highway Safety (IIHS) along with urban and rural travel data provided by the Federal Highway Administration (FHA), each for 2014. The number of fatal roadway deaths was then adjusted for population, noted as fatalities per 100,000 residents. Blood alcohol content levels among driver fatalities, seat belt use rates, and the share of fatal accidents on urban roads are also from IIHS, and are all for 2014. Fatal injuries due to vehicle accidents include pedestrian and cyclist fatalities.
These are the most dangerous states to drive.
10. Louisiana

> Road deaths per 100,000: 15.9 (17th highest)
> Total roadway fatalities in 2014: 737 (17th highest)
> Pct. of residents using seat belts: 84% (tied-17th lowest)
> Pct. of drivers killed w/ BAC ≥ 0.08: N/A
> Pct. of fatal crashes on rural roads: 51% (tied-24th lowest)
9. South Dakota
> Road deaths per 100,000: 15.9 (9th lowest)
> Total roadway fatalities in 2014: 136 (9th lowest)
> Pct. of residents using seat belts: 69% (the lowest)
> Pct. of drivers killed w/ BAC ≥ 0.08: 33 (tied-24th lowest)
> Pct. of fatal crashes on rural roads: 85% (5th highest)
8. Alabama

> Road deaths per 100,000: 16.9 (13th highest)
> Total roadway fatalities in 2014: 820 (13th highest)
> Pct. of residents using seat belts: 96% (4th highest)
> Pct. of drivers killed w/ BAC ≥ 0.08: N/A
> Pct. of fatal crashes on rural roads: 66% (tied-20th highest)
7. South Carolina

> Road deaths per 100,000: 17.1 (12th highest)
> Total roadway fatalities in 2014: 824 (12th highest)
> Pct. of residents using seat belts: 90% (tied-18th highest)
> Pct. of drivers killed w/ BAC ≥ 0.08: 140 (6th highest)
> Pct. of fatal crashes on rural roads: 82% (7th highest)
6. Oklahoma

> Road deaths per 100,000: 17.3 (20th highest)
> Total roadway fatalities in 2014: 669 (20th highest)
> Pct. of residents using seat belts: 86% (tied-24th lowest)
> Pct. of drivers killed w/ BAC ≥ 0.08: 90 (11th highest)
> Pct. of fatal crashes on rural roads: 70% (tied-17th highest)
5. North Dakota

> Road deaths per 100,000: 18.3 (8th lowest)
> Total roadway fatalities in 2014: 135 (8th lowest)
> Pct. of residents using seat belts: 81% (12th lowest)
> Pct. of drivers killed w/ BAC ≥ 0.08: 33 (tied-24th lowest)
> Pct. of fatal crashes on rural roads: 86% (4th highest)
4. New Mexico

> Road deaths per 100,000: 18.4 (22nd lowest)
> Total roadway fatalities in 2014: 383 (22nd lowest)
> Pct. of residents using seat belts: 92% (tied-12th highest)
> Pct. of drivers killed w/ BAC ≥ 0.08: 42 (tied-22nd highest)
> Pct. of fatal crashes on rural roads: 64% (tied-23rd highest)
3. Montana

> Road deaths per 100,000: 18.8 (12th lowest)
> Total roadway fatalities in 2014: 192 (12th lowest)
> Pct. of residents using seat belts: 74% (tied-4th lowest)
> Pct. of drivers killed w/ BAC ≥ 0.08: 54 (20th highest)
> Pct. of fatal crashes on rural roads: 93% (the highest)
2. Mississippi

> Road deaths per 100,000: 20.3 (21st highest)
> Total roadway fatalities in 2014: 607 (21st highest)
> Pct. of residents using seat belts: 78% (7th lowest)
> Pct. of drivers killed w/ BAC ≥ 0.08: N/A
> Pct. of fatal crashes on rural roads: 91% (2nd highest)
1. Wyoming

> Road deaths per 100,000: 25.7 (10th lowest)
> Total roadway fatalities in 2014: 150 (10th lowest)
> Pct. of residents using seat belts: 79% (tied-10th lowest)
> Pct. of drivers killed w/ BAC ≥ 0.08: 35 (tied-25th highest)
> Pct. of fatal crashes on rural roads: 81% (tied-8th highest)
Support HuffPost
The Stakes Have Never Been Higher
Related
Popular in the Community