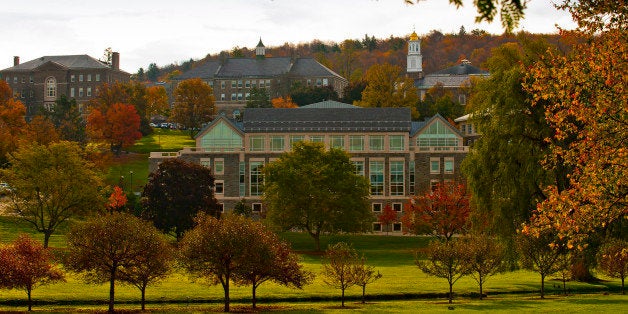 Sorry, Princeton Mom. The prestigious university's student body might not be the best place to find love after all.
Matchmaking site The Dating Ring analyzed 7,500 post-date feedback forms submitted by 1,600 New York and San Francisco singles over the course of 18 months, all to determine which college or university's alums were most likely to get a second date -- and which were most likely to be left hanging.
So which schools are producing the most crush-worthy prospects?
Private liberal arts college Colgate University claimed the title of most dateable grads among The Dating Ring's clients, with 81 percent of suitors saying they'd like seconds with a former Raider. For some Colgate students, the school's attractive student body apparently even helped them make their college decision.
"I looked at Colgate because my camp counselor said really hot guys went there," alumna Laura McDonald told The Dating Ring, according to a company press release.
Although many of the schools featured in The Dating Ring's datability rankings are considered elite, the least dateable list notably snagged two Ivies: the University of Pennsylvania and Princeton University.
It also features the University of California, Berkeley. But Ryan Johnson, a 2013 grad who liked to take his dates to restaurants in Berkeley's Southside neighborhood, thinks Oskis have a lot to offer despite his alma mater's low ranking. He told The Huffington Post that if you're looking for someone who's passionate and talented at what they do, there's no better place to find them.
Check out the most and least dateable schools lists below, but, like Johnson, don't fret the results: with just 316 different colleges represented in The Dating Ring's matchmaking pool -- and only two cities' singles reporting results -- this poll is clearly just for fun.
THE MOST DATEABLE COLLEGES:
THE LEAST DATEABLE COLLEGES:
REAL LIFE. REAL NEWS. REAL VOICES.
Help us tell more of the stories that matter from voices that too often remain unheard.
BEFORE YOU GO