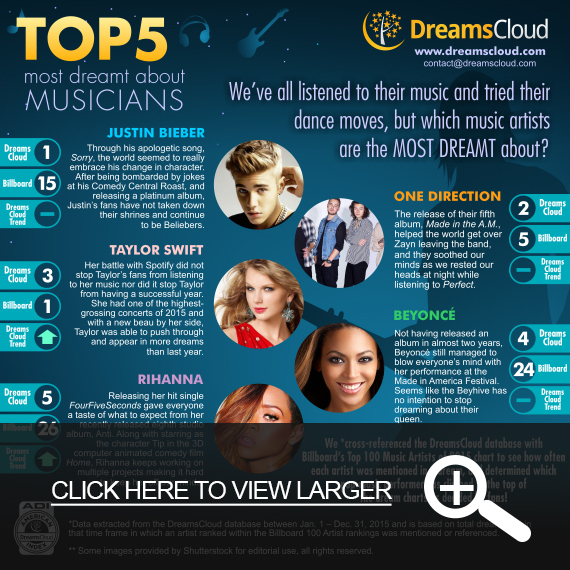 Award season is well on its way and we definitely have some trophies to hand out ourselves! The Biebs has remained as reigning Dream Champion, staying in the top spot as the number one dreamt about artist for 2015. We must say we're a bit curious to know, what has everyone constantly dreaming about Justin? Could it be all those risqué Calvin Klein ads, or the tender kisses he shared with Ms. Hailey Baldwin while vacationing through the Caribbean? (1) Whatever it is, it's working for him. So, we applaud you Mr. Bieber!
This year we decided to rank the artists again and go through our extensive database of over 2 million dreams, and compare it to the 2015 Billboard's Top 100 Artists chart (2). Our search filtered through dreams published between the dates of January 1, 2015 and December 31, 2015. We wanted to see which artist is going beyond the playlist and even appearing in the listener's nighttime dreams.
The now group of four, One Direction, have also continued in their second place spot for a second year in a row. We guess Directioners are remaining loyal to the group and sticking with them through their partial breakup.
On the other hand, two artists who have been putting in werk, werk, werk, werk, werk, werk to move up in our rankings are Riri, shifting up 2 spots compared to last year's placement, and Tay Swift moving up 3 places on the list. The Formation Queen B has surprisingly remained in her number 4 spot for two consecutive years, but we're sure this year's tour will keep fans dreaming about her for months to come.
Has your favorite artist been clouding your thoughts at night?
DreamsCloud is the world's leading online dream resource, with an interactive database of more than 1.9 million dreams. Offering a 360-degree approach to dreaming -- including a real-time global dream map, dream journaling/sharing tools, a massive online dream dictionary of over 5000 dream symbols, and the largest group of professional dream reflectors -- DreamsCloud empowers users to better understand their dreams and improve their waking lives. They also offer a free app for iOS and Android called DreamSphere.
References:
(1) Lee, Esther. Justin Bieber on Hailey Baldwin: "What If Hailey Ends Up Being the Girl I'm Gonna Marry?". US Magazine. 11 Feb. 2016. Web. 30 Mar. 2016.
(2) "Top Artist Year End 2015". Billboard. 9 Dec. 2015. Web. 30 Mar. 2016.
Calling all HuffPost superfans!
Sign up for membership to become a founding member and help shape HuffPost's next chapter