One out of every two people living in Washington, D.C. has a college degree, a rate far surpassing any state in the country.
Of course, it can be a little unfair to compare one city that is the center of government power with far larger states. Among the states, the Commonwealth of Massachusetts takes the top slot as most educated, which may come as little surprise too, considering how many great colleges are located in the Boston area.
This ranking is according to an analysis of U.S. Census Bureau data by FindTheBest. The website ranked the states and D.C. based on the percentage of residents holding a four year degree.
The top three are Washington DC (50.5%), Massachusetts (38.7%) and Colorado (36.3%). The bottom three are West Virginia (17.6%), Arkansas (19.6%) and Mississippi (19.7%). A heat map below shows where the states fall in their respected populations' degree attainment.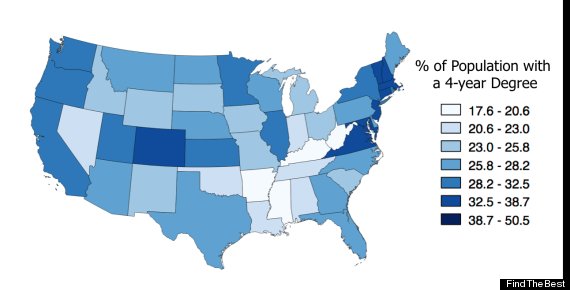 FindTheBest also narrowed down this data based on neighborhoods in an interactive table. Their analysis shows the most educated neighborhoods in the country are West Los Angeles, North Chicago, Northwest Washington, D.C., Midtown Manhattan, Northern San Diego, Southwest San Francisco and Southeast Denver.
(Note: The neighborhood ranking did not get specific enough to differentiate between Georgetown and DuPont in D.C., or between Turtle Bay and Hell's Kitchen in NYC)
Related
Popular in the Community