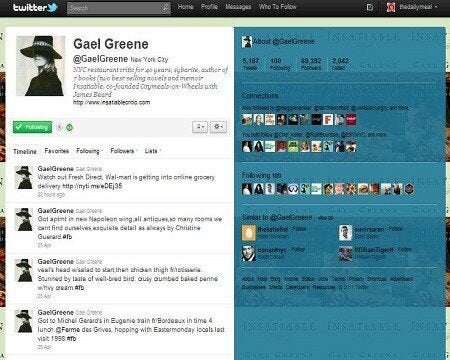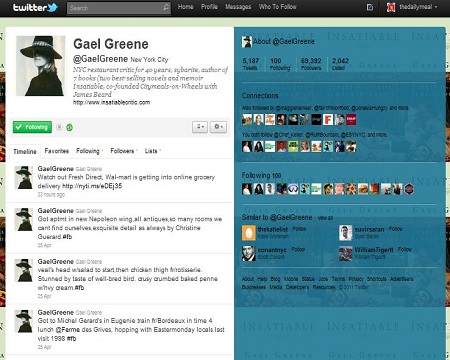 Correction appended
Food critics may prize anonymity when it comes to staying undercover while eating in restaurants, but when it comes to social media they're a lot less shy. No strangers to sharing opinions, these writers are fully equipped to deliver short, pithy commentary in 140 characters or less.
Like many popular chefs, quite a few critics have tried boosting their online profiles. Twitter serves as the perfect medium for communicating with an audience of Yelping, Chow-obsessed food lovers.
But who are the most followed critics on Twitter? For the purposes of this list we looked at active food critics, which includes individuals whose current job includes reviewing restaurants (sorry, Frank Bruni). Think of this as your ultimate guide to industry hotshots.
#10 Robert Sietsema: 5,069 Followers
Robert Sietsema, the critic for The Village Voice, is the tenth most popular food critic on Twitter. He has 5,069 followers and follows 126 people.
Handle: @robertsietsema
#9 Brett Anderson: 5,404 Followers
Restaurant critic for The Times-Picayune in New Orleans, Brett Anderson has tweeted a total of 1,904 times and follows 652 people.
Handle: @BrettAndersonTP
#8 Corby Kummer: 6,130 Followers
The restaurant critic for Boston Magazine (and senior editor for The Atlantic), Corby Kummer has 6,130 Twitter followers, but follows only 45 people in return.
Handle: @CKummer
#7 Adam Platt: 6,227 Followers
New York Magazine's food critic, Adam Platt, follows 433 people on Twitter (the second highest number of people followed by a critic on this list) and has currently tweeted 1,007 times.
Handle: @plattypants
#6 Jeffrey Steingarten: 7,304 Followers
Whether critiquing chefs as a judge on Iron Chef America or in his Vogue column, Jeffrey Steingarten is not known for being shy about sharing his opinion. Although he only follows nine people on Twitter at last count, he is followed by 7,304 people.
Handle: @jsteingarten
#5 Michael Bauer: 11,382 Followers
Michael Bauer, the food critic for the San Francisco Chronicle, has tweeted 690 times, follows 32 people, and boasts 11,382 followers.
Handle: @michaelbauer1
#4 Tom Sietsema: 12,257 Followers
Washington Post food critic, Tom Sietsema has 12,257 Twitter followers and follows just 85 people.
Handle: @tomsietsema
#3 Jonathan Gold: 18,850 Followers
Resident restaurant reviewer for LA Weekly, Jonathan Gold comes in third on this list. Gold trails both Gael Greene and Sam Sifton with a total of 18,850 followers, and has tweeted 1,699 times to date.
Handle: @thejgold
#2 Sam Sifton: 56,136 Followers
Being the food critic of The New York Times is a pretty high-profile job, which is why it's not surprising that Sam Sifton scored the number two spot on this list with 56,136 followers.
Handle: @SamSifton
#1 Gael Greene: 69,230 Followers
With a whopping 69,230 Twitter followers, this former New York Magazine critic (and current Insatiable Critic) tops this list. Gael Greene currently follows only 100 people on Twitter in return.
Handle: @GaelGreene
Correction: As Alison Cook of the Houston Chronicle was kind enough to tweet (@alisoncook), her 6,434 followers at the publication of this correction (May 5, 2011) puts her in play on this list of most followed critics on Twitter. An updated list follows.
#11 Robert Sietsema: 5,339 followers (previously 5,069)
#10 Brett Anderson: 5,688 followers (previously 5,404)
#9 Alison Cook: 6,434 followers
#8 Corby Kummer: 6,525 followers (previously 6,130)
#7 Adam Platt: 6,584 followers (previously 6,227)
#6 Jeffrey Steingarten: 7,677 followers (previously 7,304)
#5 Michael Bauer: 11,855 followers (previously 11,382)
#4 Tom Sietsema: 12,828 followers (previously 12,257)
#3 Jonathan Gold: 19,557 followers (previously 18,850)
#2 Sam Sifton: 60,027 followers (previously 56,136)
#1 Gael Greene: 72,237 followers (previously 69,230)
Related