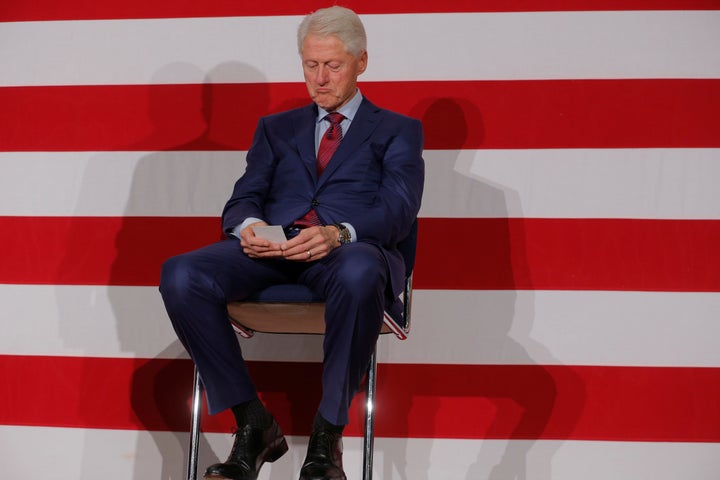 Hillary Clinton voters say by a 42-point margin, 53 percent to 11 percent, that the accusations against Bill Clinton are credible, with the remaining 36 percent unsure.
The HuffPost/YouGov survey also asked about sexual misconduct accusations made against three other men: Harvey Weinstein, Bill O'Reilly and President Donald Trump. Voters across political lines largely agreed that the allegations against Weinstein are credible.
On the rest, there are significant political divides. Hillary Clinton voters are less likely to believe the allegations against Bill Clinton than they are to trust any of the other accusations. Trump voters almost universally find the accusations against Bill Clinton credible, but are far less likely to believe O'Reilly or Trump mistreated women. A 52 percent majority of Trump voters outright dismiss the allegations against Trump.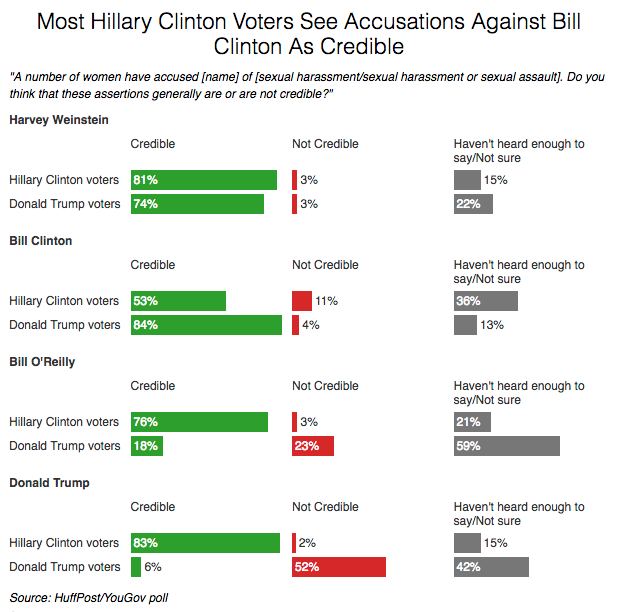 Polling from the 1990s indicates that Democrats were considerably less concerned about Bill Clinton's behavior while he was in office. A 1999 Fox News poll found that 79 percent of Democrats said Clinton accuser Juanita Broaddrick's allegations were "not worth investigating because the alleged event happened 20 years ago," and that just 27 percent considered the multiple allegations against the president to represent a pattern of behavior on his part, rather than a pattern of behavior by his political enemies.
In a 1998 Time/CNN/Yankelovich Partners survey, 44 percent of Democrats believed that Clinton had made an unwanted advance toward Paula Jones, while 38 percent thought he had not. Since then, Democrats' concerns about sexual harassment in general have risen sharply.
The HuffPost/YouGov survey also offers a hint of the way partisanship may affect not just responses to individual accusations, but also to the issue of sexual harassment itself.
Not everyone who participated in the HuffPost/YouGov poll saw the same questions. Those surveyed were divided into two groups, with half asked about Bill Clinton and Weinstein, and the other half getting the questions about O'Reilly and Trump.
After the questions about the credibility of the accusations, both groups were also asked a series of questions about workplace sexual harassment, including whether it's more common for sexual harassment to go unreported and unpunished, or for people to make false accusations.
Trump voters who were asked about the accusations against Weinstein and former president Bill Clinton said by a 26-point margin, 44 percent to 18 percent, that it's more common for sexual harassment to go unreported or unpunished than it is for people to make false accusations. Those who were instead asked about Trump and O'Reilly were about evenly split, 26 percent to 25 percent, on what pattern was more common.
Hillary Clinton voters in the two groups showed little difference on the question — those asked about Weinstein and Bill Clinton considered unpunished sexual harassment to be a more widespread occurrence by a 74-point margin, while those asked about Trump and O'Reilly said the same by a 79-point margin. But in response to another question, those who were asked about O'Reilly and Trump were 10 points likelier than those asked about Weinstein and Bill Clinton to describe workplace sexual harassment as a "very serious" problem.
Use the widget below to further explore the results of the HuffPost/YouGov survey, using the menu at the top to select survey questions and the buttons at the bottom to filter the data by subgroups:
The HuffPost/YouGov poll consisted of 1,000 completed interviews conducted Oct. 27-28 among U.S. adults, using a sample selected from YouGov's opt-in online panel to match the demographics and other characteristics of the adult U.S. population.
HuffPost has teamed up with YouGov to conduct daily opinion polls. You can learn more about this project and take part in YouGov's nationally representative opinion polling. More details on the polls' methodology are available here.
Most surveys report a margin of error that represents some, but not all, potential survey errors. YouGov's reports include a model-based margin of error, which rests on a specific set of statistical assumptions about the selected sample rather than the standard methodology for random probability sampling. If these assumptions are wrong, the model-based margin of error may also be inaccurate. Click here for a more detailed explanation of the model-based margin of error.
Popular in the Community