If you were anywhere around the social nets Wednesday, you would have seen the national media (then the haters) go into full frenzy over the image of Sunny, the newish White House dog, knock over a little girl right in front of the first lady. The occasion was a White House holiday gathering for military families and, particularly, their children.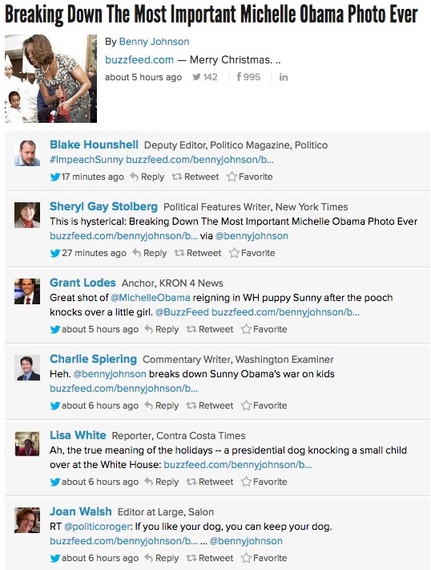 As perhaps the biggest bottom feeder, BuzzFeed published a 13-photo post with the typically audacious title: Breaking Down The Most Important Michelle Obama Photo Ever. Beyond touting the money shot above and a Vine-type video of the action on a repeating loop, they also cropped-and-chopped different sections of Reuters photographer Jason Reed's photo to set up one-liners about every facet of the scene.
Now I understand that the SEO formula involves an ultra-superlative or penultimate hook driving every title of every post, but in this case, using the word "important" (as in, "Most Important") is less having, or even making, fun than ultimately degrading Michelle Obama and writing her off as a fool.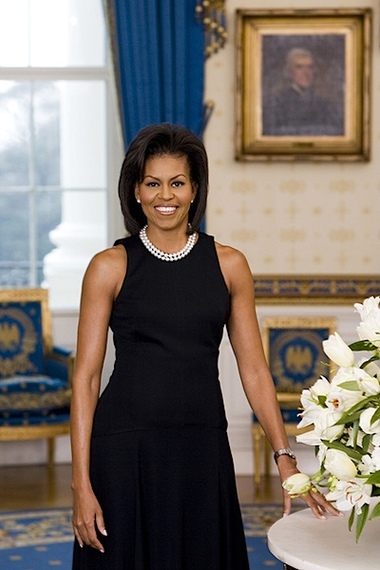 Not to say that the administration isn't having its troubles, but if we're going to those lengths, "The Most Important Michelle Obama Photo Ever," as we documented it and readers elaborated on it at the time, was the FLOTUS official White House portrait back in February 2009.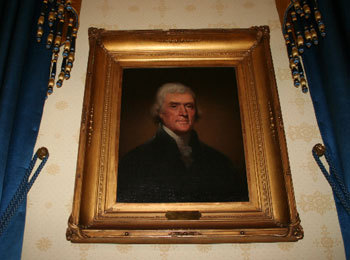 As for the piece part, that's Jefferson, the slave-owning third president painted by Rembrandt Peale, the element used by the first African-American first lady to demonstrate the American consciousness moving foreground.
(photo 1: Jason Reed/Reuters caption: U.S. first lady Michelle Obama reacts as two year old Ashtyn Gardner from Mobile, Alabama, trips over another child's walker after meeting Obama's new dog Sunny at the unveiling of the decorations at the White House in Washington, December 4, 2013.screen grab/tweets: Muckrack.com photo 2: Joyce Boghosian/White House photo 3: New York Social Diary.)
Calling all HuffPost superfans!
Sign up for membership to become a founding member and help shape HuffPost's next chapter