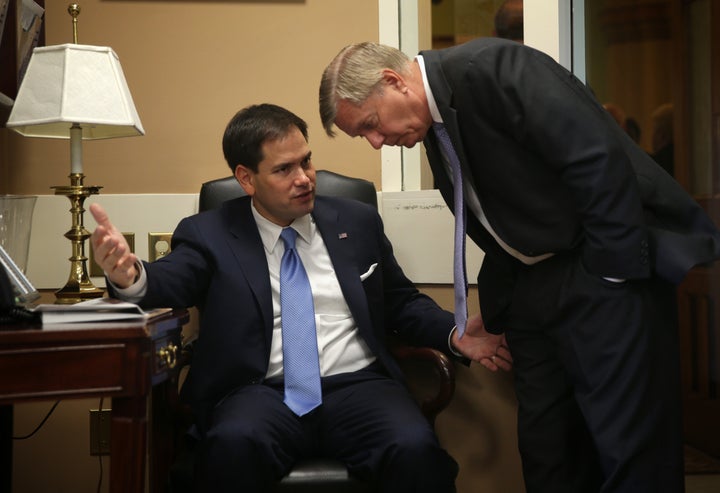 WASHINGTON -- With one month left to go before the health treatment program for Sept. 11 first responders is set to expire, and with Congress slow-walking a renewal, an advocacy group is hoping 2016 presidential candidates will help move the needle.
But so far, a majority of them have stayed silent.
Citizens for the Extension of the James Zadroga Act want all of the 2016 presidential candidates to let it be known where they stand on renewing the act -- first passed in 2010 -- which provides monitoring, compensation and healthcare treatment to first responders and survivors dealing with illnesses as a result of the attacks.
The "lack of urgency" from candidates, specifically Sens. Lindsey Graham (R-S.C.), Ted Cruz (R-Texas), Marco Rubio (R-Fla.) and Rand Paul (R-Ky.), is worrying to Richard Alles.
As deputy chief of the New York City Fire Department and a board member of the group, Alles said he is "starting to get frustrated."
More than two weeks ago, he penned letters to every presidential candidate, pressing them to answer the question: Will you support a permanent renewal of the health treatment program and compensation fund and sign the bill if elected president? None of the four sitting senators who are running for the Republican nomination responded.
"It's a slap in the face to all first responders. Sept. 11 is days away. These same senators will be wrapping themselves in the flag, singing our praises, and saying what heroes we are, but Sept. 11 is not just a day where 3,000 were killed," said Alles, adding that the attacks are still very real for thousands of people who are trying to pick up the pieces and recover from illnesses.
"I can't wait to see quotes from them on Sept. 11, wherever they are, and will follow up afterwards -- that's for sure," Alles said in an interview with The Huffington Post.
To date, the group has only received responses of support from Sen. Bernie Sanders (I-Vt.), who is already a co-sponsor of the bill, and from Democratic front-runner Hillary Clinton.
The Huffington Post emailed the top-polled presidential candidates twice, and received responses from seven of them. In addition to Sanders and Clinton, two other candidates running for the Democratic nomination -- former Govs. Martin O'Malley (D-Md.) and Lincoln Chafee (D-R.I.) -- said they support renewing the legislation.
Among those running for the Republican nomination, only three responded. Former Govs. Rick Perry (R-Texas) and George Pataki (R-N.Y.) both support renewing the bill, their campaigns said. Pataki's spokesman called it "critically important."
The third response came from Graham's spokesman, Kevin Bishop.
"Senator Graham is very supportive of the overall goal of ensuring the 9/11 first responders have the support and medical care they need and deserve," Bishop said in an email. "He is in the process of reviewing the current legislative proposal and examining whether it takes the best approach for achieving this goal."
After, hearing Graham's response, Alles -- himself a first responder to the World Trade Center -- became agitated.
"When people like Lindsey Graham make a generic comment like that, I find it offensive," he said. "It's a simple yes or no question. It's a very fair question, and not a gotcha, and he's a sitting senator right now, and he is running for president. When you are in that category, this very vague answer is offensive."
"What if the thousands of first responders said, 'Hey, let's think about this,'" when the U.S. was under attack, Alles asked.
Alles and other members of his advocacy group have met with Senate staffers for Graham, Rubio, Cruz and Paul multiple times, but each time they think the senators are close to a commitment of support, their offices say they need more time to think it over.
Pressed on a lack of response from Republican front-runner Donald Trump and other candidates, Alles admitted they have yet to receive a response, but he's not worried about Trump. He expects to hear from the business mogul, but it's current senators, who will have to vote on the renewal, that count for Alles and the thousands of other first responders.
"They've had more time. They've been in Congress. They know the legislation," he said.
Survivors of the attack come from every state and 429 of 435 congressional districts, according to 9/11 Health Watch.
"Unless Congress acts some 33,000 injured and ill 9/11 responders and survivors, of which over 3,700 currently have a 9/11 cancer-- will lose their medical treatment," the letter to every presidential candidates states.
While there is technically enough money to carry the health program through until October 2016 without the renewal this year, Alles said, the clinics set up specifically for first responders will be mandated to send letters to people in the program alerting them of the expiration. "We are looking at people that are seriously ill," Alles said. "They get this letter and they are going to be in a panic."
To add more pressure, the group is putting the tally up on its website, Renew 9/11 Health, tracking which candidates have responded and which have not.
A vote on the legislation could come sometime this month. At least that's what Sen. Kirsten Gillibrand (D-N.Y.) expected, saying she hopes her bill in the Senate will come to the floor around the 14-year anniversary of the attacks. However, the schedule for Congress looks more and more ja- packed, with both chambers prioritizing a vote on the Iran deal next week, followed by budget negotiations.
At last count, 115 members in the House and 28 in the Senate signed on to the renewal bill. Just when Alles thought they were starting to get good bipartisan support, the August recess killed momentum, and urgency subsided.
"I just don't get it," he said. "This particular legislation is not political, it is an American issue."
Read the full letter sent to Graham below:
CORRECTION: An earlier version of this story said 127 House members had signed on to the bill. In fact, 114 have.
Support HuffPost
The Stakes Have Never Been Higher
Popular in the Community