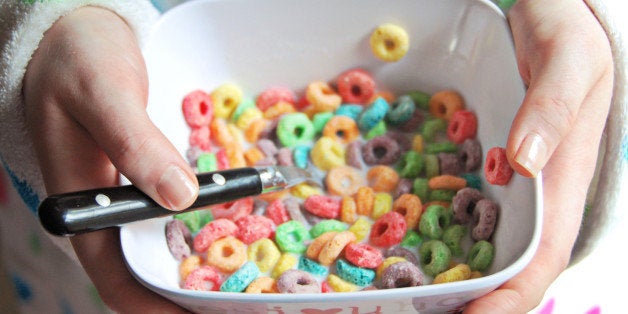 When it comes to cereal choices for kids, we might as well be feeding them dessert.
The Environmental Working Group, a public health nonprofit organization, reviewed the nutrition labels of more than 1,500 cereals, including 181 marketed to kids. Cereals with cartoon characters on the box were found to have the most added sugar. In fact, two thirds of the products analyzed by the EWG contained more than a third of the sugar kids should consume in an entire day in just one serving. The average serving packed about as much sugar as three Chips Ahoy! cookies, according to the EWG.
Despite careful label reading, dubious health claims on those sugary breakfast picks may be misleading. Many of the sweetest offenders promote whole-grain, fiber and vitamin content prominently on packaging, "making it less likely that consumers will focus on the unhealthy sugar content," according to the EWG report.
Below are the most sugary cereals by percent sugar by weight among national brands. (Local store brands like Food Lion Sugar Frosted Wheat Puffs, Krasdale Fruity Circles, Safety Kitchens Silly Circles and Food Club Honey Puffed Wheat also ranked among the most sugary cereals.)