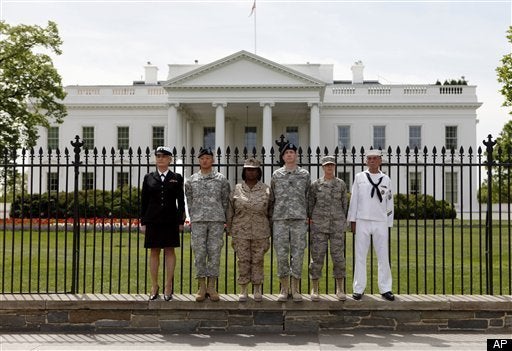 A survey released Monday finds strong support for allowing openly gay and lesbian soldiers to serve in the military, but key groups that traditionally support Republicans oppose the idea.
The survey, conducted by the Pew Research Center for the People and the Press and the Pew Forum on Religion and Public Life, shows that 58% of adults favor allowing gays and lesbians to serve openly, whereas 27% said they opposed allowing it. A majority of both men and women, as well as both Democrats and independents also support allowing open service.
Currently, gays and lesbians are permitted to serve in the military under the Don't Ask Don't Tell policy only if they do not publicly reveal their sexuality.
According the poll, Republicans are divided on whether to allow open service by gays and lesbians -- 40% of Republicans favor it and 44% oppose. Perhaps as important, key groups likely to have an influence on Republican policies are even more opposed to allowing open service. The Pew report notes that among those who said they "agree with the Tea Party" only 38% favor and 48% oppose allowing open servece. Similarly, only 34% of white evangelical Protestants favor and 48% oppose allowing gays and lesbians to serve openly. Lack of Republican support could prevent the Obama administration from ending the Don't Ask, Don't Tell policy, especially if Congress doesn't vote on ending the policy before the end of this year's lame-duck session.
Ending the policy during a lame-duck session may not be popular even if a majority do support repeal, however -- a recent McClatchy Company poll by Marist College found that registered voters were divided on repealing the policy during the current Congress, with 47% saying the current Democratic Congress should repeal the policy and 48% saying they should not repeal it "so they continue to serve but not openly." Another recent poll by NBC News and the Wall Street Journal found that 50% of adults supported allowing open service but 48% either supported continuing the current policy or not permitting service at all when explicitly offered those options.
The Pew poll was conducted Nov. 4-7 among 1,255 adults, and had a 3.5% margin of error. Results among subgroups have a higher margin of error.
Popular in the Community