Earlier this week, TPG Editor-in-Chief Zach Honig flew from San Diego to Newark on United. It was not a flight he will soon forget.
Let me preface this story by saying that my intention is not to cause any alarm -- if anything, I feel even more safe flying after my experience last night. Also, I'd like to apologize in advance for the liberal usage of screenshots below -- unfortunately I wasn't able to capture any usable images during the flight.
Yesterday afternoon, my girlfriend and I boarded United 1150 in San Diego, bound for Newark. We had actually been booked on the redeye the night before, but we took advantage of United's free same-day change to move to a daytime flight instead. We're both Premier 1K members, but she was higher on the upgrade list -- after a first-class no-show, she ended up in seat 2A, while I was back in Economy Plus in 14D. She wanted to give up the seat so we could sit together, but I suggested that she take the first-class seat to have a decent meal and some extra space to stretch out. Which meant she'd be sitting several rows away from me. Big mistake.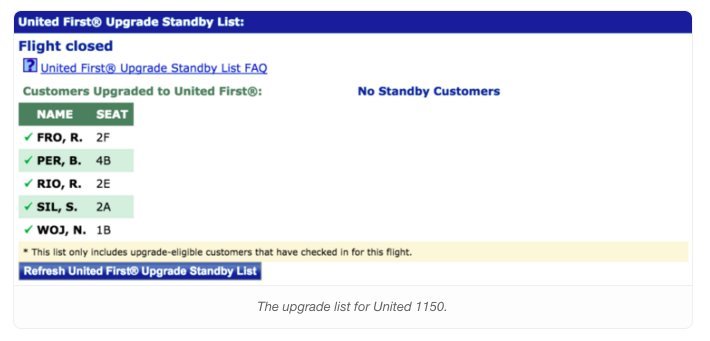 The first 4+ hours of the flight were entirely uneventful. I watched a movie and some TV shows on my laptop to help pass the time -- nobody wants to be stuck in coach on a transcon flight, but I made the best of it (a free sandwich and cocktail didn't hurt). Just before we began our descent somewhere over western Pennsylvania, the captain came on the PA and explained that we'd be hitting some turbulence during the approach into Newark, and that the flight attendants would need to prepare the cabin early and take their seats -- nothing unusual at this point.
Then, a few minutes later, we saw a very bright flash of light accompanied by a loud pop (and several passenger screams), as lightning struck the port side of the fuselage. My first thought was to check for the engine position, but fortunately the strike was clearly forward of the wing.
The turbulence started just a moment or two after that, with what felt like significant altitude fluctuations and some pretty violent shaking from side to side. It would have been impossible to stand at that point, and I felt the tug of my seatbelt several times -- the takeaway here is that if a flight attendant tells you to be seated, you'd be wise to follow that order. If anyone had been in the aisle, they would have almost certainly suffered some significant injuries.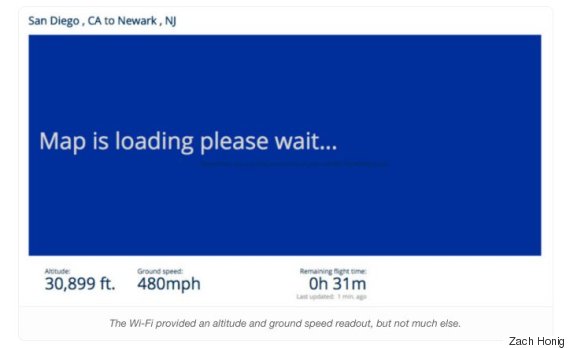 At this point, I would have flipped to the airshow display to check our position relative to the airport, but you need to pay for DirecTV in order to view the airshow on United's 737s (yes, seriously). Given the length of our flight, that would have cost me $7.99 just for the airshow (I didn't want to watch anything else on the seat-back monitor), so I opted not to pay this time around. Boy did I wish I had the airshow at that point though!
United's Wi-Fi portal does display an altitude and ground speed readout, as you can see above, but the map only loads when there's a satellite connection and you're paying for Wi-Fi (I did purchase an hour of email access for $1.99 earlier in the flight), so I had no idea where we were relative to Newark Airport. I kept loading the portal on my phone, however, and updated my seatmate with our altitude and ground speed as we continued our approach.
Based on the portal, our altitude was fluctuating quite a bit (up or down a few hundred feet at a time), especially as the remaining flight time dropped to below 5 minutes. Our ground speed was jumping from 108 mph to 130 mph as well. Clearly, we were getting ready to land, but we still couldn't see anything but clouds and rain out the window. Then, at around 1,500 feet, the clouds broke and we could see downtown Newark. A minute later we were safe on the ground.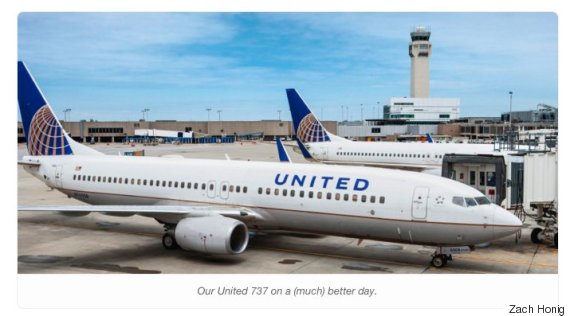 But the adventure wasn't over at that point. We stopped short of the gate, and a couple minutes after landing, a man sitting in the row across from me got up and grabbed a flight attendant. The woman sitting next to him was unconscious, and had apparently been out for quite some time. (She had been right next to the lightning strike, but her condition may not have been related.) A man two rows behind came up to help -- he had served as a combat medic in Afghanistan, and he was able to bring her around. Paramedics boarded a few minutes after we finally got to the gate, but by that point most of us had already deplaned (at a flight attendant's request). I hope she's okay!
Well, yes -- absolutely. If anything, this experience proved just how capable Boeing's 737 is, and from what I could tell, our pilots performed their duties very well, too. Our 737-800 (that's the exact same aircraft above) stood up to a direct lightning strike and nearly 45 minutes of severe turbulence, getting us to our destination safely (though literally quite shaken up). The plane is still on the ground at Newark, presumably due to that lightning strike, but I have no doubt that it has many more years ahead of it safely carrying passengers from A to B.
My only criticism is that I feel that we should have diverted to another airport (as aviation expert @AirlineFlyer says above). So why didn't we? My guess is that the conditions deteriorated very quickly, and while we never heard from the cockpit even once during those 45 minutes of hell, it seemed possible that diverting to Boston or Philly wouldn't have saved us from a very bumpy ride, based on the weather map on FlightAware.
I did reach out to United for more information about my flight and yesterday's Newark operations, but I received a boilerplate response:
Our pilots and dispatchers work with Air Traffic Control to maintain the highest level of safety for our customers. Our pilots coordinate with Air Traffic Control and our team on the ground during flights and work together to determine the best options when strong weather occurs.
From responses to my tweet below, it was clear that other flights coming into Newark experienced similar conditions (although perhaps not the lightning strike), though some planes did divert.
As soon as we landed, both cabins erupted in applause. I don't think I've ever felt more relieved than when our 737's wheels finally touched the ground in Newark, and it was clear that the rest of the passengers felt very fortunate to be at EWR as well.
Were you flying into NYC earlier this week?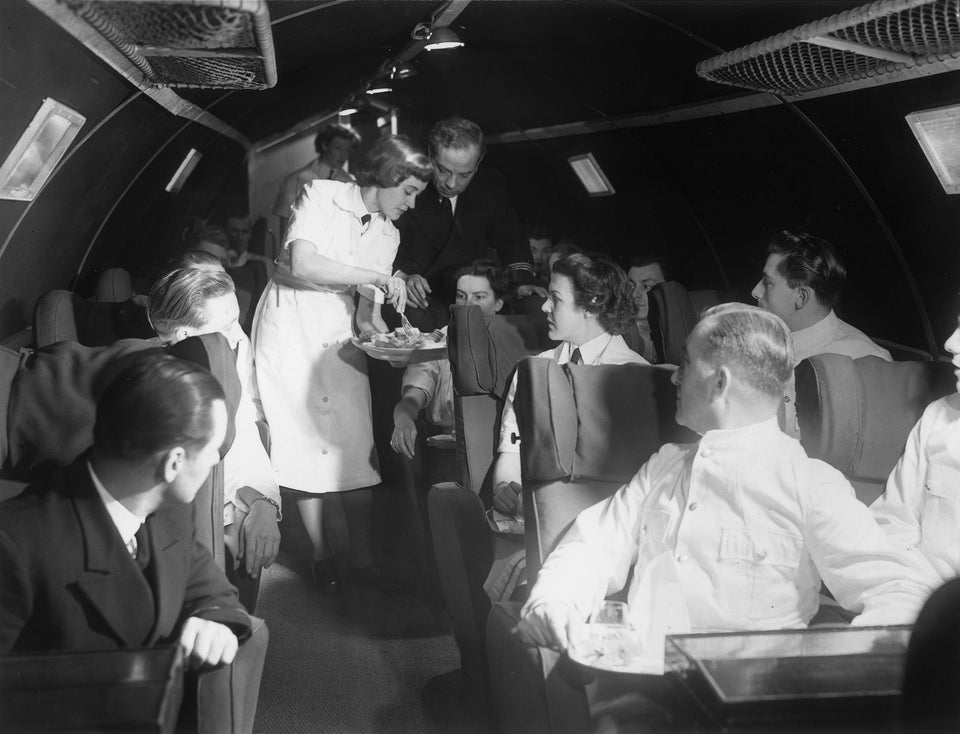 Vintage Air Travel Photos
Popular in the Community