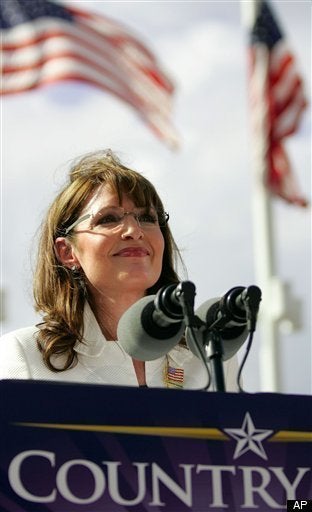 In a new survey released Monday, most respondents said that they do not think Sarah Palin would have the ability to be an effective president.
In the 60 Minutes/Vanity Fair poll, conducted Aug. 3-5 by CBS News among 847 adult respondents, 59% responded that they thought Palin could not be an effective president compared to only 26% who said that she could be.
Eighty percent of liberals and 70% of moderates said Palin could not be an effective president. Only 41% of conservatives said that she could be, while 40% said that she could not be. However, somewhat more Republicans said that Palin could be effective - 47% said she could be while 40% said she could not.
While the 2012 election is a long way off and poll numbers are difficult to interpret, in one recent poll of potential 2012 matchups, conducted Aug. 6-9 by the Democratic firm Public Policy Polling, 43% of registered voters said they would support Palin to 49% for Obama. Other possible presidential candidates, including Mike Huckabee, Mitt Romney, and Newt Gingrich, performed similarly, although Huckabee and Romney received slightly closer 3 point margins (the poll's margin of error for general elections questions was 4%). The poll showed the same four candidates tightly bunched in the Repulican primary race.
Polls taken since last November have largely shown a public with an unfavorable view of Palin - the current Pollster.com trend estimate has Palin with a 36.4% favorable rating and 52.7% unfavorable.
Popular in the Community