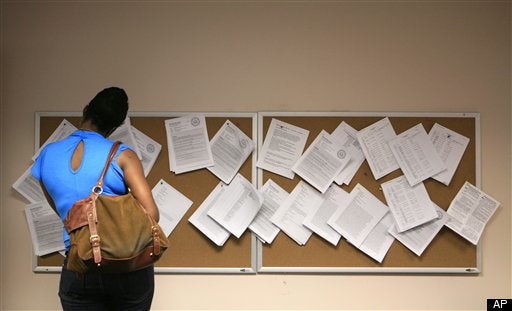 Congress passed an emergency 30-day extension of unemployment benefits and other domestic aid provisions on Tuesday evening after Sen. Jim Bunning (R-Ky.) caved on his deficit reduction stance, which jeopardized benefits for 200,000 people just this week.
Most state workforce agencies should be able to continue processing claims and distributing checks as normal -- but do claimants know that?
In February, many state agencies sent letters informing unemployment insurance recipients that they'd be ineligible for extra "tiers" of federally-funded benefits, known as Emergency Unemployment Compensation. In Michigan, for instance, laid-off workers received a scary letter from the state's Unemployment Insurance Agency telling them that if "Congress does not vote by February 28 to extend federal unemployment benefits, no new extensions will be established and the federal programs that are in place will be phased out."
Michigan UIA spokesman Norm Isotalo told HuffPost on Wednesday morning that despite the scary letter, Michigan workers can rest assured that they will receive their benefits as if Congress had done its job correctly and on time. But he said the state will not send out any letters informing laid-off workers.
"People here in the state shouldn't see any interruption in their benefit payments at all," he said. "We were looking at some steps we were going to have to take, but because of the action last night we won't have to do that."
Rich Hobbie, CEO of the National Association of State Workforce Agencies, told HuffPost on Wednesday that most state agencies should be in a similar situation. "They were prepared to resume the program this week without much problem," said Hobbie. "It really was next week the problems were going to occur. After the program expires, there's just a one-week period during which they can act as if the program has been extended even though it hasn't."
Benefits recipients generally were not given this reassurance.
Eileen Fitzsimmons, a 57-year-old merchandise analyst in Cleveland, Ohio, said the state Department of Job and Family Services robo-called her on Tuesday to let her know she'd be ineligible for any extended benefits, which alarmed her because she'd just received her final installment of state benefits. Fitzsimmons said she'd been tracking the bill as it moved through the Senate and fully expected that Congress would eventually pass an extension that would retroactively pay her.
Still, the robo-call was jarring. "I knew it would pass but it was just a rude awakening," she said.
And the state's UI website still bears a message from Feb. 26 warning that "claimants who exhaust their maximum 26 weeks of regular unemployment benefits after February 20, 2010, will not be eligible for EUC, and that claimants who exhaust their current EUC benefits after February 27, 2010, will not be eligible for additional benefits."
Several other state workforce websites bore similar messages as of Wednesday morning.
Judy Conti, a lobbyist for the National Employment Law Project, said that the Bunning fiasco demonstrates the importance of extending benefits provisions for longer periods of time. In December, Congress waited until the last second to pass a stopgap two-month extension, setting up the foreseeable problems that started last week. Senate Majority Leader Harry Reid (D-Nev.) has introduced a measure that will extend benefits for the rest of the year. According to an aide, Reid should file for cloture today, paving the way for a final vote later this week or early next week.
"I am glad that the needs of so many vulnerable members of our country were placed above partisan politics," said Conti. "I'm also glad that this episode proved why it is so important for Congress to keep moving full steam ahead and extend these benefits through the end of the year."

Calling all HuffPost superfans!
Sign up for membership to become a founding member and help shape HuffPost's next chapter