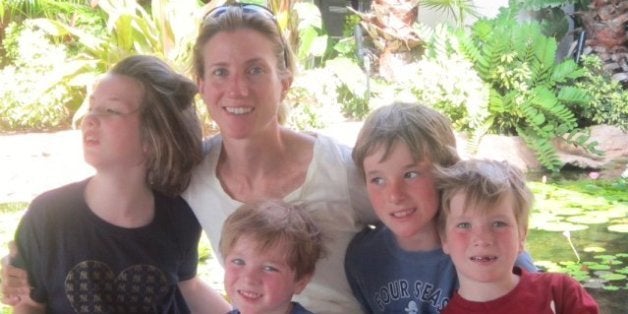 As a school reunion approaches, a mom considers the request: "Please let us know what you've been up to -- any exciting promotions, travel, news or announcements -- for our class notes!"
I am currently working on an exciting project for a business you've never heard of, but is very up and coming.
I am working on my novel.
I am submitting manuscripts.
I am writing a screenplay.
I have returned to poetry.
I am considering law school.
I am studying for the LSATs.
I love my pediatrician -- and am applying to med school.
I love my veterinarian -- but get queasy thinking about being a vet.
I planted a garden with my kids this spring and nothing came of it. They lost interest half-way through and then it was time to make dinner.
I liked the thought of saying we have a garden, we grow our own vegetables. And then I asked myself, Why?
I thought about organizing a charity fundraiser. And then I didn't.
I realized I am not much of a 'Class Mom' and should have remembered I am still trying to figure out how to be a sane and loving mother to my own kids. No need to raise the bar.
I successfully contested a few speeding tickets, but failed to register for the driver safety class to knock off the remaining points on my license.
I have driven more miles than I ever thought possible on empty.
I paid a lot of money in overdue library fines. I am still holding out hope that The Very Hungry Caterpillar will be found.
I went through a baking phase. And more briefly, a cooking phase.
I tried one of those week-long juice cleanses and almost passed out by noon on the first day. I realized that coffee is my friend -- as is food -- as is wine.
I put some thought into redecorating the kids' rooms and remembered they don't care and still prefer our bed.
I am committing myself to creating a sock that has no seams, a line of clothes that has no tags and winter clothes disguised as beach wear.
I am estimating how many times and how loudly one little person can say MOM in a day. Times that by four and gosh, I was never good at math, but I know it's a lot and I know that sometimes I want to change my name and ask them: "Who is this MOM and why do you keep calling her????"
I am wondering will they ever get tired of throwing, kicking, bouncing and fighting over that ball? And why they feel the need to be within two feet of me while doing so??
I am thinking I missed my calling as a referee, an umpire, a drill sergeant, a prison guard, a border patrol agent and a UN peace keeper.
I am trying to be OK, for now, with just being a mom.
Unbeknownst to anyone, I am actually trying to be a better mom. I am wondering if that make me less of a person. I sometimes think it does.
I am thinking of writing about that.
But that would be in my spare time, when I'm not working on my project -- the one at the start-up -- with the people, the co-workers. It's really an innovative initiative. You'll be hearing about it any day now. Watch out.
Eileen Flood O'Connor is the mother of four little people, one girl and three boys. She went to college and grad school and even had a job -- but now she's mostly just a mom.
Related