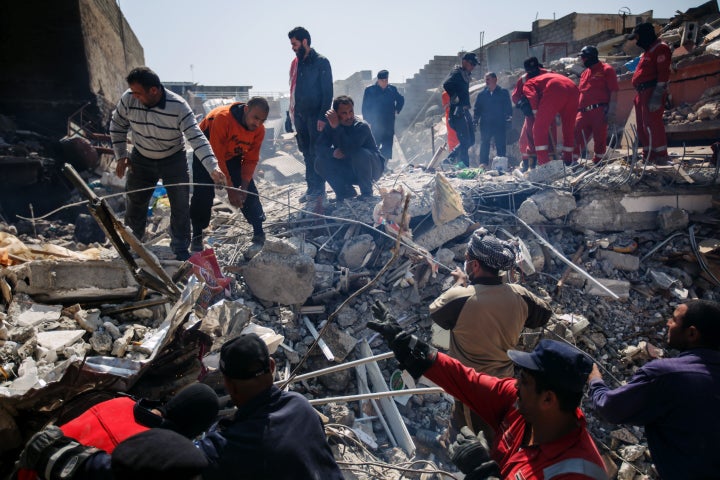 WASHINGTON, May 25 (Reuters) - A U.S. military investigation on Thursday acknowledged that more than 100 civilians were killed in a U.S. air strike on a building in the Iraqi city of Mosul in March during operations against Islamic State militants.
The probe concluded that the U.S. strike in the Al-Jadida district inadvertently triggered explosives placed in the building by Islamic State fighters, causing it to collapse.
Local officials and eyewitnesses have said as many as 240 people may have died in the strike.
It is believed to be one of the single largest incidents of civilian casualties since the U.S.-led coalition started operations against Islamic State in Iraq and Syria.
Air Force Brigadier General Matthew Isler, who oversaw the investigation, told reporters that the March 17 strike was aimed at two Islamic State snipers.
However, the 500-pound bomb triggered explosives inside the concrete building, collapsing it onto civilians.
Isler said the United States and nearby Iraqi forces did not know there were civilians in the building or that it had been rigged with explosives.
He added that 101 civilians inside the building were killed, four civilians were killed in nearby, and 36 civilians were still not accounted for.
Prior to this investigation, the U.S.-led coalition against Islamic State said that at least 352 civilians have been killed in strikes it carried out in Iraq and Syria since 2014. That estimate is far lower than those provided by outside groups.
(Reporting by Idrees Ali; Editing by Alistair Bell)
Calling all HuffPost superfans!
Sign up for membership to become a founding member and help shape HuffPost's next chapter